Burnett School

College of Medicine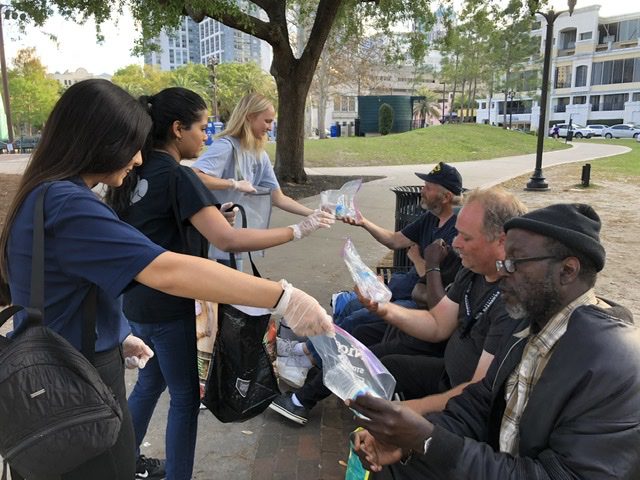 A community is only as strong as its most vulnerable population. That's the premise behind a team of biomedical sciences students who are working to reduce the spread of COVID-19 among the homeless in downtown Orlando by supporting handwashing.
Ranya Awad and Tori Lynn are part of the Hearts for the Homeless UCF Chapter, which provides blood pressure checks and screenings for the homeless in the Lake Eola area. When the group's officers learned of the COVID-19 pandemic and the importance of handwashing, they knew the homeless would be at risk because of limited access to soap and water.
"We originally wanted to give them hand sanitizer," said Awad, a senior who serves as  UCF Chapter president, "but since they were all sold out, we decided to buy water and soap from our own pockets and put together little hygiene kits in resealable bags and give it out to the homeless population."
The group added personal messages to the kits such as "Stay healthy," "Wash your hands" and "God bless you,"
Their initiative also provided an opportunity for public education.
"What we found was that some of the homeless didn't even know about the corona virus," said Lynn, the group's recruitment officer, "so it was also an opportunity for us to inform them and teach the importance of handwashing and the proper way, while giving them the tools to do so."
To make their efforts more sustainable,  he team partnered with Project Downtown Orlando, a nonprofit that provides meals to the homeless, to set up portable handwashing stations downtown. The  stations are created out of repurposed 5-gallon beverage dispensers with water faucets and soap dispensers. They are set up once per week. Volunteers wear masks and gloves,  controlling the water and soap distribution and ensuring participants are  following social distancing guidelines.
"We got really positive reactions," Lynn said. "One of the challenges of initiatives like this is getting compliance. We knew that even with the stations, we couldn't force them to wash their hands, but have had a very successful turnout."
Hearts for the Homeless International began as an idea conceptualized by three UCF biomedical sciences students when they learned that the homeless population was vulnerable to cardiac diseases because of lack of access to healthcare and information. They wanted to help by giving preventative screenings.
After pitching the idea to a gathering of young leaders hosted by the Clinton Global Initiative University, a social venture organization called The Resolution Project gave them startup funding to help provide free heart health screenings and information to the homeless.  The effort began  a registered UCF student group and has grown to a non-profit organization with chapters at four other universities across the U.S. who conduct similar projects.
Lynn, a. second year biomedical sciences major on the path to becoming a physician, got involved in the group in her freshman year, as she saw it as a way to channel her passion for service and healthcare in general.
"I think healthcare is very important, but especially for the neglected and more vulnerable populations," she said. "Our community is only as strong as our most vulnerable. If we can strengthen those populations our communities will benefit from that greatly. This is something I will take with me and practice when I become a physician."
Awad, who wants to be a dentist, has been a part of Hearts for the Homeless for the last four years.
"I love to help people," she said. "I love to see the positive outcomes.  My involvement with this organization is one of the things that I am most proud of. It's definitely changed my life and the lives of many homeless people for the better."
People who wish to donate to these and other efforts can visit the Hearts for the Homeless International website at www.h4hinternational.org
Post Tags