College of Medicine

Communique

Faculty News

Medical

Student Affairs

Students
On a sunlit green outside their medical school, Class of 2021 students gathered one last time – in person — Thursday to celebrate the day before they become M.D.s. With COVID-19 cases falling, Class Day 2021 harkened back to previous celebrations – with babies, food and fist-pumps — as students prepared to become the ninth class of UCF-trained doctors.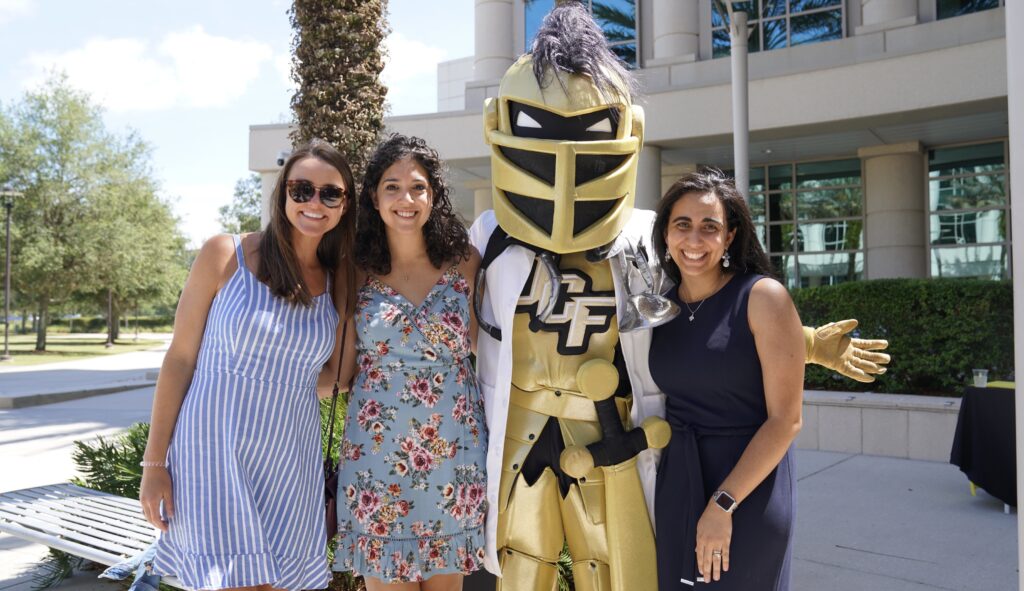 "This is the moment that we have all been working towards," said Dr. Marcy Verduin, associate dean of students. "Your graduation represents your transformation from novice learners into young physicians who we eagerly welcome as our colleagues."
May 21's medical school commencement will be a physically-distanced, in-person event – a far cry from the 2020 commencement that had to be virtual because of COVID-19.
Students talked at Class Day about finishing medical school in the middle of a pandemic. They expressed gratitude for faculty who had provided support, guidance, advocacy – and even home-cooked meals. And they talked about the future. Graduates now will go to residencies across Greater Orlando, Florida and the nation in specialties including internal and family medicine, surgery, psychiatry and neurology.
Mitchell McElroy and his wife, Ciera played with their five-month-old child Foster as students gathered on the medical school's Tavistock Green. He will be going to Washington University in St. Louis for emergency medicine. He said the Class Day Celebration was a time to step back and reflect on the hard work that had brought him to commencement and to look ahead with eagerness to the next stage of his life in healthcare. "St. Louis is a sweet city," he said, "We are very excited about the free zoo for Foster. And I can root for my Cubs when they play the Cardinals."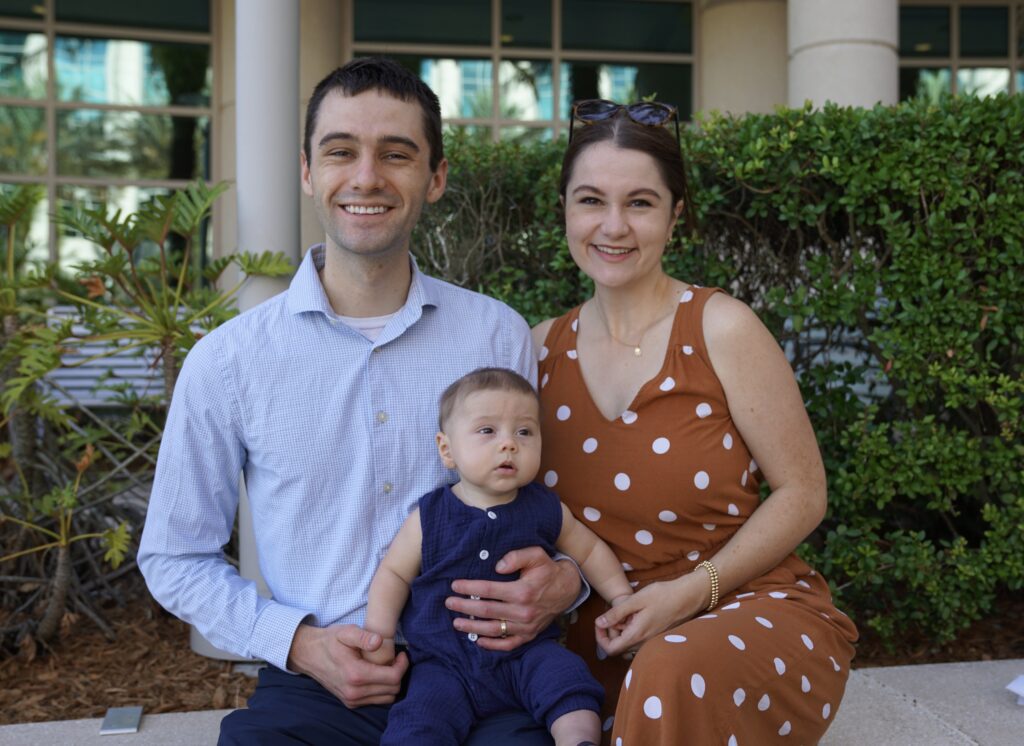 Robert Pell is also going into emergency medicine – at the UCF-HCA Healthcare residency based at Osceola Regional Medical Center. He is an Orlando native. His wife, Adriana, is an ICU nurse at Orlando Health. The two are excited to stay in Greater Orlando and, as Robert said, "give back to the community that built me." He's also excited to be part of a new residency program through a consortium between the medical school and HCA, the nation's largest hospital company. "It's exciting to work and help a new program continue to grow, to be part of that growth," he said.
Talia Helman is going to Emory in Atlanta to specialize in urology. She just bought a small house with a craft room where she can make pottery and a music room for her fiancé, a disc jockey. Born in Oregon, Herman talked about "being welcomed with open arms" in Orlando. "I'm super, super ready to begin taking care of people," she said. "I'm grateful. UCF always made me feel included. They let me be me and gave me all the tools I needed to succeed."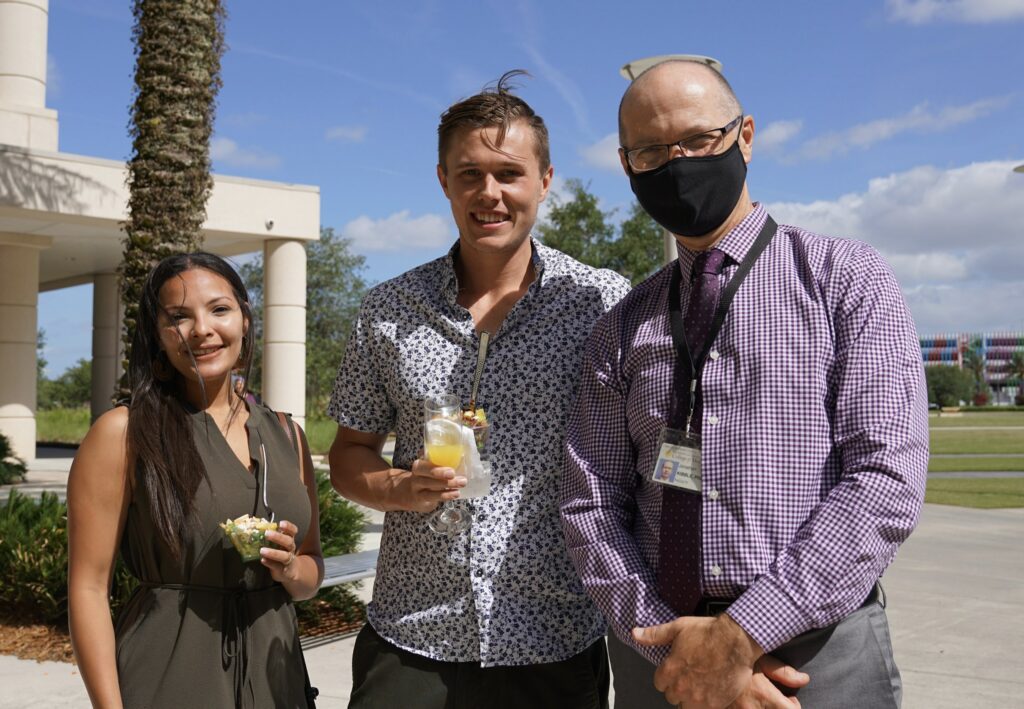 As they cuddled their 3-month-old son, Zach and Anna Thompson reflected on their five-year journey through medical school and now onto pediatrics residencies at Baylor. They had to sit out a year after Zach was hit by a car and gravely injured while changing a flat tire on his way to class. He spent a week in intensive care. During a Class Day awards event, Zach received the Osler Award, for the student that has shown perseverance and overcome adversity to become a physician. He accepted his award with Samuel strapped into a baby carrier on Dad's chest.
"Since the accident, every achievement feels a little bit more special," said Zach. "To hold your son while accepting an award for perseverance makes it even more special."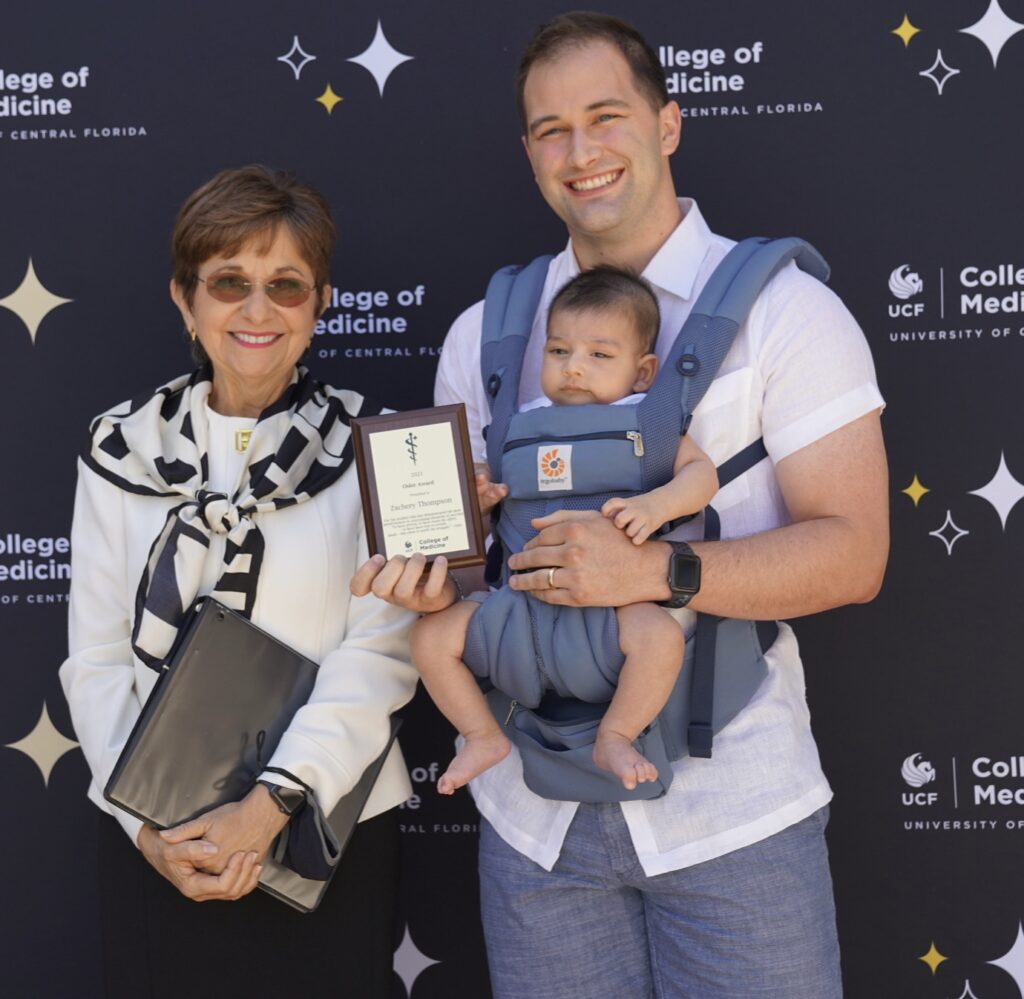 Class Day 2021 Awards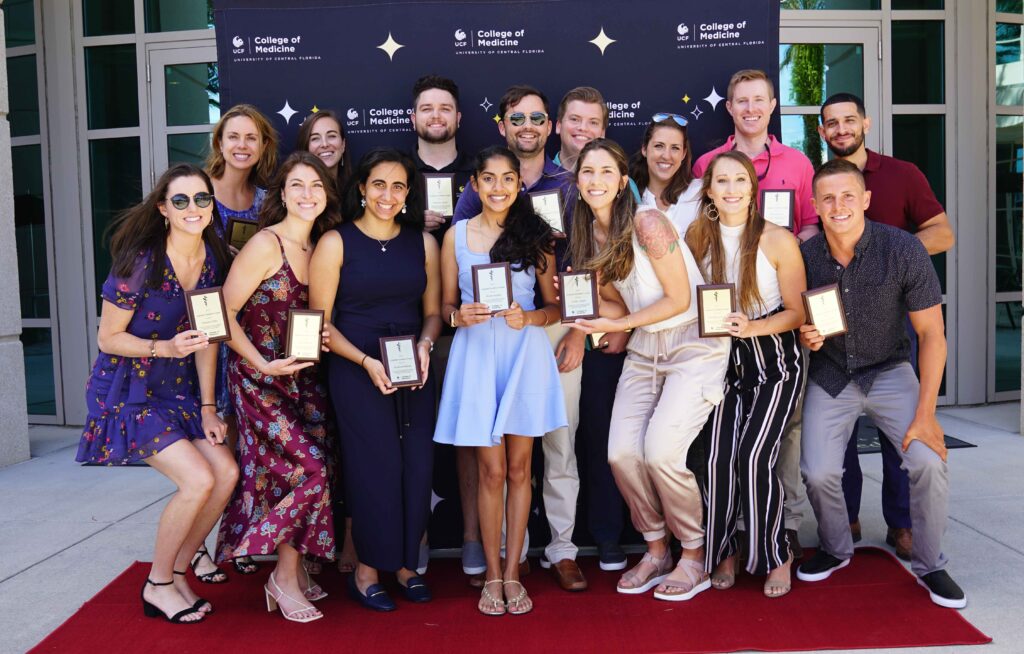 Outstanding Senior in Family Medicine: Ariel Park
Outstanding Senior in Internal Medicine: Shayna Weinshel
Outstanding Senior in Neurology: Yasmeen Elsawaf, Tori Hysko and Matthew Sasaki
Outstanding Senior in Obstetrics and Gynecology: Andrew Bomar and Maryam Zeinomar
American Congress of Obstetricians and Gynecologists District XII Award: Andrew Bomar and Maryam Zeinomar
Outstanding Senior in Pediatrics: Heather Kraft
Florida Chapter of the American Academy of Pediatrics Award: Heather Kraft
Outstanding Senior in Psychiatry: Eloisa Crouse, Talia Helman and Mabit Gonzalez
Outstanding Senior in Surgery: Jacob Friedman and Anamaria Parus
Academic Excellence Award: Kylee Brooks, Eloisa Crouse, Alexandra Csortan, Nicholas Faraci, Hannah Gibbs, Grdon Glober, David Heaner, Evan Johnson, Meena Kanhai, Amanda McCann, Nelson Menendez, Tryphina Mikhail, Kyle Sanchez, Ashley Siegel, Alexandria Waler
Merck Manual Award: Hannah Gibbs, Nicholas Faraci, Amanda McCann
Faculty Choice Award: Tryphina Mikhail
Student Choice Award: Tryphina Mikhail
Osler Award: Zachery Thompson
Service and Humanity in Medicine Heather Kraft.
Distinguished Community Service: Chavi Rehani
Excellence in Promoting Diversity and Inclusion in Medicine: Courtney Bell and Kyle Sanchez
Dean's Award: Evan Johnson and Tryphina Mikhail
Faculty Hippocratic Oath Award: Dr. James Sanders
Post Tags
awards

Class Day 2021

Class of 2021

commencement 2021