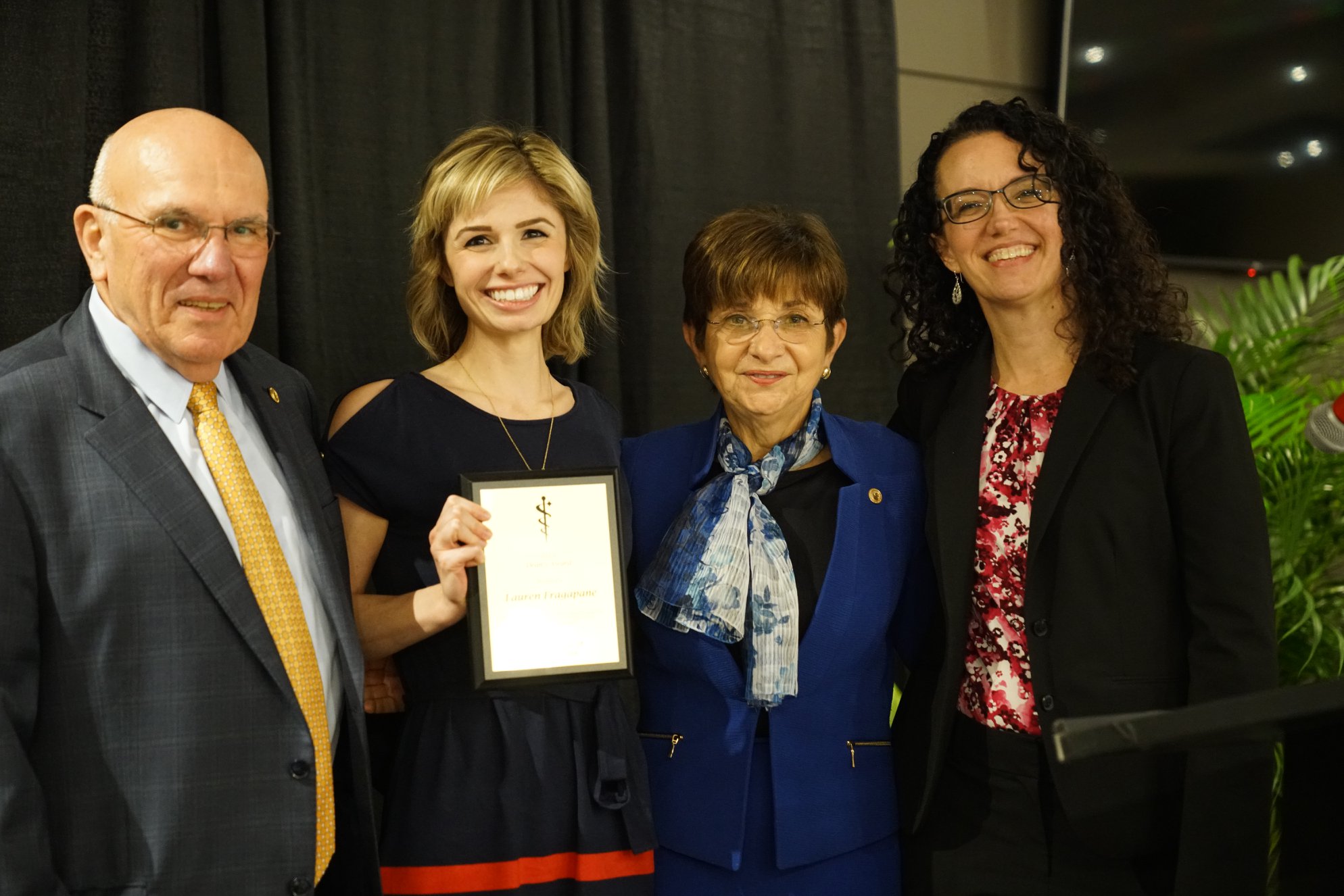 The 117 members of the Class of 2019 were celebrated for their resilience throughout their medical school journey at the annual Class Day event held ahead of Friday's commencement ceremony. Students received awards for outstanding performance in academics and clerkships, and were recognized for their compassion in health care as well as perseverance.
The day's top winner was Lauren Fragapane who received four awards including the Dean's Award for the highest academic performance. She was one of eleven students who received the Academic Excellence Award given to students who receive all or mostly A's throughout their four years of med school, and one of four students who received the Merck Manual Award, given to seniors who have demonstrated outstanding academic achievement. She also received an award for outstanding performance in the Neurology clerkship. Fragapane, will start her neurology residency this summer at the University of South Florida in Tampa.
"I worked incredibly hard throughout these four years and sacrificed a lot," Fragapane said. "So I'm very happy that all my hard work paid off. I dedicate these awards to my family who really kept me grounded throughout the rigors of medical school. I never would have made it through med school or won any of these awards without them."
Heather Lesch won the Faculty Choice Award chosen by her professors, and Kaitlyn Hite was picked by her classmates for the Student Choice Award as student who represents the utmost in professionalism, knowledge, and a caring and compassionate attitude towards patient care.
By an overwhelming majority, students voted Lindsey Warner recipient of the Osler Award, which is given to the student who has demonstrated the most perseverance and had overcome obstacles to succeed.  The award is named after Canadian physician Sir William Osler, one of the four founding professors of Johns Hopkins Hospital who is once said, "To have striven, to have made the effort, to have been true to certain ideals – this alone is worth the struggle."
Dr. James Sanders was the recipient of The Hippocratic Oath Award, an award voted on by students who select the faculty member who best embodies the ideals of Hippocrates in compassionate patient care, the highest ethical standards, and dedication to teaching excellence.
Friday's commencement ceremony will be streamed live on the college's YouTube page youtube.com/ourmedicalschool and on Facebook at facebook.com/ourmedicalschool 
The other winners include:
Outstanding Senior in Family Medicine – Kathryn Merzayee
Outstanding Senior in Internal Medicine – Courtney Wagner
Outstanding Senior in OB/GYN – Sienmi Du
American Congress of Obstetricians and Gynecologists District XII Award – Jennifer Rizzo
Outstanding Senior in Pediatrics – Morgan Beebe
American Academy of Pediatrics Award – Rachel Quinn
Outstanding Senior in Psychiatry – Bradley Rosenkrantz
Outstanding Senior in Surgery – Mary Catherine Brown
Academic Excellence Award Recipients
Ahmed Ansari
Leah Beland
Mary Catherine Brown
Jais Emmanuel
Alicia Eubanks
Lauren Fragapane
Daniel Freeman
Tyler Janz
Michael Mankbadi
Catherine Pukatch
Jeremy Tran
Merck Manual Award Recipients
Ahmed Ansari
Leah Beland
Lauren Fragapane
Tyler Janz
Post Tags