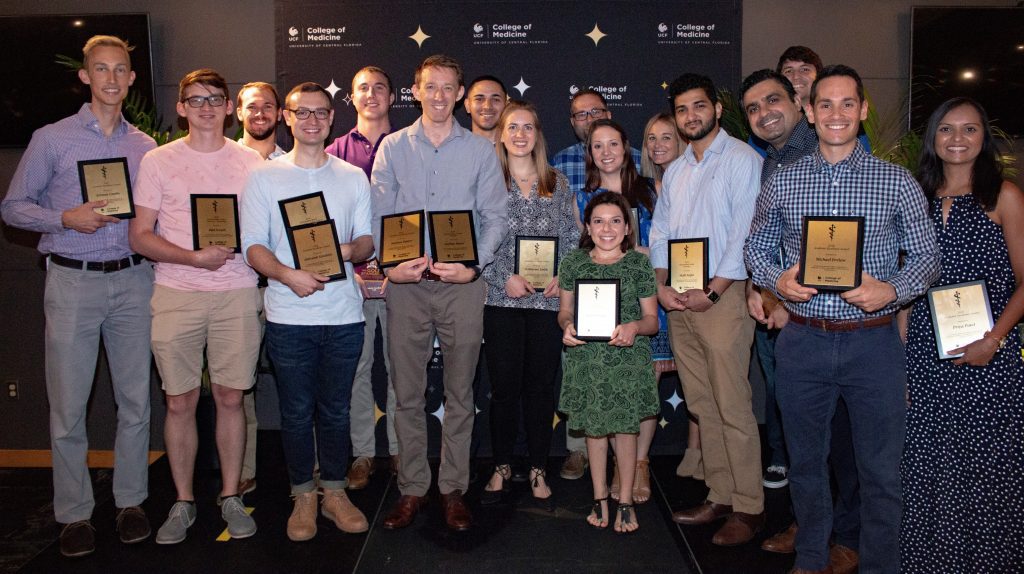 On their last day together before graduation, the medical school's Class of 2018 gathered May 17 to celebrate their shared journey and honor students for their outstanding academic accomplishments.
"You led by example and brought to life our new medical school," Dr. Deborah German, vice president for medical affairs and founding dean told the 116 students who will become physicians on May 18. "You helped the UCF College of Medicine establish a national and an international reputation. You set the bar high for those who will follow you in the classroom, the laboratory, the clinic and the community."
 Thirteen students received the Academic Excellence Award for earning almost all A's in their four years of medical school. Elizabeth Wellings received the Dean's Award for the student with the highest academic performance who embodies professionalism, compassion, and integrity.  By an overwhelming majority, students selected Jessica Fernandez for the Osler Award, given to the student who has demonstrated the most perseverance and overcoming obstacles to succeed.
Dr. James Sanders, assistant professor of neurosurgery, received the Hippocratic Oath Award from students. This award recognizes a faculty member who best embodies the ideals of Hippocrates in compassionate patient care, the highest ethical standards, and dedication to teaching excellence. Dr. Sanders will give the Hippocratic Oath to students at commencement.
Here are the additional 2018 Class Day honorees:
 Academic Excellence Award
Kristen Combs
Trevor Getz
Aleksandr Kovalskiy
Timothy Legare
Marco Mejia Acevedo
Priya Patel
Michael Povlow
Arash Rezaei
Stephen Rineer
Aaron Smith
Katherine Smith
Daniel Stehli
Elizabeth Wellings
Merck Manual Award (given to seniors who have demonstrated outstanding academic achievement)
Aaron Smith
Faculty Choice Award
Nicole Legare
Student Choice Award
Nathan Esplin
Outstanding Senior in Internal Medicine/Family Medicine
Aleks Kovalskiy
Outstanding Senior in Neurology
Mejdi Najjar
Outstanding Senior in OB/GYN
Paul Ericson
American Congress of Obstetricians and Gynecologists District XII Award
Mia Choi and Nandini Nittur
Outstanding Senior in Pediatrics
Stephen Rineer
Outstanding Senior in Psychiatry
Lauren Vassiliades
Outstanding Senior in Surgery
Priya Patel
 As she closed the celebration, Dr. Marcy Verduin, associate dean for students, talked about the journey she had made with Class of 2018 physicians-in-training.
"This is the moment that we have all been working towards," she said. "Your graduation represents your transformation from novice learners into young physicians who we eagerly welcome as our colleagues."
Post Tags
class day

class day 2018

class of 2018

Commencement

graduation

Hippocratic Oath Award

james sanders

Jessica Fernandez

Marcy Verduin

student awards

students