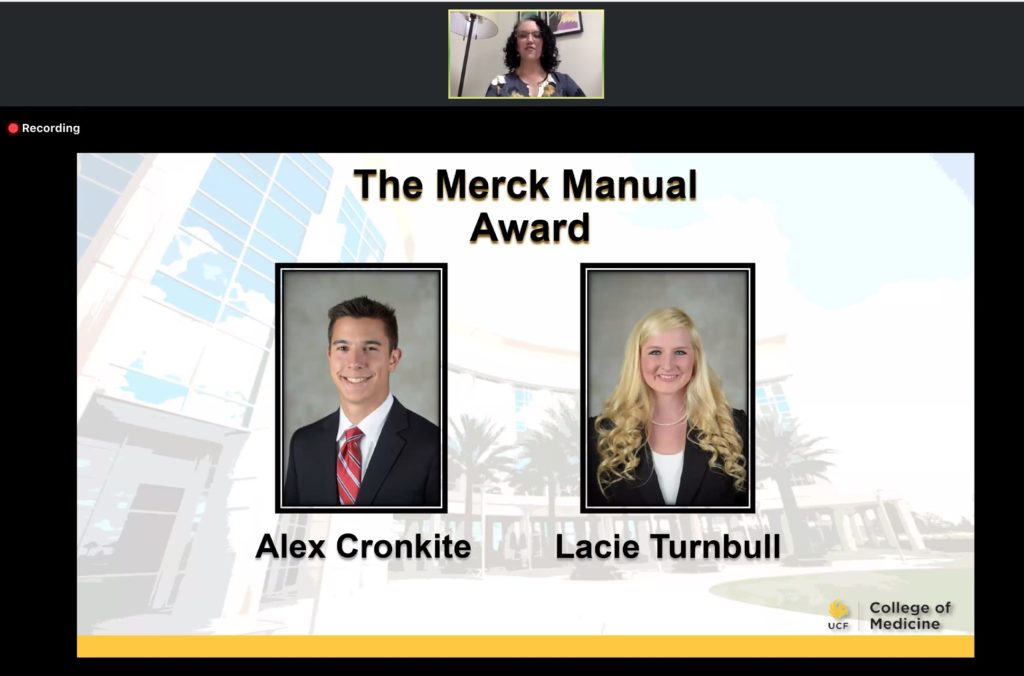 The day before they became M.D.s and in the midst of a pandemic, UCF College of Medicine seniors met via Zoom one last time to honor each other in the traditional – but not so traditional this year – Class Day Celebration.
On Thursday, students received honors for academic and clinical achievement. Dr. James Sanders, assistant professor of neurosurgery, received the Hippocratic Oath Award, honoring the faculty member students believe best exemplifies teaching excellence and compassionate care. Dr. Sanders will lead students in the physician's Hippocratic Oath at Friday's graduation.
Alex Cronkite and Lacie Turnbull received the Merck Manual Award for outstanding academic achievement, having earned A's in every course during medical school. Turnbull also received the Dean's award for academic achievement, professionalism and integrity, and the Faculty Choice Award for being the student faculty members most want to care for their family members.
Sanya Sellers received the Student Choice Award for being the physician most students would want to care for a loved one. She also received the Osler Award as the student who has demonstrated the most perseverance in overcoming obstacles to succeed.  Sellers' brother ended his life in her first months of medical school, prompted her to create mental health workshops for high school students and enter psychiatry as a specialty.
Class Day is traditionally a luncheon where students and faculty leaders gather after graduation rehearsal to share memories and say goodbye. But with the COVID-19 virus requiring social distancing, Class Day 2020 – like commencement – was virtual.
The change in this year's event – and in the world of medicine – was not lost on Dr. Marcy Verduin, associate dean of students, who spoke to the class via Zoom after four years of ushering them through medical school.
"As you graduate and begin your residencies, you stand on the threshold of a new beginning — a new beginning for your own career, and a new beginning for medicine as we unite in battle to fight this pandemic," she said.  "I always believe in choosing to see the opportunity in the midst of challenge, and I also believe that the future always holds promise for those who are willing to rise up and meet those challenges.  I know all of you have what it takes to do just that."
Additional Class Day Honorees:
Academic Excellence Award: Pressley Chakales, Alex Cronkite, Steven Glener, Lisa Malyak, Lacie Turnbull, Logan Walker
Outstanding Senior in Family Medicine: Jenna Driscoll
Florida Academy of Family Physicians Foundation Award: Jenna Driscoll, Amy Fitch
Outstanding Senior in Internal Medicine: Michelle Russin
Outstanding Senior in Neurology: Pressley Chakales
Outstanding Senior in OB/GYN: Riana Kahlon
American Congress of Obstetricians and Gynecologists District XII Award: Jacklyn Locklear, Riana Kahlon
Outstanding Senior in Pediatrics: Jaclyn Marrinan
Florida Chapter of the American Academy of Pediatrics Award: Ashlee Smith
Outstanding Senior in Psychiatry: Sonia De La Cruz
Outstanding Senior in Surgery: Lisa Malyak
Has the UCF College of Medicine Positively Impacted You?
The UCF College of Medicine is a research-based medical school with a culture based on partnerships and collaboration. As a founding member of Orlando's Medical City we are proud to be your community medical college.
Find out how to give back to your medical school, today!