College of Medicine

Faculty News

Internal Medicine Residency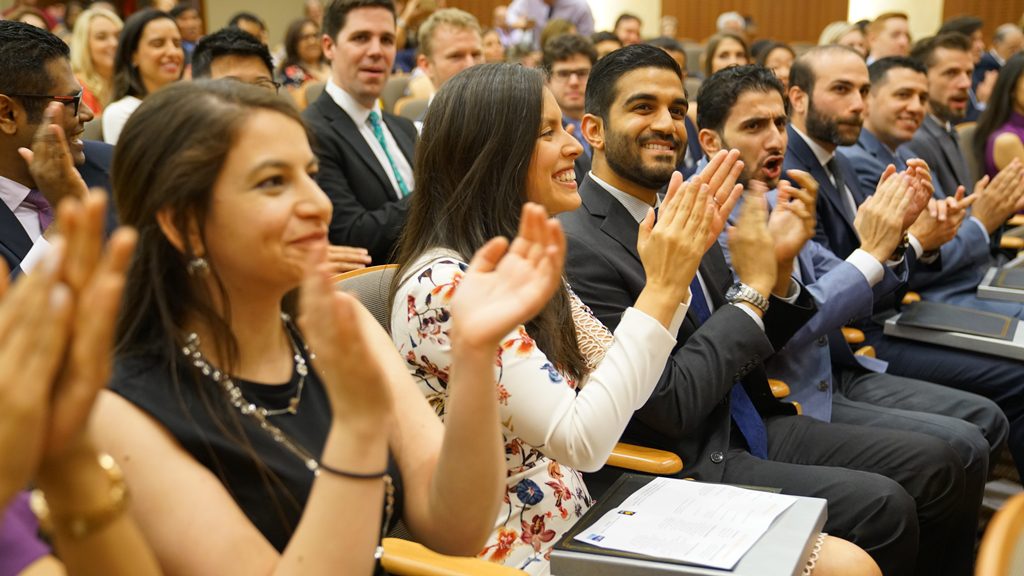 UCF's second Orlando residency graduation was a celebration filled with cheers – Residents cheered their attending physicians, their class' top graduates and even chanted "Chief, Chief, Chief" for next year's program leaders. By night's end, when the cheering was done, 37 physicians had taken the next step in providing care to patients.
The June 14 event graduated 17 Internal Medicine, 14 Transitional Year and three Obstetrics/Gynecology residents and three Internal Medicine chief residents from a partnership program involving UCF, Osceola Regional Medical Center and the Orlando VA Medical Center. In 2014, the UCF College of Medicine began its first residency – internal medicine with Osceola and the Orlando VA. Today, a UCF-Hospital Corporation of America consortium has 22 residency and fellowship programs that will be training 350 doctors by July.
"You planted a seed," Dr. Deborah German, vice president for medical affairs and founding dean of the medical school, told graduates. "You spearheaded a huge change and a legacy that will last far beyond you. You build something very, very special. You came into this program as doctors. You're coming out of it as practitioners."
UCF and its partners created the residency and fellowship programs to help alleviate Florida and the nation's physician shortage. And Dr. Diane Davey, UCF's associate dean for graduate medical education, said she was thrilled that so many of the doctors are staying in the state. All three Internal Medicine chief residents are going on to fellowship training in Central Florida – one at Orlando Health, one at UCF/HCA Orlando and one at the University of Florida. All three OB-GYN graduates are staying in the greater Orlando area. Ten of the graduating Internal Medicine physicians are practicing or doing fellowships in Florida. Others are going to fellowships in locations that include Mayo Clinic and UCLA.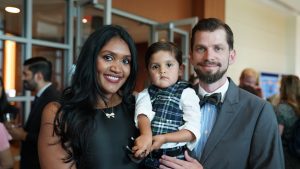 Internal Medicine specialist Dr. Stephen Dodson is a UCF alumnus who graduated from Miami's Leonard M. Miller School of Medicine. His wife, Charlene, is a medical student at UCF. The two met when they were lab partners at UCF. Dr. Dobson, a 15-year veteran in the Air Force, is joining the Orlando VA Medical Center as a hospitalist. "I think my military experience really helps me relate to other veterans," he said, holding the couple's young son who attended graduation, "to understand what they're going through and give them the care they need."
Dr. Allison Amore was a medical student when she inspired Osceola Regional to begin the new OB-GYN residency program, said the program's director, Dr. Mark Palazzolo. She'd done clerkship training at the hospital, fell in love with OB-GYN, but lamented that there weren't any local residency programs in the specialty. "That was the seed," Dr. Palazzolo said in pushing Osceola Regional leaders to consider building their own residency.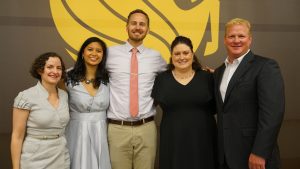 Dr. Amore talked about being a pioneer in starting the new program with its first three physicians. She described how residents had bonded with nurses – several of whom attended graduation — and worked closely with attending physicians. "We were able to share some of the most special moments of our patients' lives," she said. "Handing them a new life – it doesn't get any better than that."
Another new UCF-HCA residency program is the Transitional Year training at Osceola Regional. Transitional Year residencies are required for some specialties such as ophthalmology, dermatology and radiology before young physicians enter more specialized training. Seven of the 14 Transitional Year graduates were alumni from the UCF College of Medicine and will now go onto training at hospitals such as Emory and Brown.
Dr. Joe Caravaglio said he was honored to be a student at UCF's new medical school and equally honored to be in its first cohort of Transitional Year residency graduates. He now moves to Brown for dermatology and said he was fortunate to rotate and learn from so many specialties that impact the skin, such as rheumatology. "Every rotation taught me something that will be beneficial to me going forward," he said. "The faculty here take the time to really help you learn. In this program everybody's family so it's bittersweet to graduate."
At the graduation, leaders announced the Internal Medicine chief residents for the next two years. All are "home grown," explained Program Director Dr. Abdo Asmar – they will lead the program that trained them. Next year's chiefs are Drs. Juan Haller Char, Nway Ko ko and Vishal Patel. The 2019-2020 chiefs are Drs. Israel Acosta, Hiren Patel and Jorge Restrepo.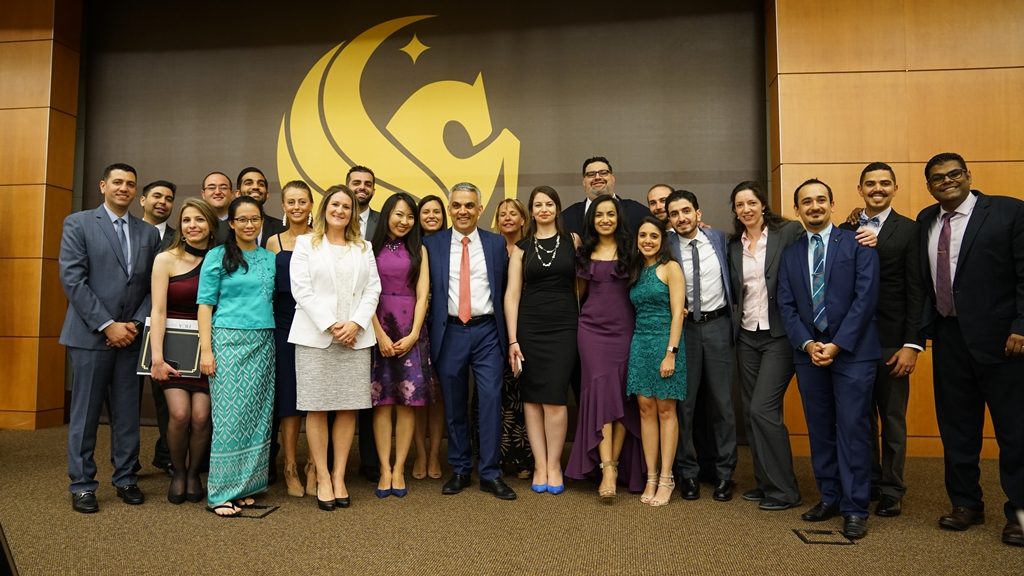 The ceremony also included awards for faculty and residents who achieved in clinical skills, humanism, education of medical students and overall excellence. The awardees are:
Obstetrics/Gynecology
Osler Award – James Sorensen
Humanitarian Award – Shruti Agarwal
Student educator Award – Brittney Brown
Clinical Skills Award – Sean McCarty
Internal Medicine
Osler Award Inpatient – Adam Earhart
Osler Award Outpatient – Arneda Wright
Osler Award Subspecialty – Rami Hanna, Sayed Tahir Hussain, Alena Klochko
Humanitarian Award PGY1 – Kathlyn Camargo Macias
Humanitarian Award PGY2 – Zhabiz Solhjou
Humanitarian Award PGY3 – Nway Ko Ko
Clinical Skills Award PGY3 – Natalia Castillo-Almeida
Clinical Skills Award PGY2 – Luis Sanchez
Clinical Skills Award PGY1 – Nadia Elias
Resident as Teacher Award PGY1 – Nancy Torres
Resident as Teacher Award PGY2/3 – Sundeep Kumar
Transitional Year
Clinical Skills Award – Joe Caravaglio
Osler Award – Julio Calderin
Post Tags
Dr. Abdo Asmar

Dr. Deborah German

Dr. Diane Davey

Dr. Stephen Dodson

graduate medical education

internal medicine residents

physician shortage

Residency graduation

UCF-HCA residency consortium