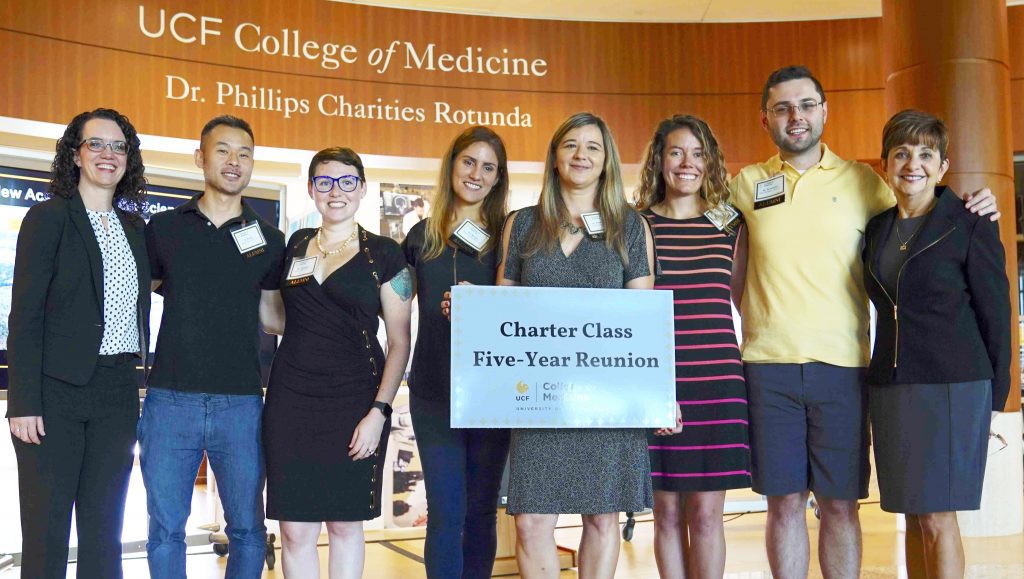 Dr. Will Kang grew up surrounded by medicine. His grandfather and both parents were doctors and three of his siblings ended up becoming physicians as well. So he was eager to join what he calls the "family business."
"What's amazing about medicine is that you see all parts of society," he said. "We get to see the richest of people, and the people who are struggling with life. And you treat them all the same."
In 2009, he became part of the College of Medicine's charter class, where he and 40 other classmates received full four-year scholarships thanks to community donations. Dr. Kang came to medical school after being a concert violinist in Florida and Louisiana, and went on to serve as class president, start the UCF chapter of the American Medical Student Association (AMSA), and organized intramural sports on the Tavistock Green.
He returned to his alma mater October 5 for the charter class's five-year reunion, the first M.D. alumni event in the College of Medicine's young history. He said he experienced a "flood of emotions" in seeing where his medical journey began.  The reunion included meetings with Dr. Deborah German, the medical school's founding dean, and Dr. Marcy Verduin, associate dean for students. The alumni also spent the afternoon and evening at Disney touring Epcot, having dinner and watching a spectacular fireworks display.
Post-graduation has been a busy time for Dr. Kang. He returned to his native New Orleans to complete an orthopedics residency at the Ochnsner Clinic. He married Dr. Arshia Soleimani, who graduated from the med school in 2014. She did her internal medicine residency in New Orleans and is now doing a hematology/oncology fellowship at the University of Maryland. "She was the best thing that happened to me in med school," he said. They recently bought a house in Baltimore, where he's setting up his own orthopedics practice. He said his years at UCF helped prepare him for the fast-moving world of orthopedic surgery.
"The surgical field is inherently unpredictable," he said. "You can lay down a plan, and things change. I think having been used to that at the college really helps a lot. People say things can't be done, and I tell them, at UCF our attitude wasn't 'this can't be done,' it was, 'well how can we do it?'"
Being back at the med school brought back reflections from other charter class members as well.
"When I was driving out here, the thing that stood out for me the most was how much growth has been in this area," said Dr. Virgil Secasanu. "When we started, this place, it was flat land. Now the VA's complete, Nemours is open."
He's in a pulmonary critical care fellowship at Ohio State University after finishing his internal medicine residency at the University of Colorado. Ultimately he wants a career in academic medicine.
Dr. Secasanu came to UCF from Georgia Tech, where he was a biomedical engineering student and USA Today All-USA Academic Team Member. As an undergrad, he worked with physicians to help design and develop medical devices, and for his FIRE research project at UCF, he constructed a novel cardiovascular device to treat newborns diagnosed with hypoplastic left heart syndrome. While at UCF he published an abstract in the American Journal of Transplantation, was elected founding president of the Internal Medicine Interest Group, founding secretary of AMSA and served as founding chair of the Student Professional Conduct Council, which is responsible for drafting and ratifying the college student honor code.
Dr. Secasanu said being part of the charter class gave him unique leadership opportunities.  "We saw this place grow from the ground up – the beams, the drywall. We learned how to grow a large program from scratch," he said. "I think that is a special, unique experience that I wouldn't have had at any other institution."
Dr. Irina Prelipcean, currently a fourth-year neonatology resident at University of Florida, said she constantly hears about UCF's growth from the medical students she works with there, and it fills her with pride.
"UCF has gained quite the reputation," she said. "I'm still at heart a UCF alumna. It's great to see what the college has become in such a short time."
Post Tags
Alumni

Arshia Soleimani

Charter Class

Irina Prelipcean

Virgil Secasanu

Will Kang