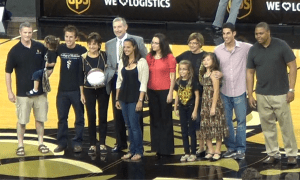 Members of UCF College of Medicine's charter class were honored at center court during February 26's Knights  basketball game against Georgia Southwestern. Dr. Deborah German, vice president for medical affairs and dean of the medical school, received the game ball along with M.D. students from the class of 2013. The medical school and UCF Health, the College of Medicine physician practice, sponsored the game.
The college was recognized for its recent full accreditation, and its first graduation on May 17. During a halftime radio interview with the IMG Sports Radio Network, Dr. German raved about the charter class, and its contribution to the medical school's future. "The first class has done a great job helping us recruit extraordinary classes. In fact, the faculty thinks the classes that follow them might be even stronger… They have big shoes to fill," she said. Dr. German added that the College of Medicine expects even more stellar students as it prepares for its first class of full enrollment of 120 students in August. "We have extraordinary quality," she said of this year's applicants for the class of 2017. "High GPAs, high MCATs, and we look for students that have a real heart for medicine."
Has the UCF College of Medicine Positively Impacted You?
The UCF College of Medicine is a research-based medical school with a culture based on partnerships and collaboration. As a founding member of Orlando's Medical City we are proud to be your community medical college.
Find out how to give back to your medical school, today!