College of Medicine

Faculty News

Medical
A foundation devoted to bringing more humanism to medicine has chosen The UCF College of Medicine for recognition with a grant that will help the young medical school honor and further train students to be compassionate healers.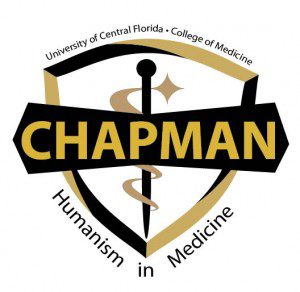 The grant from the Jules B. Chapman, M.D. and Annie Lou Chapman Private Foundation will establish the "Chapman Humanism in Medicine Initiative at the UCF College of Medicine." The Foundation's $116,255 donation will create three new programs to foster students' humanism, ethics and professionalism, and also promote students' wellbeing and positive mental health at UCF's medical school.
Creation of the Chapman initiative – like so many College of Medicine efforts – was a team effort. Faculty member Dr. Caridad Hernandez and Dr. Marcy Verduin, associate dean for students, worked with a team that included Dr. Katherine Daly, a psychologist from UCF's Counseling and Psychological Services, and Dr. Shazia Beg, a UCF faculty member who was inducted into the national Gold Humanism Society as a medical student. They and other faculty and staff designed UCF's program and wrote the grant application to create the initiative, which will include:
The UCF Chapman Chapter of the Gold Humanism Honor Society. The Gold Humanism Honor Society (GHHS) honors fourth-year M.D. students who are exemplars of humanism and demonstrate excellence in clinical care and a dedication to service. Established in 2002, the GHHS is a signature program of the Arnold P. Gold Foundation, a national organization dedicated to fostering humanism in healthcare. The Chapman Foundation donation will help sustain a GHHS chapter at the College of Medicine and fund students' service-related projects. Robert Watson, Trustee of the Jules B. Chapman and Annie Lou Chapman Private Foundation, said he looked to UCF as the next medical school to create a Chapman Chapter of the honor society largely because of his positive relationships with UCF faculty over the years and in locations across the state and nation. The Chapman Foundation created a similar honor society at Florida State University. UCF is its third in the state.
Expansion of narrative medicine programs throughout the college. Narrative medicine's focus is helping students and faculty appreciate and reflect on the doctor-patient relationship and how both parties deal with disease. With the grant, the medical school will expand reflective experiences during the internal medicine clerkship. Such experiences are now done during the pediatrics clerkship. In addition, the Chapman Foundation's donation will provide additional support to The Script, the student-produced literary magazine, where students reflect through writing, photography and illustration their experiences in life, death and patient care. Last year's inaugural edition gained national attention from the Association of American Medical Schools (AAMC). With the donation, the college will be able to expand the magazine and its distribution.
Student wellness programs. Burnout, anxiety and depression are common problems for medical students, and the grueling four years of training can deteriorate the compassion that students bring with them to medical school. The Chapman Foundation grant will help expand wellness programs to promote students' wellbeing and positive mental health. New resources will include biofeedback kiosks at the medical school, where students can do self-guided biofeedback sessions. The college will also expand lunchtime sessions on topics such as suicide prevention, mindfulness and building resiliency.
A neurologist since 1972, Dr. Watson said medical schools' challenging curriculum can alter the "fundamental goodness" that brought most students into healthcare and can leave them cynical. He says he hopes the Chapman initiative will teach UCF students to be resilient despite the challenges of caring for others in an often difficult healthcare system. He hopes support of narrative medicine and the arts will help students balance science with creative expression and "help them learn to always have their hearts involved." He said his own experience with patients has taught him the importance of a healer who "feels deeply what patients and their families are going through and makes the journey with them. The more I did that, the more I realized that such feeling was more important than any pill or potion I could give the patient."
Developing students' hearts as well as their heads for medicine has been a focus Dr. German's. She expressed delight that the Chapman Foundation was partnering with the medical school in creating compassionate, sensitive and inclusive physicians. "At UCF we are creating physicians who are The Good Doctor," she said. "Such a doctor is compassionate, engaged and a great communicator. In the past we considered these 'soft skills' but today we know that such skills are necessary to truly serve patients."
About the Jules B. Chapman, M.D. and Annie Lou Chapman Private Foundation.
The goal of the Jules B. Chapman and Annie Lou Chapman Foundation is to elevate the values of professionalism and humanism within the practice of medicine. The foundation advocates for humanism through activities within medical education and the community.
Jules B. Chapman, M.D., an ophthalmologist, attended the University of Tennessee for his medical training after graduating from the University of Florida. After his internship at Miami's Jackson Memorial Hospital, he served as a surgeon in the European theater during World War II, distinguishing himself at the Battle of the Bulge. After the war, he returned to West Palm Beach and set up a private practice with his wife, Annie Lou, as his nurse. During the war, she had worked at Jackson Memorial alongside Dr. Bascom Palmer in the early days of cataract surgery.
Dr. Robert Watson, Trustee of the Jules B. Chapman and Annie Lou Chapman Private Foundation, is professor of neurology at Florida State University and professor emeritus at UF, where he was Senior Associate Dean of Educational Affairs for 18 years. He was Mrs. Chapman's physician for many years, describing her as fiercely independent, opinionated and a woman who loved to dance. He says that during the late 1980s and early 1990s, when Dr. Chapman was being treated for vascular disease, the couple decided to seek ways to improve humanism in the care of patients. Following her husband's death, Mrs. Chapman began pursuing ways to fulfill their wish. She not only funded the UF Chapman Chapter of the Gold Humanism Society, but also created a professorship, "The Chapman Professor of Clinical Care and Humaneness," which Dr. Watson held until his retirement from UF. She also funded a full tuition four-year scholarship for a deserving medical student. Even in her 90s, Mrs. Chapman attended Chapman Chapter of the Gold Humanism Honor Society induction ceremonies at the University of Florida, telling medical students, "You all need to be just like Dr. Watson." Before Mrs. Chapman died she created a private foundation to support more humanities in medicine and named her physician as its trustee.

Post Tags