College of Medicine

Students
The M.D. program recognized top Class of 2017 graduates May 17 in its traditional Class Day Celebration.
"Tonight we're gathered one last time before commencement to celebrate the medical school journey we have made together as faculty and students," said Dr. Deborah German, vice president for medical affairs and founding dean of the College of Medicine. "Thank you for achieving excellence with a pioneering spirit that will forever be part of your legacy."
The Dean's Award, presented to the student with the highest academic performance, who embodies professionalism, compassion, and integrity, went to Sarah Hart, below right, who also received honors as Outstanding Senior in Internal and Family Medicine, and Outstanding Senior in Neurology.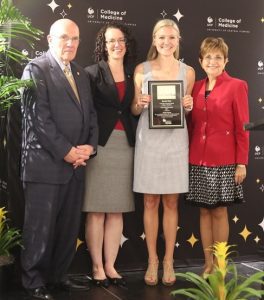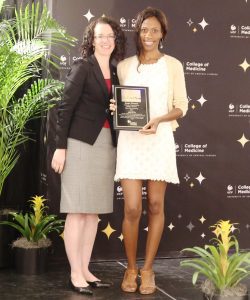 Kesha Thomas, left, received the Osler Award, given to the student who has demonstrated the most perseverance and overcoming obstacles to succeed. Thomas, a single mother of two teenage daughters whose family home was destroyed by fire in 2016, was the winner by an "overwhelming majority" of her classmates, said Dr. Marcy Verduin, associate dean of students.
Dr. James Sanders, below right, received the Hippocratic Oath Award, presented to the faculty member students believe best embodies the ideals of Hippocrates in compassionate patient care, ethical standards and dedication to teaching. As part of the award, Dr. Sanders will lead graduates in the Hippocratic Oath during commencement Friday.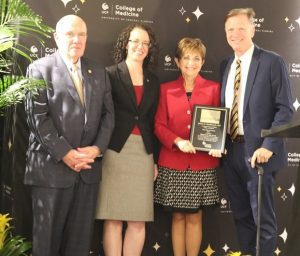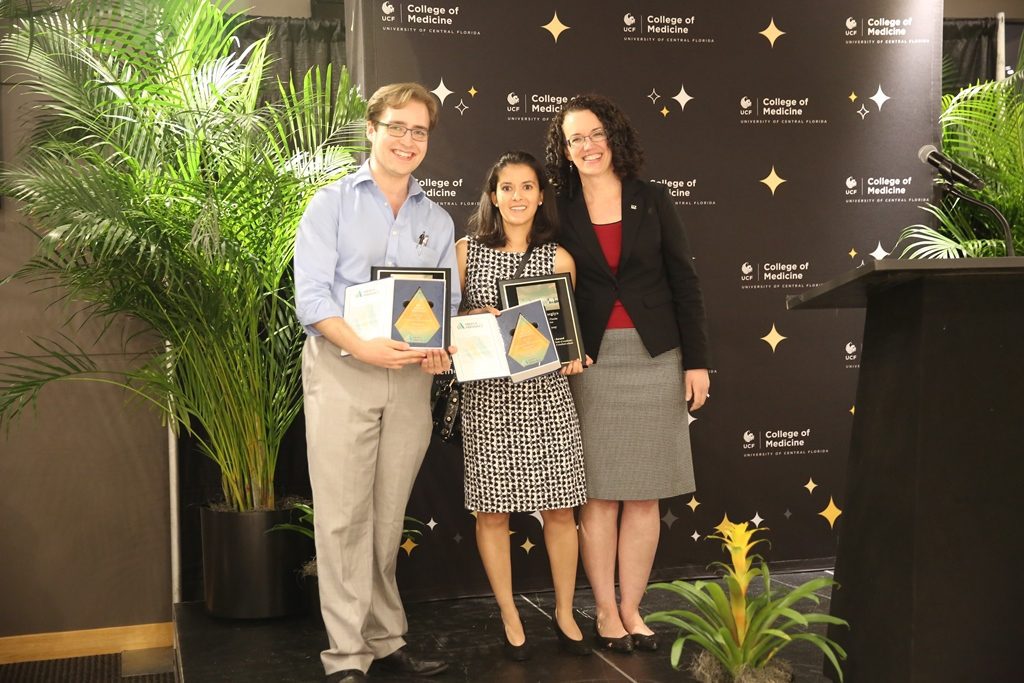 Other award winners were:
 Academic Excellence award for students with highest academic excellence over all four years – Michael Chambers, Richa Vijayvargiya. The two also received the Merck Manual Award for seniors who have demonstrated outstanding academic achievement, above.
Faculty Choice Award for student faculty members would most want to care for their own family – Jacqueline Babb
Student Choice Award for student that classmates would most want to care for their own family –Angela Rodi.
Outstanding Senior in OB/GYN – Eva Reina
 Outstanding Achievement in OB-GYN from the American Congress of Obstetricians and Gynecologists District XII – Zoran Pavlovic and Eva Reina.
 Outstanding Senior in Pediatrics – Michael Chambers
Florida Chapter of the American Academy of Pediatrics 2017 Luther W. Holloway Award – Melanie Weinstein
Outstanding Senior in Psychiatry – Richa Vijayvargiya
Outstanding Senior in Surgery – Michael Chambers
 Class of 2017 officers announced at the event that graduating students are donating money for a shade tree and commemorative brick on the Tavistock Green and Piazza.
As she closed the celebration, Dr. Verduin said she remembered the graduates' "White Coat Ceremony as if it were yesterday…This is the moment that we have all been working towards – your graduation represents your transformation from novice learners into young physicians who we eagerly welcome as our colleagues."
Post Tags