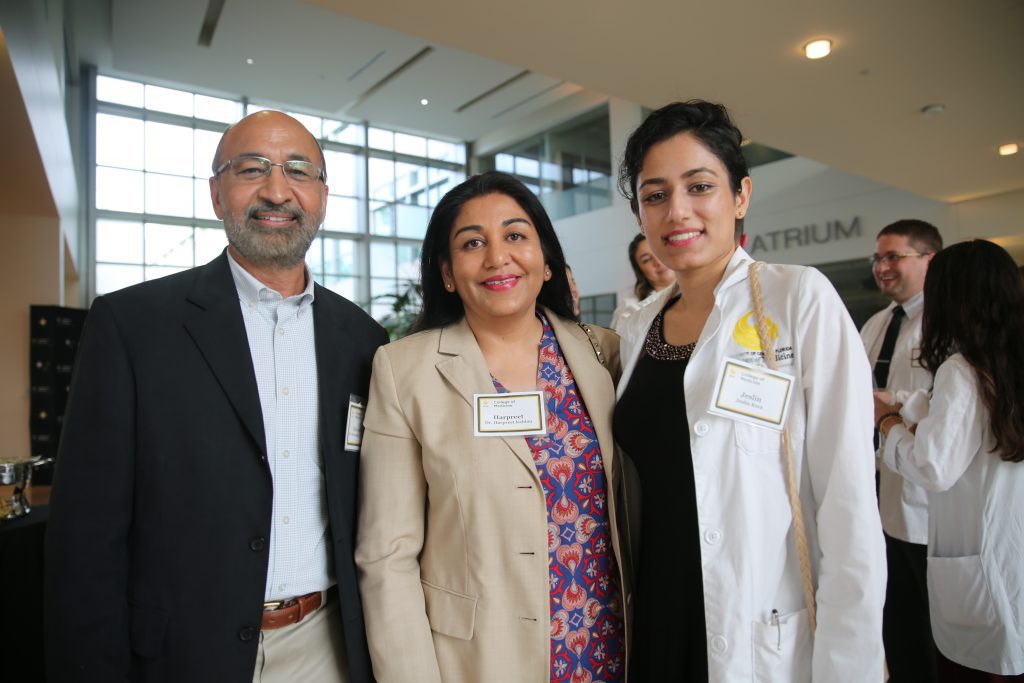 For Spencer Adams, medical school was almost an impossible dream. Not only had he dropped out of college on his first try, but with a family to support, finances were tight. But thanks to the generosity of scholarship donors, Adams, a husband and father of two, is thriving in his second year of medical school.
"I knew that medical school was expensive and I knew I would not be able to work full time while studying and that's the biggest reason I didn't come to medical school sooner," Adams said. "But this scholarship has taken some of that financial burden off, allowed me to pursue my dream and that's something I'm just eternally grateful for."
On Sept. 14, Adams and other medical students got the opportunity to thank their scholarship donors at the medical school's second annual Scholarship Reception held this year at the new UCF Lake Nona Cancer Center. Approximately 50 students received scholarships this year made possible through College of Medicine donors.
Adams, one of the event's featured student speakers, thanked donors for the far-reaching impacts of their gifts.
"Becoming a father was the catalyst for me even applying to medical school," Adams said. "And my hope is that my children, in turn, will invest in others because they will grow up seeing the impact that has been made in their parent's lives, and the impact their parents will make in other's lives."
That impact, Adams explained, expands to the patients he treats as the co-director for the Chapman Compassionate Care Clinic for the Homeless, a pop-up clinic that provides care to Downtown Orlando's homeless population.
"What your gift has shown me is the exponential footprint that individuals who partner with UCF and our medical students really has," Adams said. "This partial tuition scholarship has allowed me to study medicine, and it's also allowed me to serve the homeless community in Orlando. So it has not only changed my trajectory and my family's, but it has changed the trajectory of over 100 unsheltered homeless people and the wider Orlando community."
The event was an opportunity for donors to meet their beneficiaries and hear their successes. Second-year medical student Jeslin Kera is a first generation college student. Growing up in India, she saw the limited access that girls and women had to education and healthcare. That inspired her to become a doctor for the underserved. Kera moved to the United States as a teenager, graduated as valedictorian from Orlando's Dr. Phillips High School and earned scholarships that helped her earn a degree in biomedical sciences from UCF, where she was named to the Order of Pegasus — the university's highest student award.
"I come from a background where finances have always been a concern to us," Kera told participants in the scholarship event. "Every time I would think of applying to medical school or even think about doing anything in my life, I had to first wonder about finances and how and whether I could afford it or not."
"I don't have words to explain how much you guys mean to me and how you were able to help me retain high hopes for my future," Kera told the donors attending.
Kera's scholarship has motivated her to give back. She has started a non-profit organization called Knights Overseas to raise money to help educate young girls in developing countries.
As she thanked donors for their generosity, Dr. Deborah German, vice president for health affairs and founding dean of the UCF College of Medicine, noted that, "Your generous gifts have a dual effect. Firstly, they impact the medical school's growth and ability to attract the very best and brightest students. Facilities like this Cancer Center we are sitting in today, will bring a new approach to cancer research and treatment to our community. Here, scientists and physicians will work side-by-side, on the same team to discover tomorrow's treatments and cures."
"Then there is also the impact it has on students," Dr. German added, "the ability to go through medical school with little to no debt, giving them the freedom to choose whatever specialty they love, not necessarily the one that will make them the most money."
Donor and guest speaker, Robert Mead, Jr. invested in the very first endowed scholarship at the UCF College of Medicine in 2007.
"We hope this gift in the short term will alleviate the financial burden and allow the students to focus on learning," Mead said. "In the long term, we hope this scholarship will inspire students to give back to the Central Florida community and empower young physicians to make a difference in the lives of others."
Post Tags