College of Medicine

Faculty News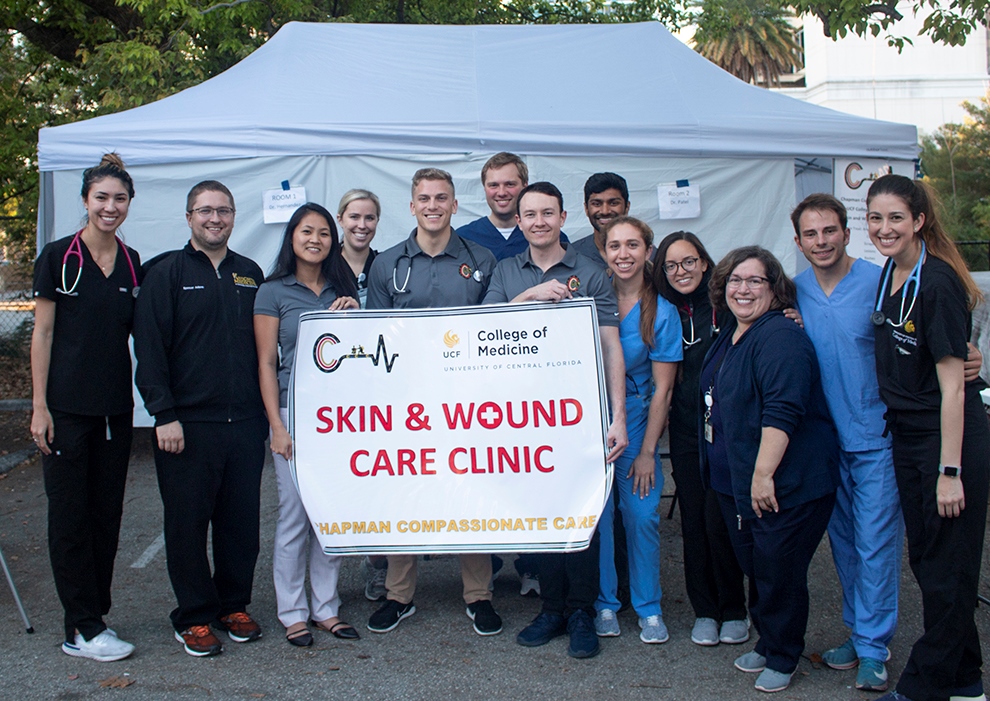 "I've had it for a while – I don't know what it is. It itches pretty bad sometimes. It might be eczema – my sons all have that."
Charles tugs at the collar of his faded T-shirt and points to a large white rash on his neck. He's 45 years old, sleeps on a park bench most nights, and has no one to care for the fungal infection that is causing his itching.
This night, however, UCF medical students and their faculty advisors are offering relief.
They've started Chapman Compassionate Care for the Homeless, which runs skin and wound clinics for downtown Orlando's homeless population and connects them with local healthcare resources. The first clinic in January saw about two dozen people. The most recent, on April 2 at St. George Orthodox Church, provided wound care to 12 patients and Hepatitis A vaccines to over 25.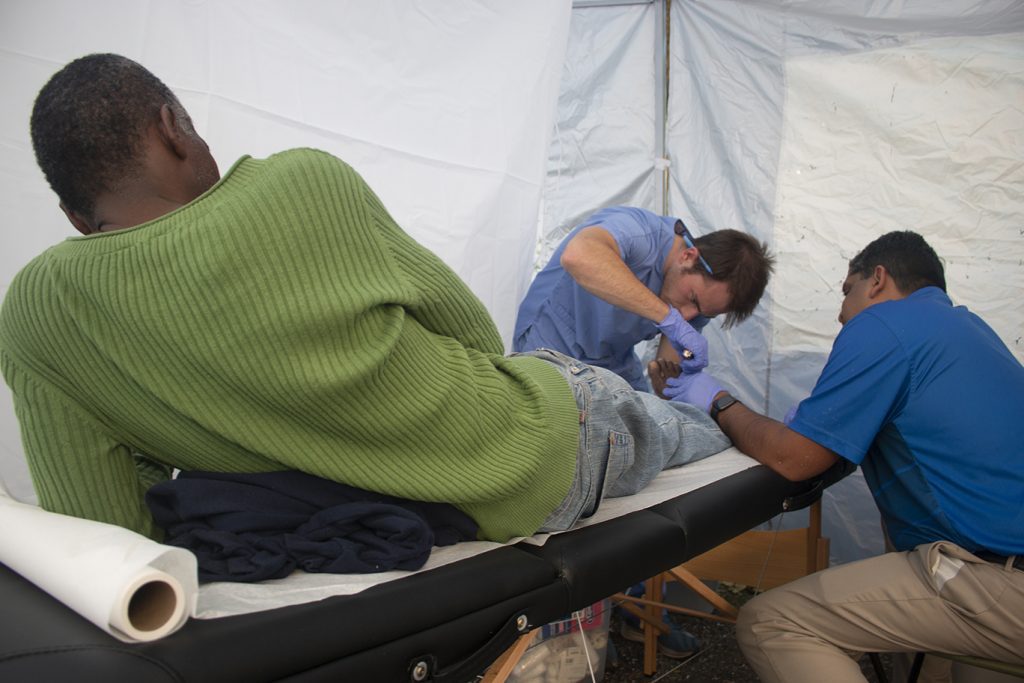 With no access to healthcare and living in unsanitary conditions like abandoned buildings, parks and street corners, homeless people are susceptible to burns, fungal infections, psoriasis and dermatitis that, left untreated, can cause serious health problems. The UCF team provides anti-inflammatory and anti-fungal medications for patients like Charles. They remove calluses, bandage wounds and provide patients with information on nearby clinics that can provide follow-up care.
The College of Medicine outreach is "an important part of our community's continuum of care to homeless persons," said Lisa Portelli, senior advisor on homelessness and social services for Orlando Mayor Buddy Dyer and a UCF alum. "At the point of providing care, the UCF medical students are building trust and connecting with our unsheltered homeless persons so they can guide them to follow-up care at the Healthcare Center for the Homeless and other clinics or shelters."
UCF medical student Sirikanya Sellers understands homelessness better than most – her mom has been in and out of homeless shelters for the past seven years. "Whenever I try to take her to lunch, you could see people actively avoiding eye contact," Sellers said. "Shelters turn you away because they are capped each night, so you have to wait in line for hours or risk exposure to the cold."
That's why Sellers, fellow third-year medical students William Fraser and Cole Friedes and faculty advisor Dr. Caridad Hernandez established the homeless clinic. "We wanted our organization to be 'compassionate' and not simply 'empathetic,'" Friedes said. "To not only care about those who were suffering, but to also produce tangible effort to help improve their situation."
That motivation led the clinic to partner with the Florida Department of Health to provide the vaccinations against Hepatitis A, a highly contagious liver infection that is increasing among Orlando's homeless population.
"Since last summer, we've seen a greater than 5,000 percent increase in locally acquired Hepatitis A in this area," said Alvina Chu, epidemiology program manager for the department in Orange County. "These populations primarily affected by this outbreak might not seek out routine medical care, and so we think it's important to bring the services to them to try to help protect them from acquiring this infection."
UCF's wound clinic was more than two years in the making. Fraser got the idea as a first-year medical student when he spoke with a friend about Tampa Bay Street Medicine. That clinic, run by University of South Florida medical students, cares for homeless people on the street and in shelters. Fraser thought the idea could work in Orlando, and contacted classmates Sellers and Friedes, who shared his passion.
The students connected with local physicians and volunteer organizations to assess community needs. They realized quickly that their patients faced additional challenges in getting access to medical care, especially transportation.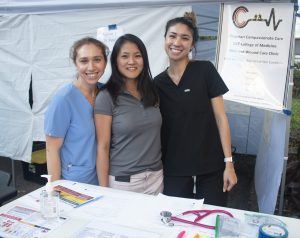 "We cannot simply advise 'lifestyle changes' or 'this is where you can follow up with a doctor,'" Sellers said. "We had to develop materials and resources specific to our population, such as printing out maps of facilities within walking distance and providing bus coupons for future referrals."
Another challenge is hygiene. Some patients have arrived at the clinic with painful and infected diabetic foot ulcers, which return because people lack access to clean showers and clean clothes. "So we try to supplement that with giving them clean socks and a hygiene kit," Sellers said.
Dr. Hernandez said the clinics help UCF medical students see the real-life challenges their future patients may face. "It's important for the students to gain experience with vulnerable populations like this one and to understand the challenges they face so that they can better take care of them as future physicians," she said. "Sometimes we forget how easily we can go from being in a really great, stable position to losing the infrastructure and support that we have."
Thanks to the generosity of the Jules B. Chapman, M.D. and Annie Lou Chapman Private Foundation, the clinic will be receiving $100,000 over the next five years. The Ft. Myers-based foundation promotes the values of humanism in medicine and currently funds several College of Medicine initiatives, including the Chapman Chapter of the Gold Humanism Honor Society, narrative medicine and wellness programs.
With the additional funding, students hope to start a needle exchange program, develop health education materials and find additional partners to provide more resources, including mental health care.
"Hearing our patients' stories and seeing how appreciative everyone is has been an amazing experience," Fraser said. "Having the opportunity to work with this population will undoubtedly have a positive effect on the way we practice medicine."
Post Tags
Chapman Compassionate Care for the Homeless

Dr. Caridad Hernandez

homeless

Orlando

wound care