Burnett School

College of Medicine

Faculty News

Students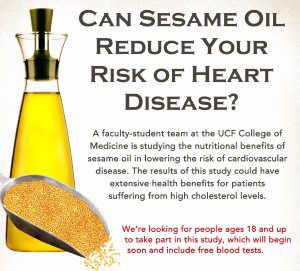 A faculty-student team at the College of Medicine is studying the nutritional benefits of sesame oil in lowering the risk of cardiovascular disease and is seeking participants. The results of this study could have extensive health benefits for patients suffering from high cholesterol levels.
Class of 2018 medical student Edmund Hsu is conducting the study as part of his FIRE (Focused Inquiry and Research Experience) module, under the guidance of Dr. Sampath Parthasarathy, associate dean of research at the College of Medicine. Dr. Parthasarathy is the co-discoverer of the major cardiovascular concept, that oxidized LDL cholesterol blocks arterial vessels in the heart. He also holds the Florida Hospital Endowed Chair in Cardiovascular Science at the medical school. A firm believer in the heart-healthy components of sesame oil, Dr. Parthasarathy uses the oil in cooking and even uses it to create his own yogurt.
Hsu said he has always been interested in cardiology, noting that he continues to play competitive tennis to stay heart healthy and that his Asian culture uses sesame oil often in cooking. He says his goal with the research is to help identify better preventions for heart disease, the leading cause of death in America. Hsu is the second member of his family to attend the UCF College of Medicine. His sister Christina graduated in 2014 and is now doing her emergency medicine residency at Beth Israel Hospital in New York. Hsu said he came to UCF because of his sister's great experience at the new and innovative medical school. He added that she speaks often of how the FIRE project has helped her present, understand and appreciate research as a resident.
The FIRE project is part of the College of Medicine curriculum and requires all students to participate in a two-year research project on a topic about which they are interested. Many students give oral and poster presentations of their FIRE results. The goal of the module is to help develop a "spirit of inquiry" and an appreciation of the role research plays in improving medical care.
Hsu and Dr. Parthasarathy are looking for people ages 18 and up to take part in this study, which will begin soon and include free blood tests. Interested? Have questions? Please contact Hsu at (510) 206-0480 or at ucfsesameoilstudy@gmail.com.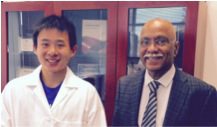 Post Tags