College of Medicine

Faculty News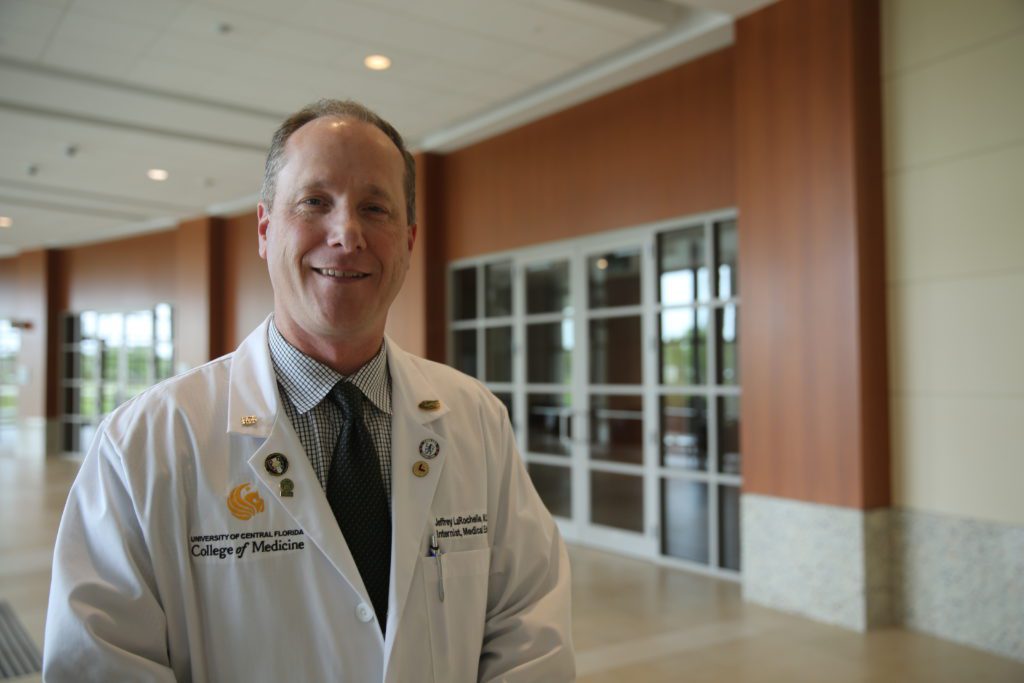 A College of Medicine faculty physician and retired Air Force colonel-select is recalled to military service to help fight the COVID-19 pandemic. Dr. Jeff LaRochelle, assistant dean of medical education, reported today to McGuire Air Force Base in New Jersey and was immediately sent to the Jacob Javits Center in Manhattan to care for patients. The huge convention center is now a makeshift hospital with New York struggling as the nation's epicenter of the COVID-19 outbreak.
"Times like these are a vibrant reminder of what the heart of a physician requires," he wrote over the weekend to his students. "To run towards the crisis when the rest of the world is running away. To help those in need whom others have abandoned. To hold a person's hand whom others have shunned."
An internal medicine physician, Dr. LaRochelle trained at the Uniformed Services University of the Health Sciences in Bethesda, MD. He came to UCF in 2017 and last week received word he had been promoted to professor, He led efforts at the medical school to put all of the curriculum on-line in light of COVID-19 and help reassure anxious students that their education and progression through medical training will continue. In his goodbye email, Dr. LaRochelle urged M.D. candidates to take care of themselves and each other and to use their training to comfort their families and community. He sent a photo to College of Medicine colleagues as he stood — in Air Force fatigues — in front of a giant poster of College of Medicine Dean Deborah German that is on display at Orlando International Airport.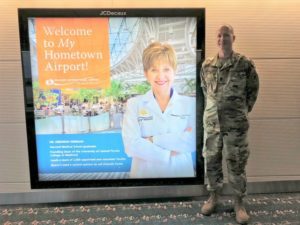 "I have been guided my entire career by a very simple motto:" he wrote. "Integrity first, excellence in all you do, and service before self. It has served me well over the years, and I hope it resonates with you. Go Knights and Aim High!"
Dr. Richard Peppler, vice dean and associate dean for faculty and academic affairs, appointed Dr. Jonathan Kibble to serve in Dr. LaRochelle's absence. Dr. Kibble was assistant dean for medical education before being named assistant dean for students. Dr. Peppler is no stranger to military service. An Army reservist, he was stationed in hospitals during Vietnam and Desert Storm and retired in 1999 after 35 years of service.
"Dr. LaRochelle is an outstanding role model for our students, faculty and staff," Dr. Peppler said. "I know what he and his family are experiencing right now. He lives the motto service over self. We all wish him a safe return."
Post Tags
Air Force

COVID-19

Dr. Jeff LaRochelle

Dr. Richard Peppler

reserves

service