Burnett School

College of Medicine

Faculty News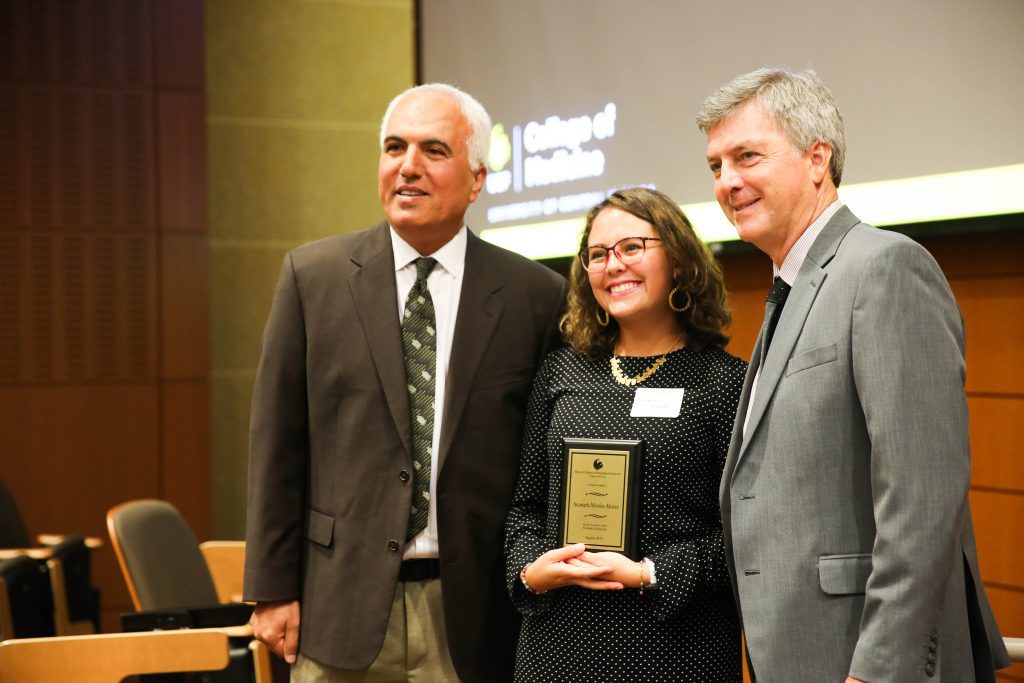 Growing up in Colombia, Anamaría Morales was always fascinated with science and the human body.
"When I first learned about genes in high school," she said, "I became fascinated and just wanted to understand how cells worked and I used to do a lot of reading and research on my own. I knew from then that this is wanted I wanted to do."
Morales, who joins UCF as a Fulbright Scholarship recipient, will begin her Ph.D. in biomedical sciences this fall and is one of 63 new graduate students who begin masters and doctoral programs at the College of Medicine's Burnett School of Biomedical Sciences this week. This number includes 35 UCF grads, the highest number the program has seen.
"While doing research in grad school, I came in contact with cancer patients who were literally dying," said Morales, who graduated with a master's in cancer and immunology from the National University of Colombia. "When you're in the lab, sometimes you forget that there are real people out there waiting for you to find a cure. That really touched me and motivated me to want to do more."
The Burnett School welcomed new students with a weeklong schedule of orientation activities that included Aug. 21's Graduate Research Colloquium featuring poster presentations from current students on topics ranging from alcohol consumption and heart defects to influenza.
This year's new graduate cohort includes 17 Ph.D. students, 45 master's students and one joint M.D./Ph.D. candidate. Of the 45 master's students, eleven will study neurosciences, five will be in metabolic and cardiovascular sciences, and four will do cancer research. Others will study infectious diseases, biotechnology, integrated medical sciences and a biomedical non-thesis track.
Dr. Griffith Parks, director of the Burnett School, said he was particularly proud of the diversity of the students who originate from more than 15 countries including China, Scotland, Poland and Kazakhstan. The students include a martial artist, a triathlete, a film and music producer, an engineer who also does woodwork, and a ukulele player.
Some UCF grads who previously completed undergraduate and graduate studies said they chose to come back because they wanted to continue researching with known faculty mentors. Others were drawn to the research opportunities offered with the College of Medicine's new teaching hospital and cancer center in Lake Nona.
UCF alum Sean Moyer is one of those students. After graduating with a bachelor's in health sciences, Moyer will begin his master's in cancer biology, another step on his journey to becoming an oncologist.
"My ultimate goal is to go to medical school for my M.D.," he said, "and with UCF's new cancer center opening soon, my dream is to stay here as I think it will be an ideal place to train, practice and do research."
Ph.D. student Kaylyn Scanlon wants to research treatments for infectious diseases and viruses like malaria. She graduated earlier this year with a bachelor's in biology from Georgia College & State University where she researched viruses.
"Research is extremely important in the medical field," she said. "It's how we develop with vaccines and treatments to help save lives. My dream is to make a meaningful impact on healthcare and to one day have people know and recognize my name."
In addition to highlighting graduate student research, the colloquium featured keynote speaker Dr. Pawan Dingal, professor and cardiovascular researcher at the University of Manitoba, Canada. He spoke on the importance of science careers and shared his research on biological stressors that can damage the heart.
"It has been amazing to see how curious and eager these young scientists are when they first join us," said Dr. Saleh Naser, UCF professor and director of Burnett's graduate program. "Even more so, to watch as this curiosity translates into actual accomplishments not only through awards, presentations and publications, but creating an impact on public health by finding ways new ways to heal, diagnose and prevent diseases."
Post Tags