Burnett School

College of Medicine

Faculty News

Students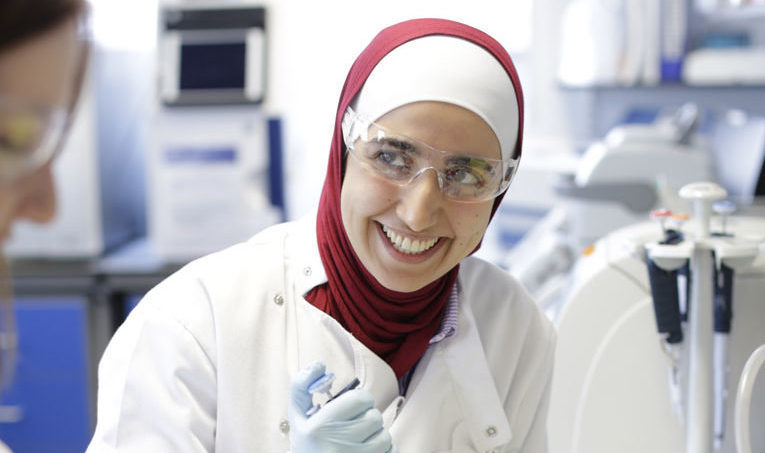 Forty young scientists will join the Burnett School of Biomedical Sciences as a new class of graduate students begins study next week. The group includes 12 Ph.D. candidates and 28 master's students who will be welcomed officially in a virtual exercise on Wednesday.
In previous years, graduate students are welcomed with a research colloquium that featured poster presentations from current students and networking sessions with faculty. This year, due to COVID-19, orientation will be online via Zoom and feature remarks from Dr. Deborah German, vice president for health affairs and medical school dean and Dr. Griffith Parks, associate dean for research and director of the Burnett School. Faculty members will also have interactive sessions with new students about the program's expectations and available resources.
Of the 28 master's students, nine will study biotechnology, seven will study neurosciences, four will research infectious diseases, four will be in the integrated medical sciences track and two will research metabolic and cardiovascular sciences. The cancer biology and biomedical sciences program will have one student each.
"I am excited to welcome such a diverse group of students in our master's and doctoral programs," said Dr. Saleh Naser, associate director of graduate studies. "While we are forced to welcome them virtually because of COVID-19, I am optimistic that we will have plenty of opportunities to see them in person and get to know them in our classrooms and labs very soon. These are a special group of students, many of whom left their families for the first time despite the pandemic and public health uncertainty and are excited to begin research at a time when we need it the most."
Dr. Naser noted that all classes and assignments will be done through online learning. All master's thesis and Ph.D. students will participate in research rotations as required, but labs will be scheduled to limit the number of students in compliance of UCF's COVID-19 safety plan.
The new students are from diverse backgrounds from all over the United States and across the globe including Haiti, Palestine and Bangladesh. Twenty-one are UCF grads who previously completed undergraduate and graduate studies and wanted to continue research with known faculty mentors. Others were drawn to the research opportunities that will be offered with the opening next year of the College of Medicine's new teaching hospital and cancer center in Lake Nona.
Haley Hardin is two-time UCF grad with a bachelor's in biomedical sciences and a master's in biotechnology. She joins the Ph.D. program and will research gene regulation and its potential use in the treatment of disease.
"Considering the future ramifications of this pandemic, I am even more excited to begin my studies than I might have before," she said. "Biomedical research is more important now than ever, as vaccines and treatments need to be created for this virus and whatever may come in the future."
With virtual classes, international students like Ala' Alhendi will be able to study remotely from her home country of Palestine until she is able to move to Orlando. Her fall tuition has been waived as part of the UCF president's initiative to retain international students unable to travel due to the pandemic.
"Although I am miles away from the U.S., I feel super excited to start my Ph.D. at UCF," she said. "With the pandemic changing all of our plans, I'm grateful for the opportunity to proceed from the safety of my own home. I am thrilled to join my classes online next week and looking forward to joining UCF and BSBS in person in the spring."
Alhendi, who has a master's in Molecular Pathology from the Queen Mary University London, will research the use of immunotherapy to treat diseases like cancer.
"My love for science began way too early in school," she said. "I was always annoying my teachers with questions, especially when we started learning about molecular biology and genetics. How very tiny molecules like DNA dictates every aspect of our physical being always astonishes me. Back then, I didn't know that being a scientist is an actual job, but I knew I wanted to be part of this field for the rest of my life."
Post Tags