Burnett School

Faculty News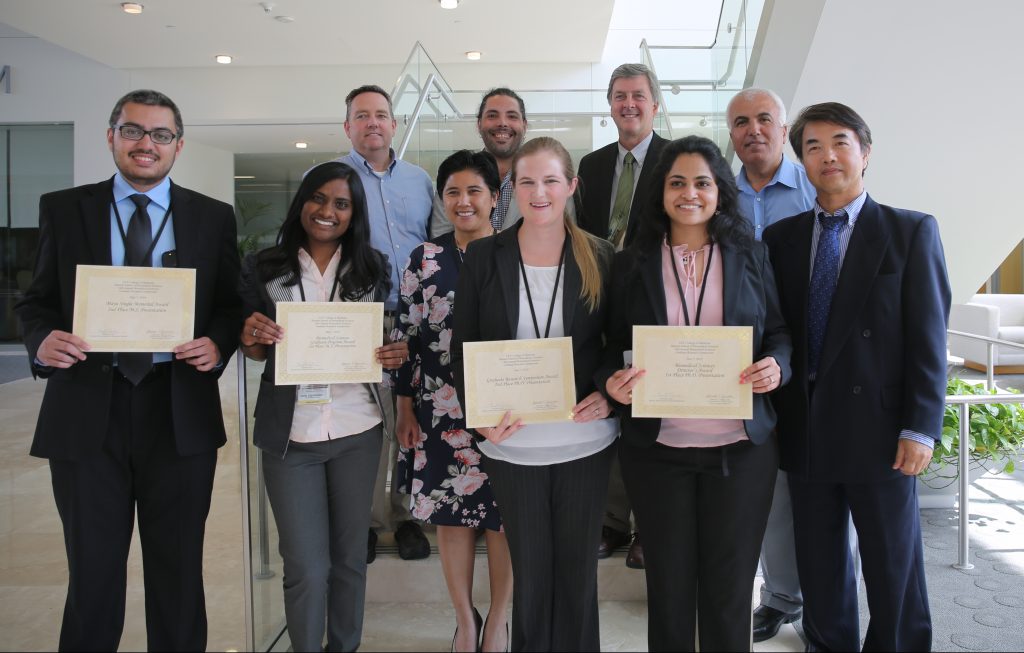 Having watched her big brother suffer from arthritis, Namita Varudkar knew at an early age she wanted to help solve medical mysteries. Now a third year Ph.D. student at the Burnett School of Biomedical Sciences, Varudkar is researching a novel cancer therapy that infects cancer cells with a virus to activate the body's immune system to help kill the cancer cells.
Varudkar was one of 16 master's and Ph.D. students who presented their thesis research at the Burnett School's 14th Annual Graduate Research Symposium held May 7.
The symposium gave students an opportunity to present their research in front of their peers, faculty and staff, providing a forum for interdisciplinary conversation and collaboration. Students presented research on screening, preventing and treating diverse health issues including pancreatic cancer, allergic asthma and cholera. For the first time, the event was held at the new UCF Lake Nona Cancer Center which is opening at the former Sanford Burnham Prebys research facility.
Each student had 15 minutes to present their research to a panel of judges that included Burnett School faculty members and guest judge Dr. Jürgen Bulitta, associate professor of pharmacy at the University of Florida, who said he was amazed by the excellent quality of research presented. Students received monetary rewards made possible by donations from the Annie Oakley Fund, the Burnett Family Fund and Burnett School faculty.
Varudkar, whose presentation tied for first place in the Ph.D. category, found that infecting lung tumor cells with a tumor-targeting virus enhanced the body's "natural killer cells" in the immune system.
"It is very difficult to kill cancer with just one type of treatment, and current treatments like chemotherapy have debilitating side effects," Varudkar explained. "So our hope is to develop a combination therapy that not only reduces negative side effects but also strengthens the body's immune system."
Second-year master's student Jane Jayakumar is researching the sometimes deadly bacteria, vibrio vulnificus, usually found in oysters. The vibrio infection, which causes about 10 deaths a year in Florida, is spread to humans through eating uncooked oysters or swimming in infected waters.
Jayakumar chose to do her master's in biomedical sciences at UCF for its intense two-year research program that she said it, "gives a good balance between course work and research."
"Doing research at UCF has given me a lot of skills that will take me far in the future," she said. "In the last two years, I have improved so much in terms of the way I think, analyze data, write, present and the way I convince people of my story."
Other winners included third-year Ph.D. student Madelyn Miller who tied with Varudkar for first place. Her research is on house dust mites and their association with allergic asthma. Second place in the master's category went to Michael Johnstone, whose research examines how pathogens in the body use the nutrient selenium as an energy source.
Dr. Griffith Parks, interim associate dean for research and director of the Burnett School, said the symposium attests to the quality of graduate student research and mentorship from faculty.
"A crucial part of research and a skill we want our students to leave with, is being able to present your ideas to your peers," Dr. Parks said. "Public speaking can be terrifying and the only way to get better at it is to practice. So this is a great venue for students to not only get that experience, but also to receive feedback from their peers as well as faculty."
Post Tags