Burnett School

College of Medicine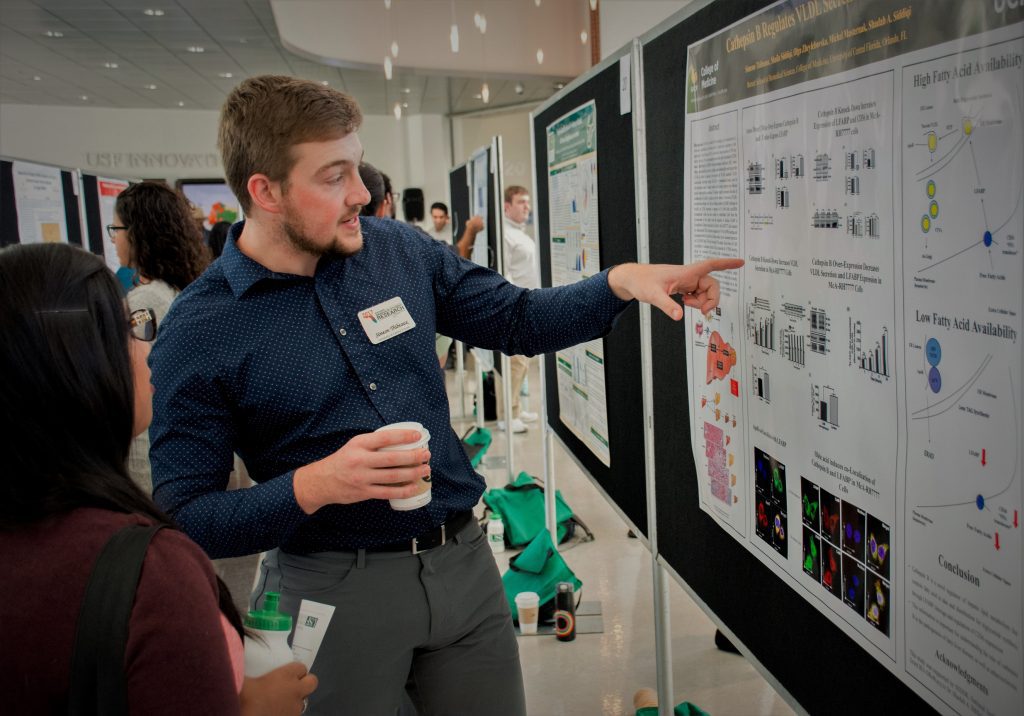 A Burnett School master's student's research into fatty liver disease is among the top two graduate research projects in Florida.
Simeon Thibeaux, who is in his final semester of a master's degree in biotechnology, at UCF, won second place in the Biological and Chemical Sciences category at the Statewide Graduate Student Research Symposium April 21 at the University of South Florida. UCF had 13 students competing in the symposium that showcased graduate student research from seven Florida universities in categories including arts and humanities, social biological, chemical and engineering sciences.
Other UCF winners are:
Amin Eftekhar – First Place, Natural and Physical Sciences
Uniform Ultrabroad Supercontinuum Generation in Continuously Tapered Multimode Graded-Index Optical Fibers
Sana Siddiqu – Second Place (Tie), Engineering
Exploring the Impact of Build Orientation on the Mechanical Performance of Additively Manufactured Materials Used in the Aerospace Industry
Thibeaux spent the last two years researching a liver enzyme that contributes to fatty liver disease. His research found that the enzyme cathepsin B controls bad cholesterol secretion by the liver, thus reducing risk of the disease. Fatty liver disease can lead to hepatocellular carcinoma, a form of liver cancer.

"Hepatocellular carcinoma is very difficult to treat, and in most cases can only be corrected with a liver transplant," Thibeaux said, noting that patients have a less than a five percent survival rate after five years of diagnosis. "So my goal is to identify potential mechanisms that you can target and treat before you get to the point where it's no longer clinically treatable."
"Participating in this competition was a fantastic experience," he added. "There were some really interesting research projects and I met a few colleagues who may be interested in collaborating on future research.  I'm in my final semester, about to graduate, and so this second place win is sort of a really nice send-off."
Thibeaux was mentored by Dr. Shadab Sidiqqi, associate professor at the College of Medicine.
"I am particularly very happy by his win at the state level where you are competing with students from other Florida universities," Dr. Siddiqi said.  "This brings recognition to our college and especially to our biomedical graduate program. I'm proud of him and am sure that he is going to be a terrific physician-scientist in near future who will be contributing big time to biomedical research and public health."
Thibeaux is heading to medical school after graduating this spring.
Post Tags