Burnett School

College of Medicine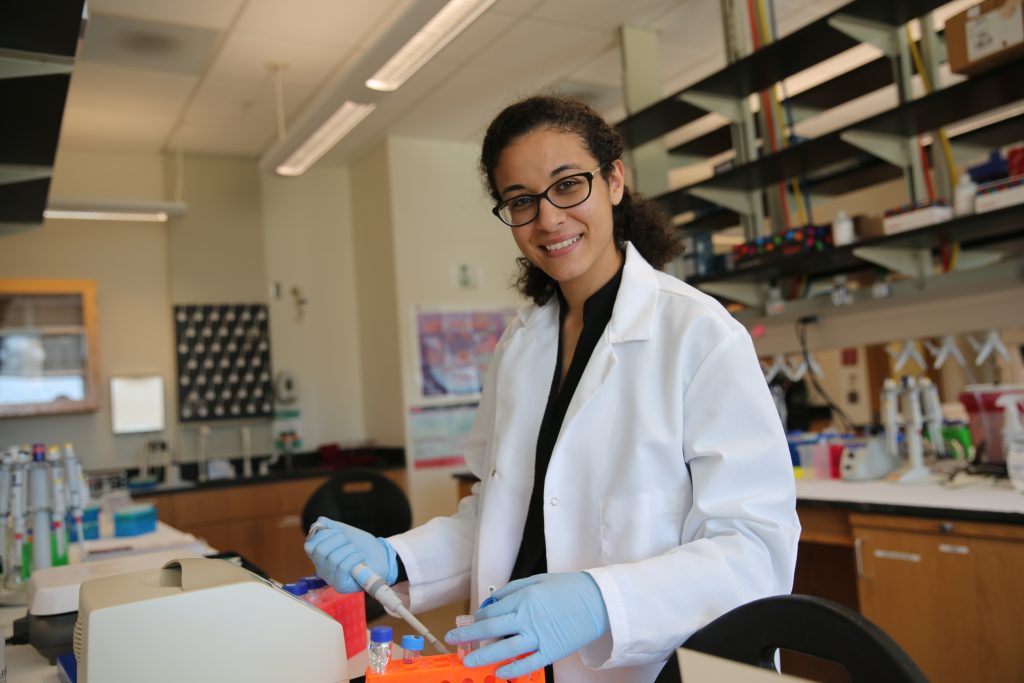 Scientists have not yet found the proverbial fountain of youth, but researchers at the UCF College of Medicine believe that a female hormone may hold the secret to helping men live longer, by reducing the onset of age-related diseases like diabetes.
Generally, women tend to live longer than men, so scientists have looked at the role that female sex hormones play in extending life span. Silvana Sidhom, a master's student at the Burnett School of Biomedical Sciences, works with anti-aging researcher Dr. Michal Masternak, to study the metabolic effects of 17-alpha estradiol, a non-feminizing version of estradiol a type of estrogen. Such non-feminizing versions mean men treated with the hormone will not develop physical female characteristics.
Sidhom recently presented her research on 17-alpha estradiol at the 2018 American Aging Association Conference and won a third place Student Award, an honor usually reserved for doctoral candidates.  Her submission also earned her a travel award from the association to attend the conference.
In their study, funded by the National Institutes of Aging – a division of the National Institutes of Health, Sidhom and Dr. Masternak — with Dr. Michael Stout from the University of Oklahoma Health Science Center — found that male mice treated with the hormone had a reduction in metabolic abnormalities, giving them the potential to live longer. There was no effect on female mice.
"With an aging population worldwide and increased occurrences of age-related diseases, there is a greater need to develop new therapies that can delay aging and protect us from these illnesses," Sidhom said.
Aging, she says, is a major risk factor for metabolic syndromes and Type 2 diabetes.  Sidhom's research of how this hormone affects metabolism is geared toward developing interventions to extend lifespan and protect humans from age-related diseases.
"This hormone has been studied in terms of lifespan, but we are focusing on metabolic effects like insulin sensitivity and whether it can change metabolism in the females and the males," Sidhom explained.
In the ongoing study, male mice treated with 17-alpha estradiol had an increase in insulin-like growth factor 1, a hormone naturally produced in the body that helps promote normal bone and tissue growth and development, but diminishes as we age. Some studies have shown IGF-1 as having protective effects for the brain and heart.
"When we think of anti-aging it's not just about living longer," said Dr. Masternak, who has been studying aging and age-related diseases for more than a decade. "With aging we develop more and more age related diseases, so if we can find an intervention to protect us or delay diseases, so that we can be healthy and independent through the last decade of our life. That is what's important."
Sidhom previously completed a bachelor's in biotechnology and biomedical sciences at UCF, and is a recipient of the Bill and Melinda Gates Foundation Scholarship.
"It means a lot to me to get my work nationally recognized like this," Sidhom said of winning the award. "It is really a drive for me to continue progressing in my research as my peers recognize that the work is significant and the findings are promising."
Post Tags