Burnett School

College of Medicine

Faculty News
Burnett School of Biomedical Sciences Professor Dr. Alexander Cole has been named to the UCF Millionaire's Club for the fourth straight year. The university honors the exclusive group of "millionaires" for receiving grants of $1 million or more in the fiscal year.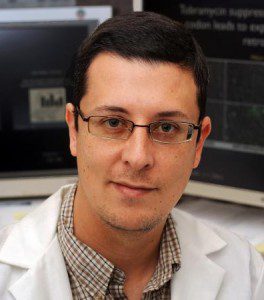 Dr. Cole was the only College of Medicine honoree this year. His research focus includes HIV/ AIDS and Staphylococcus aureus ("Staph") infections, and his work looks to find treatments, offer better prevention methods and identify antimicrobial formulas to prevent the spread of disease. This year's $1.5 million in grants includes three projects on antimicrobials for the HIV infection from the National Institutes of Health (NIH).
"I've always believed that we should have multiple projects going in parallel, because in research, many things don't work out," he said. "These days you have to be very flexible in the type of research you want to pursue."
Dr. Cole is also collaborating with other disciplines both inside and outside the university to gain grant funding.  Dr. Cole's most recent grant with the Florida Department of Health is a partnership with UCF Health Services. He is working to find out if smoking increases the risk of Staphylococcus aureus infection, using smokers who participate in the smoking cessation program at Health Services.
Dr. Cole says the teamwork allows multiple experts to pool their knowledge in an effort to advance innovation in the infectious disease field. "Research happens collaboratively, and I really couldn't do my work without these friends and colleagues," he said.
Dr. Sampath Parthasarathy, the College of Medicine's interim associate dean for research, lauded Dr. Cole and his lab for their efforts. "His successes in obtaining external funds have been phenomenal," he said. "Dr. Cole is a leader. The Burnett School and the College of Medicine are proud to have him as a senior faculty member presenting our ongoing research missions."
Post Tags