Burnett School

Faculty News

Students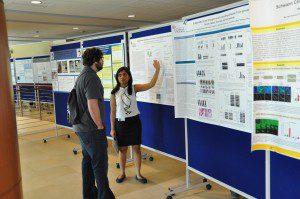 Graduate students and faculty at the Burnett School of Biomedical Sciences kicked off the 2013-2014 school year with their 5th annual Research Colloquium at the UCF College of Medicine's Lake Nona campus. The Aug. 15 event is the culmination of three days of orientation for new Burnett School students. The college is welcoming 21 students to the Master's program and eight to the Ph.D. program this year.
Students from the Burnett School Graduate Student Association (BSGSA) organized the all-day colloquium to welcome their new colleagues. "It gives the new grad students a feel for what they should expect from the different labs and what research is going on," said Burnett School Ph.D. student, Nicole Barnette. "It really introduces them to the Lake Nona campus and the facilities here, as well."
Veteran students presented their own research on posters and answered questions about their journeys into scientific discovery, many of which were years in the making. Barnette shared her own research, as she and her colleagues work to limit cancer cell growth through polyamines.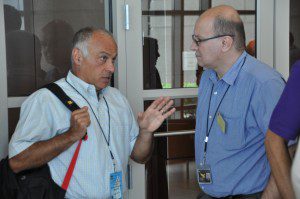 Burnett School Associate Professor Dr. Alvaro Estévez, helped organize the week's activities, and says he wants the new students to focus more on the educational journey ahead, rather than the destination. "I hope they come away with an idea of what kind of science we do," he said. "More importantly, we want them thinking the next five to seven years is about the process to get there, not just a finite goal."
Dr. Estévez also stressed the importance of learning from one another, for that reason, he brought in a speaker to close out the day's activities. "The idea is to have someone who is going to give students advice and talk about their work." Dr. Estévez added. "They have to be outstanding mentors with approved trajectory, in addition to outstanding scientists."
The chosen speaker was Dr. Harry Ischiropoulos from the University of Pennsylvania's Perelman School of Medicine. The pediatric researcher detailed his own studies into nitric oxide signaling and how it can help in the treatment and diagnosis of some cardiovascular diseases and thrombosis.
In addition to the day's research presentations and fellowship, nearly 25 students received awards and scholarships.
Post Tags