Burnett School

College of Medicine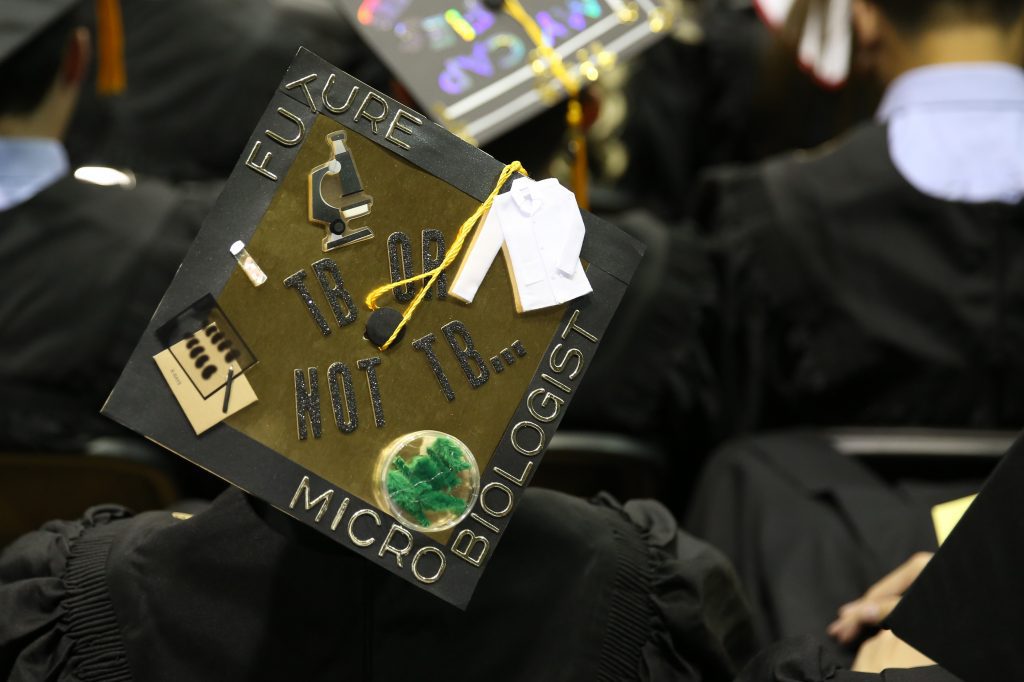 A record number of graduate students from the Burnett School of Biomedical Sciences collected master's and Ph.D. diplomas during UCF's summer commencement ceremony August 3.
The 36 students — 29 master's and seven Ph.D. students – are the largest number to graduate from the Burnett School in a single commencement ceremony. Fourteen biomedical sciences graduate students crossed the stage at the last commencement ceremony in spring. In addition, 88 undergraduates received bachelor's degrees in the biomedical sciences.
During their time at UCF, the graduate students investigated medical solutions for a range of health issues including aging, cancer, tuberculosis and Crohn's disease. They co-authored 58 peer review articles with their faculty research mentors and presented their findings at numerous scientific conferences.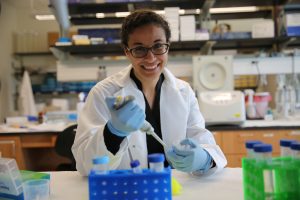 Among the graduates was Silvana Sidhom, a Bill and Melinda Gates Foundation scholarship recipient, who earned an M.S. degree in biotechnology. This is Sidhom's second UCF commencement ceremony as she graduated in 2017 with a bachelor's in biotechnology and biomedical sciences.
"At UCF, I've been afforded several opportunities, from conducting nationally recognized research to serving the university and Orlando community," Sidhom said. "Thanks to these experiences and my mentors at UCF, I am equipped for the next chapter of my life and am proud to be part of this Knight Nation."
At UCF, Sidhom investigated the correlation between sex hormones and aging with faculty researcher Dr. Michal Masternak. In a study, funded by the National Institutes of Health, they found that female hormones injected into male mice reduced metabolic abnormalities and potentially extended their lifespan.  Sidhom's research earned her a student award at the 2018 American Aging Association Conference, an honor usually reserved for doctoral candidates. After graduation, she plans to attend medical school.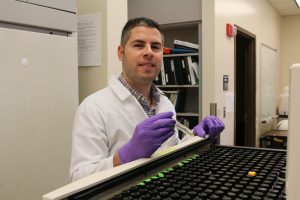 Several Ph.D. graduates, like Ahmad Qasem, will pursue post-doctoral careers here at UCF. Qasem came to UCF after completing his doctor of pharmacy degree because he wanted "to make a difference through finding better treatments for chronic diseases." As a masters and doctoral student, he worked with the College of Medicine's Dr. Saleh Naser investigating therapeutics for Crohn's disease, a debilitating inflammatory bowel disease.  He co-authored several journal articles with Dr. Naser and their research is now part of an ongoing clinical trial to treat Crohn's with an antibiotic they created.  As a post-doctoral investigator, Qasem will continue researching better treatments for Crohn's.
"UCF led me to believe in myself and to strive for lifelong excellence," said Qasem, who came to UCF from his native Jordan. "The innovative environment and the productive collaboration UCF creates, encourages students from diverse backgrounds to implement unique initiatives.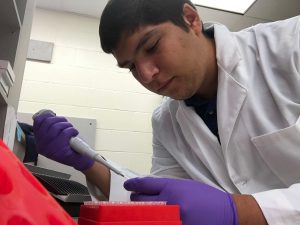 Some Burnett School graduates will go on to pursue careers in healthcare fields such as medicine, dentistry and veterinary science. After collecting his UCF bachelor's in biomedical sciences, Ebraheem Naser will pursue a doctor of pharmacy degree at the University of Florida as he hopes to work for a health regulatory agency. His passion is providing care to underserved communities and while at UCF, he studied risk factors for hypertension among the homeless and found that the longer a person was homeless the higher their risk was for the disease. Inspired to keep working with the homeless, he formed Project Downtown Orlando, a non-profit organization that supplies meals and hygiene kits to the homeless.
"After a year and a half going out to downtown and just listening to the stories that people had, that motivated me to go and do my part," said Naser, whose father, Saleh, is a College of Medicine faculty member.  "I hope to use the results of my study to help advocate for more healthcare resources for underprivileged communities."
Post Tags