Burnett School

College of Medicine

Students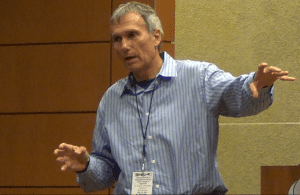 A dedication to inquiry and research is one of the foremost priorities for students and faculty at The UCF College of Medicine's Burnett School of Biomedical Sciences. For 16 Burnett School graduate students, their work culminated with a Graduate Research Symposium on May 10.
Students presented their own extensive research projects on topics ranging from diabetes to cancer, heart disease to Alzheimer's disease. "For most of the students, it's a very important day in their maturation as graduate students," said Dr. Mollie Jewett, chair of the Graduate Research Symposium Committee. "One of the biggest skills that a great scientist needs is to be able to tell their research to the world."
The keynote speaker for Friday's event was Dr. Timothy Osborne from the Sanford-Burnham Medical Research institute, the College of Medicine's neighbor and partner at Lake Nona's Medical City. Dr. Osborne presented his research on liver metabolism in the fight against obesity and said he hoped to inspire and motivate the scientific leaders of tomorrow. "I remember when I was a student, and someone would come from another institution to speak." He said. "It was a very interesting experience to interact with that person in a way that made them seem like they were more human."
After a full day of presentations, Dr. Deborah German, vice president for medical affairs and dean of the College of Medicine, led the awards presentation. "Research is the heart of academic medicine," she said. "It's a gift that will go on for a very long time." The Burnett school and some of its faculty members have donated cash awards for the winners, many in memory of family members.
Research Symposium Award Winners:
1st Place Ph.D.—Biomedical Sciences Award; $250; sponsor: Burnett School
Winner: Rania Bassiouni (mentor: Dr. Annette Khaled)
2nd Place Ph.D.—Everett W. Cole, Jr. Memorial Award; $100; sponsor: Dr. Alex Cole
Winner: Nicole Barnette (mentor: Dr. Lawrence Von Kalm)
3rd Place Ph.D.– Everett W. Cole, Jr. Memorial Award; $50; sponsor: Dr. Alex Cole
Winner: Micah Halpern (mentor: Dr. Mollie Jewett)
1st Place M.S.—Kalyani Parthasarathy Memorial Award; $250; sponsor: Dr. Sampath Parthasarathy
Winner: Aladdin Riad (mentor: Dr. Shadab Siddiqi)
2nd Place M.S.—Maya Singla Memorial Award; $100; sponsor: Dr. Dinender Singla
Winner: Namita Varudkar (mentor: Dr. Steve Ebert)
3nd Place M.S.—Maya Singla Memorial Award; $50; sponsor: Dr. Dinender Singla
Winner: Vinal Menon (mentor: Dr. Michal Masternak)
Post Tags