Burnett School

College of Medicine

Faculty News

Research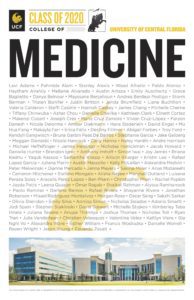 On Saturday, 121 young scientists will graduate from the Burnett School of Biomedical Sciences in a virtual commencement due to COVID-19 physical distancing requirements. Those earning degrees include 109 undergraduates, nine master's students and three Ph.D. candidates.
Among the graduates is Levi Adams, who spent the last 5 1/2 years studying Parkinson's disease and will graduate with his Ph.D. in biomedical sciences. A non-traditional student, Adams completed his bachelor's degree in biochemistry from University of North Texas at age 27 while working as a cook to put himself through school. At UCF, he received a Trustees and Dissertation Completion Fellowship in recognition of his academic and research achievements
"I have always been interested in neuroscience and how the brain works and have always wanted to increase my understanding of the human brain," he said.
"So I studied both Parkinson's disease but also brain cancer because both directly affected my family. Once I saw people close to me afflicted with these diseases, it motivated me to want to focus more on the Parkinson's disease process to see how we can intervene and stop it."
Adams' research used CRISPR Cas-9 gene editing technique to study a protein associated with Parkinson's to better understand the processes behind the disease, and to look for new ways to combat it. His research was published in Scientific Reports in 2017 and featured by several news stations across the U.S. He was also invited to present his work at the Society for Neuroscience Annual Meeting in 2018.
He is now continuing post-doctoral research on Parkinson's at Rutgers University in New Jersey and ultimately plans to stay in academia as a researcher or professor.
The Burnett School offers undergraduate and graduate degree programs in biomedical sciences, biotechnology and medical laboratory sciences. Graduates enter jobs in research and medical labs, continue onto medical, veterinary, and other related professional schools, or pursue further post-graduate studies to become research scientists.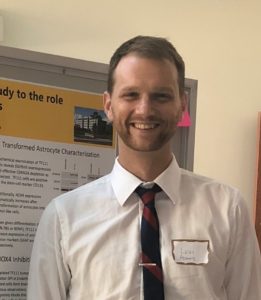 Dr. Griffith Parks, the College of Medicine's associate dean for research and director of the Burnett School, said COVID-19 emphasizes the important role that graduating scientists will play as they further their careers.
"While we are unable to celebrate with our graduates in the usual manner this year, it is very inspiring, especially at this time, that we have more than 100 future scientists heading out into the world to make their marks in their respective fields," he said. "At this time, we especially need their biomedical training and skills to help us provide answers to how we can prevent and treat diseases such as COVID-19. This is an excellent cohort of students, and I know this marks only the beginning of their journey and the impact they will have in medicine and scientific research."
The Burnett School ceremony will be streamed live on UCF's Facebook and YouTube pages at 10:45 a.m. and will be archived on YouTube afterward. Disney executive and UCF alumnus, George A. Kalogridis will deliver the commencement address. Other UCF college summer commencement ceremonies will happen throughout Saturday.
Post Tags
burnett school of biomedical sciences

graduation

pandemic