Three scholar-athletes enrolled in the College of Medicine's Burnett School of Biomedical Sciences undergraduate program have earned honors for their academic prowess.

Zoe Hayes, Tory McCutcheon, and Kyle Cox – who are all pursuing a biomedical sciences degree — received Conference USA Academic Medals recently. They were among 32 UCF student-athletes recognized for achieving a cumulative grade-point average of 3.75 or better.
"These students are exceptional and a credit to our program, as they are able to balance the extensive time demands of their athletic participation with the rigorous academic requirements of their biomedical sciences major," said Dr. Roseann White, professor and associate director at the Burnett school.
The students agreed that success boils down to organization when mixing school, travel to games, and training.
"You have to stay on top of stuff," said Zoe, a freshman on the women's soccer team.

Zoe, whose hometown is Atlanta, Ga., said she has known since 9th grade that she wanted to play soccer in college. After earning her undergraduate degree, she plans to attend graduate and medical school.
Tory, a junior from Milton, Ontario, is on the women's volleyball team. She has received the C-USA Academic medal for all three years she has played at UCF.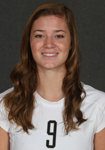 "You can do anything you want as long as you prepare and plan," said Tory, who also has her sights set on medical school. She said it's important to talk with professors and let them know when you will miss class because of team obligations.
In his third year on the men's soccer team, Kyle, a junior from Orlando, said he has played soccer since he was 4. His father, Ken, is a UCF soccer alumnus.
In addition to his soccer responsibilities, Kyle has participated in the Burnett school's Peer Instruction and Laboratory Occupational Training (PILOT) program , which selects top undergraduates as teaching assistants. Under PILOT, the students provide lab instruction and work on their own independent research projects with faculty members at the Burnett school.
Kyle said he is preparing for the Medical College Admission Test (MCAT) this summer. He said he has a special interest in orthopedic surgery because of soccer-related injuries suffered by teammates and his dad.
Post Tags