Burnett School

College of Medicine

Communique

Students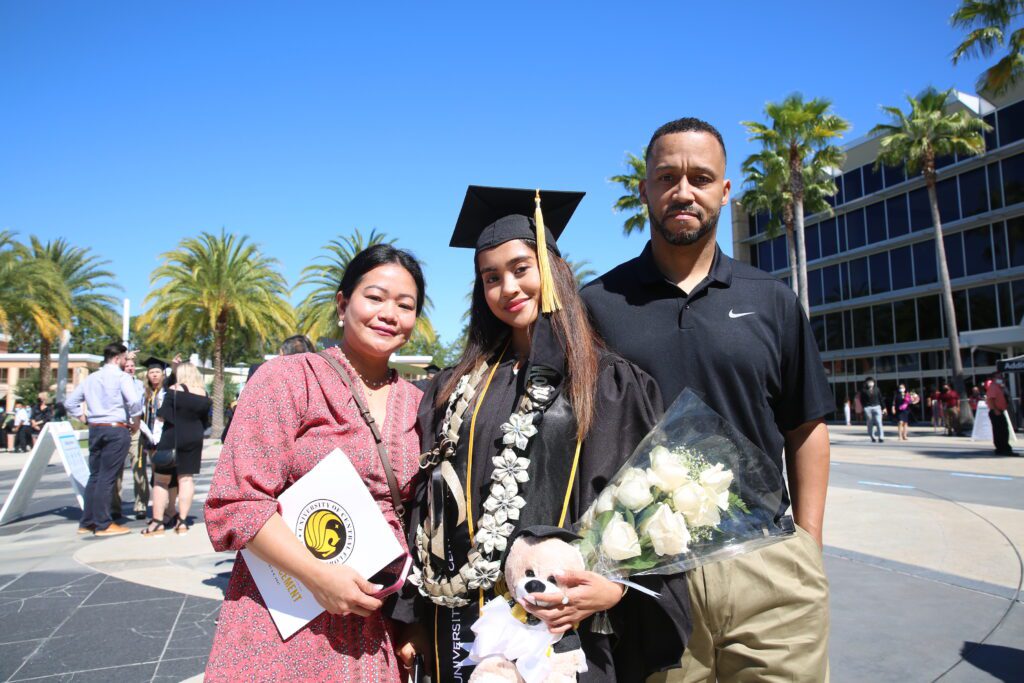 Growing up in the Philippines, Mara Mize saw firsthand how difficult it was for people living in poverty to access healthcare. This instilled in her a desire become a physician to provide care to those in need.
Mize, who moved to the U.S. at 11 years-old is now another step closer to her dream, graduating with a bachelor's degree in biomedical sciences May 8, in one of UCF's first in-person commencement ceremonies since the pandemic began.
While not all students participated in the socially distanced event, the Burnett School of Biomedical Sciences awarded 341 bachelor's degrees, 10 master's and two Ph.D.s.
"I still have family in the Philippines," Mize said. "My grandparents struggle with getting medication and I know how expensive it is for them to get certain procedures and treatments done. And that's why caring for underserved populations is a goal for me."
Her parents proudly watched as she became the first in the family to receive a bachelor's degree.
"Today is very special because I live far away, my family live in the panhandle, so I don't get to see them a lot," she said. "So it's really special that they are here and that we were able to have a commencement ceremony."
Due to COVID-19 restrictions only two guests per graduate were allowed to attend. Mize's aunt made a lei out of paper currency for Mize to wear at the ceremony while other family members, including those in the Philippines, were able to watch the ceremony live on YouTube and Facebook.
The College of Medicine is unique because it includes the Burnett School of Biomedical Sciences, which offers undergraduate degree programs in biomedical sciences, biotechnology and medical laboratory sciences. The bachelor's degree prepares students for medical, veterinary, and other related professional schools or post-graduate studies.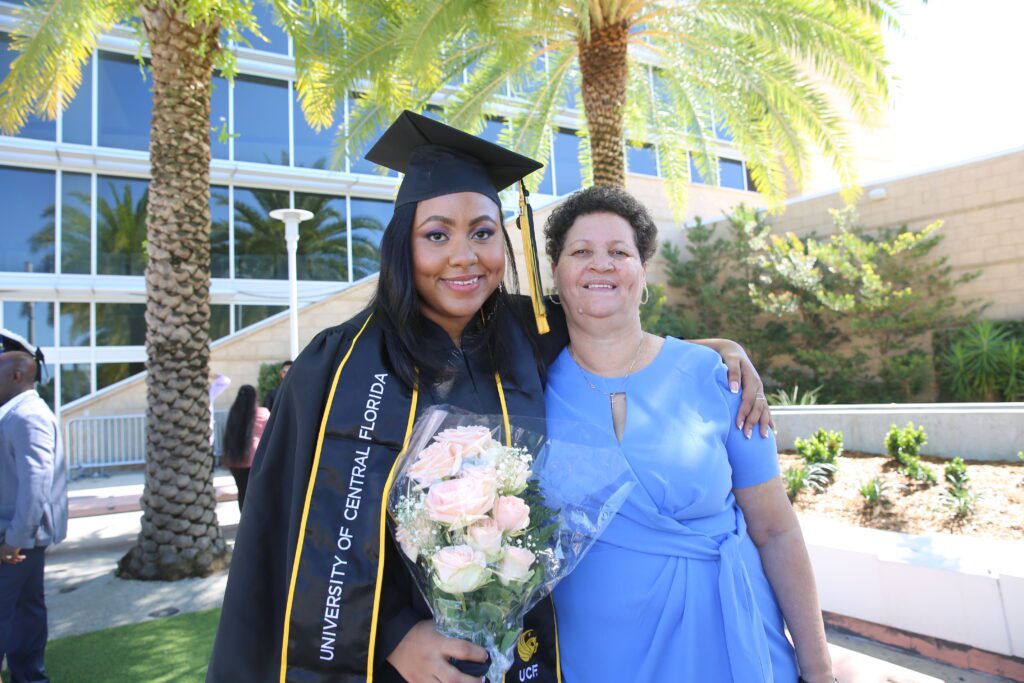 Kayla Cuff who graduated with her bachelor's in biomedical sciences hopes to go to medical school to become a psychiatrist.
"I'm very passionate about helping people, especially in mental health," she said. "My aunt is a nurse at a psychiatric hospital, and I worked there for about two years as a patient safety attendant. Working with the patients inspired me to want to help them, not just to treat them with medication, but to help improve their quality of life."
Cuff said she was elated and very grateful to have completed her degree having faced financial and other difficulties along the way. She was laid off from her job due to the pandemic and also had to navigate virtual classes and lab sessions.
"It was a little bit difficult to stay organized and we missed the face-to-face interaction," she said. "But our professors made every effort to give us an experience like we were in the laboratory. Overall, I'm just very thankful to be able to graduate from UCF and I'm excited for the future."
Post Tags