Burnett School

Cardio-Metabolism Division

College of Medicine

Communique

Diversity

Research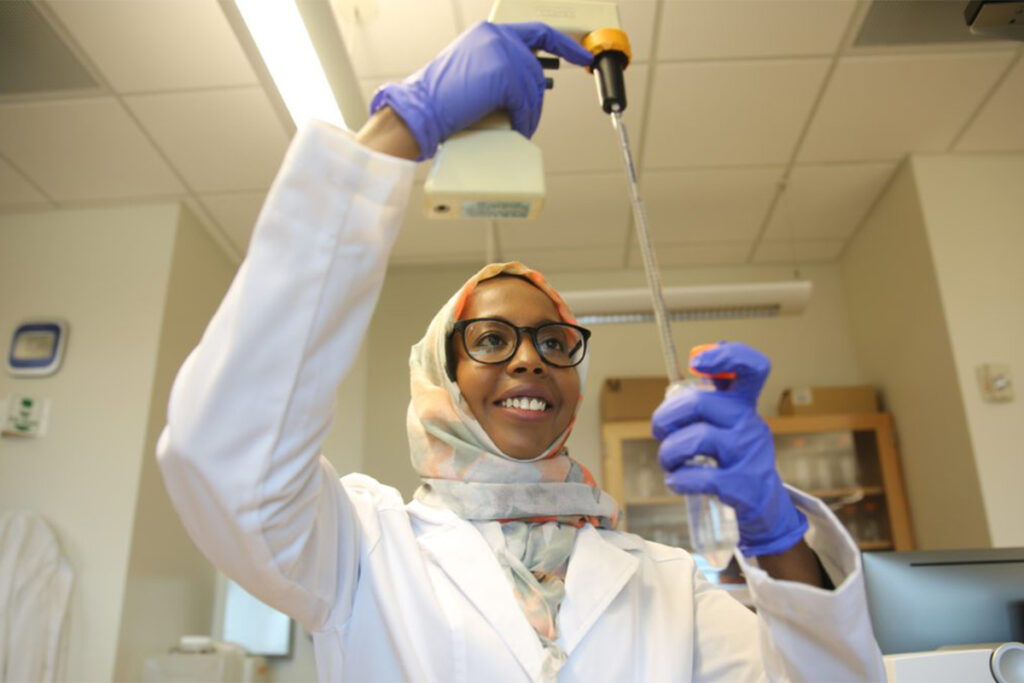 On Saturday May 8, 353 young scientists will graduate from the Burnett School of Biomedical Sciences. Those earning degrees include 341 undergraduates, 10 master's students and two Ph.D. candidates.
Among the graduates is Naima Dahir, who will receive a Ph.D. in biomedical sciences.
"I'm the first scientist in my family, and the first to get a Ph.D.," said Dahir, who was born in Somalia and moved to the U.S. when she was 7. "So it feels rewarding to be able to pave the way for the next generation. It almost feels like I'm not the only person getting this degree, it's for my whole family."
Her seven-year Ph.D. journey began at Utah State University where she worked under the mentorship of neurobiology researcher and professor Dr. Timothy Gilbertson. Four years into her studies, Dr. Gilbertson was offered a position at UCF, and Dahir decided to move to UCF as well to continue her research. She is studying how sex hormones cause men and women to taste foods differently as well as regulate metabolism.
COVID-19 created another bump in her journey as labs were closed during the first few months of the pandemic in spring of 2020.
"We lost a lot of the models that we were working on as well as lot of the samples that we were using. A lot of chemicals went bad, so we had to reorder a lot," she said. "But then everything was on was on backorder, so we had to wait ages to get anything. Even when we did come back in the labs, we still had to wait for a long time to resume actual research and we basically had to restart most things."
On the bright side, Dahir said she was able to virtually attend more national and international conferences. Most recently, she presented her research at the Association for Chemoreception Sciences Annual Conference in April. Her work was also published in the American Journal of Physiology – Endocrinology and Metabolism and was highlighted by the American Physiological Society as one of the top research articles for March 2021. After graduating, she will continue her research in a post-doctoral position at the University of Michigan.
Sina Imani will graduate with cum laude honors with a bachelor's degree in biomedical sciences and a minor in medical sociology.
"My interest in biomedical sciences really grew while I was a student at UCF," said Imani. "I really enjoyed learning about "big picture why" questions, like why I feel tired after a big meal or how my body fights infections."
At UCF, Imani represented the College of Medicine in open houses and other community outreach events. He also participated in UCF's Peer Mentor program which he describes as his most impactful experience over the last four years.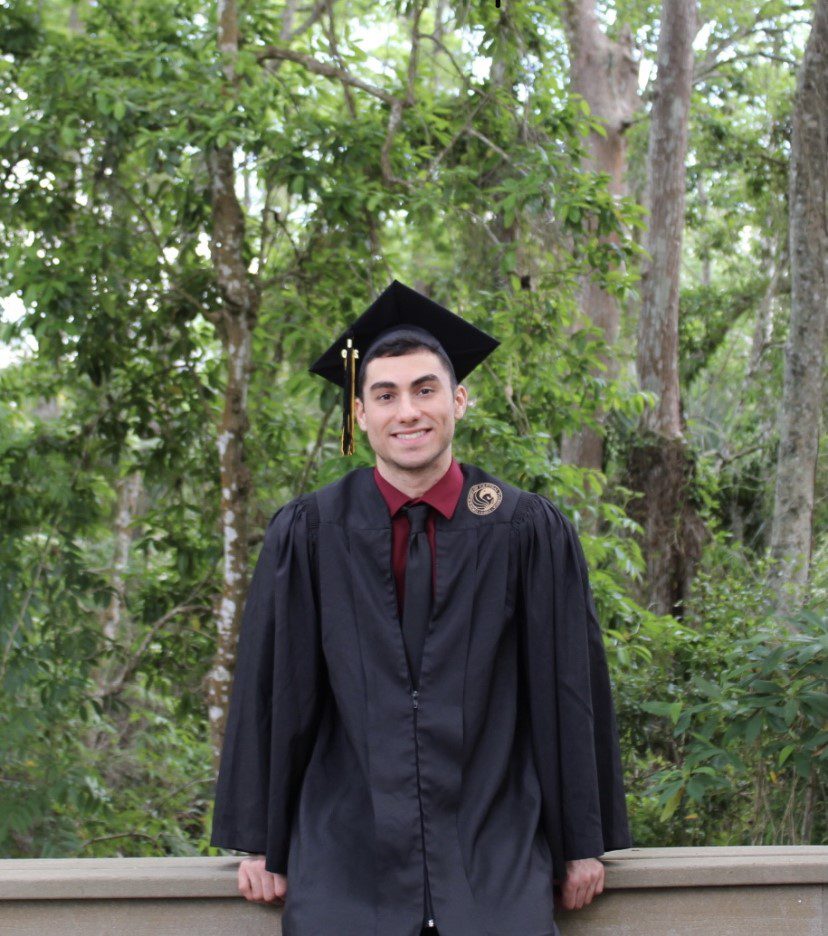 "Being able to interact with and help students in the same major, dealing with the same questions and time-crunch situations that I had, really made my time at UCF special," he said. "The impact that I was able to have on our student body is one of the best opportunities I've ever had and one that made me into the person I am today."
Imani also expressed gratitude for the support he received from professors, advisors and fellow students at the College of Medicine.
"Everyone here really wants to see you succeed and try their hardest to provide as many resources as possible in order to make that happen," he said. "Whether that's meeting with a Peer Mentor, going to get extra tutoring, or just having the ability to talk to a professor about something you're interested in, the College of Medicine provides more than enough support outside the classroom to make studying such a hard subject that much more worth it. "
After graduation, he will work as an EMT while volunteering with nonprofit organizations in the Orlando community.
"I can see myself having a career in every class I took while I was studying biomedical sciences, whether that be a geneticist, an immunologist, or a molecular biologist, Imani said. "So, I will use this time to figure out what path I want to take."
The Burnett School offers undergraduate and graduate degree programs in biomedical sciences, biotechnology and medical laboratory sciences. Graduates enter jobs in research and medical labs, continue onto medical, veterinary and other related professional schools, or pursue further post-graduate studies to become research scientists.
UCF offered spring graduates and their families the opportunity to choose one of two in-person options to celebrate their achievements. Recognitions of graduates will occur April 30 until May 8. Graduates had the option of either participating in UCF's Grad Walk or their college's in-person commencement, both of which will be held in the Addition Financial Arena.
The ceremony will be streamed live on UCF's Facebook and YouTube pages at 9 a.m. and will be archived on YouTube afterward. AdventHealth leader Kenneth Bradley, who is also an alumnus and UCF Trustee, is the commencement speaker. Other UCF college spring commencement ceremonies will happen throughout Saturday.
Other UCF college spring commencement ceremonies will happen throughout Saturday.
Post Tags