Burnett School

Communique

Research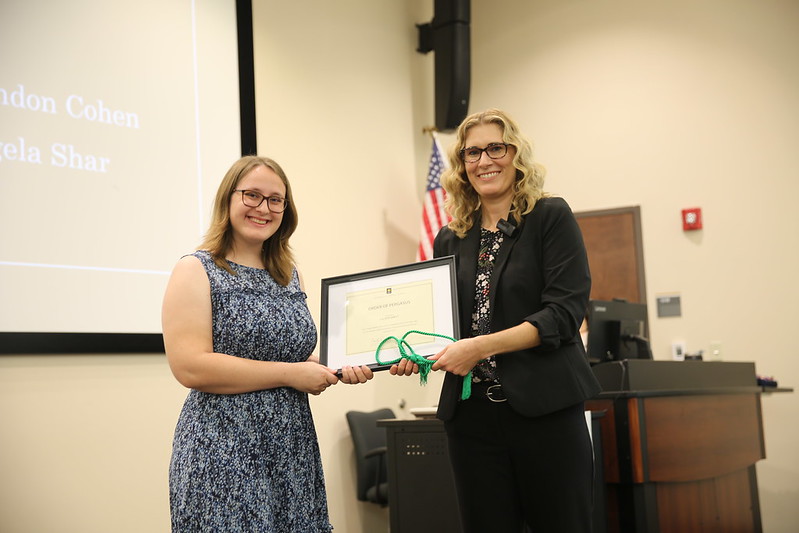 When Lauren Abbit was diagnosed with a chronic, painful skin condition called hidradenitis suppurativa (HS) as a teenager, she spent much of her time researching the disease and became an advocate to reduce the stigma surrounding the condition. That experience sparked her interest in science and medicine, and on Friday, she graduated from the Burnett School of Biomedical Sciences, another step toward her journey to becoming a physician.
Abbit, who graduated summa cum laude (with a perfect GPA of 4.0), was among 50 Burnett School graduates honored at an inaugural pre-commencement celebration Friday morning to recognize their academic achievements and service. Hours later, 309 Burnett School undergraduates, and 21 masters and Ph.D. students collected diplomas in one of six commencements held over two days at UCF.
The Burnett School, which is part of the College of Medicine, offers undergraduate degree programs in biomedical sciences, biotechnology and medical laboratory sciences. These programs prepare students for medical, veterinary, and other related professional schools, or to continue post-graduate studies to become research scientists.
Abbitt is a recipient of UCF's Order of Pegasus – the university's highest student honor. Burnett School graduate and undergraduate students made up nearly one-third of this year's 30 honorees.
As an undergraduate, she conducted research under the mentorship of virologist and Burnett School Director Dr. Griff Parks, investigating the use of viruses to infect and kill cancer cells. She was a leader with the Pediatric Association of Caring Knights (PACK) and coordinated a service partnership with Bears Who Care, a local nonprofit that donates books and teddy bears to children facing hardship. She also worked with Knights Pantry and organized a group that crocheted hats for babies at local hospitals.
It was Architha Venkatesan's visit to her parents' home in rural India that made her understand the lack of healthcare access among underserved populations. This inspired her to become a physician to do more to bridge that gap. At UCF, she volunteered with Hearts for the Homeless, helping to provide medical care to persons experiencing homelessness in downtown Orlando.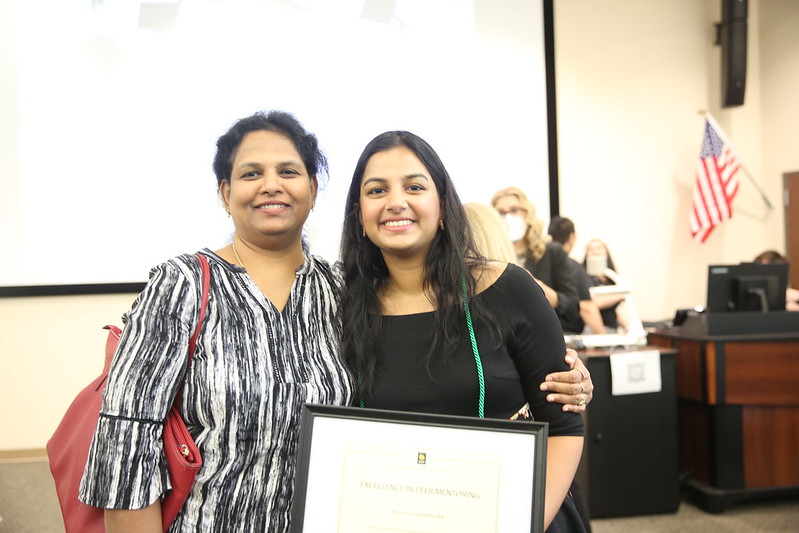 "My dream is to become a physician and work with organizations such as Operation Smile and Doctors Without Borders to further help implement permanent medical resources in underserved areas," she said.
Venkatesan graduated with a degree in biomedical sciences and during the pre-commencement celebration was honored for demonstrating excellence as a peer mentor.
"Peer mentors helped me a lot during my time here and that was a very valuable experience for me so I wanted to give back and do the same for others," she said.
As a young boy in Venezuela, Juan Gonzalez Rivero grew up watching scientist Carl Sagan on Cosmos, a 1980s television series that covered a range of scientific subjects and feats.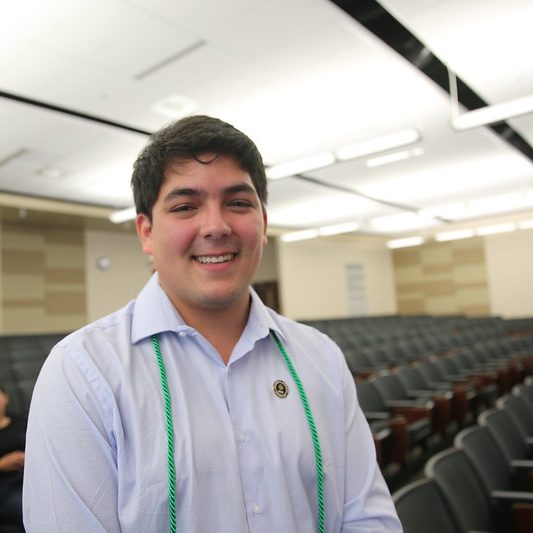 "I was fascinated with the show and understanding why things worked the way they do," Gonzalez Rivero said. "So even though I want to be a physician in the future, I think understanding what happens at the molecular level and why will help me provide better care for my patients. I have always loved that part of science and that's what got me into the field."
At the celebration, Gonzalez Rivero was recognized for completing an Honors in the Major Thesis. Working with infectious disease researcher, Dr. Taj Azarian, he studied the COVID-19 pandemic's impact on antibiotic resistance in bacteria. He will spend the next year studying for the MCAT and applying to medical school.
Dr. Bill Self, professor and associate director of undergraduate affairs at the Burnett School, helped organize the pre-commencement gathering and said he was thrilled to engage students and celebrate their achievements.
"We have an amazing group of students in this graduating class with more than half graduating cum laude (GPAs of 3.8) or higher," he said. "These students experienced a pandemic in the middle of their four-year study that brought about a lot of challenges and changes. To still be able to perform so well really speaks volumes about their resilience and hard work."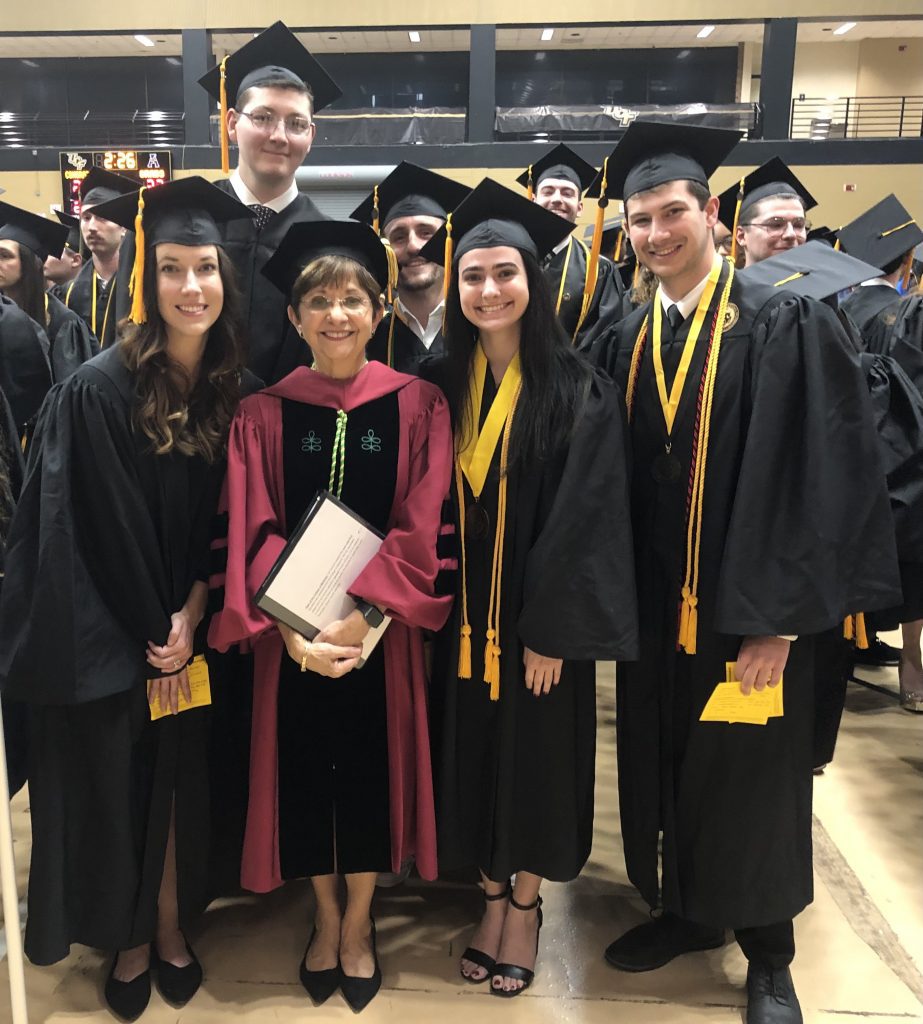 Post Tags