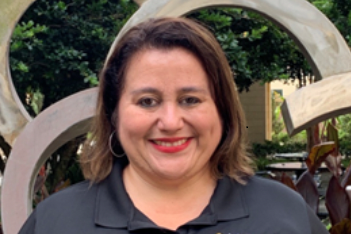 With a passion for helping undergraduate students and solving problems, Dr. Cynthia Contreras, assistant director of academic advising at the Burnett School of Biomedical Sciences, was recently honored with UCF's prestigious Pegasus Advisor Award for 2023-2024.
The award, sponsored by the Division of Student Success and Well-Being, recognizes the outstanding efforts that UCF's professional academic advisors make in retaining students, providing accurate and timely information to students, creating a caring and supportive environment, and helping students realize their potential. Dr. Contreras has been serving UCF students for nearly two decades.
"The award really solidifies my passion for student advising," she said. " I am constantly thinking about ways to do things differently so that I can help the students better, and this just makes it gives me more of a drive to continue doing my best when I help students out."
Dr. Griff Parks, director of the Burnett School and ssociate dean for research at the UCF College of Medicine, praised. Dr. Contreras and the school's advising team for their "dedication to the success of our undergraduatesWe are so lucky to have this group of talented and hardworking staff."
The Burnett School, which is part of the College of Medicine, offers undergraduate degree programs in biomedical sciences, biotechnology and medical laboratory sciences. These programs prepare students for medical, veterinary and other related professional schools, or to continue post-graduate studies to become research scientists.
In her role, Dr. Contreras guides some 2,500 undergrads in preparing for and applying to health professional schools, as well as graduate and doctoral programs. She assists them with planning their schedules and career planning to ensure they're on track to not only graduate but also excel in their future careers.
"What I love the most about my job is meeting students from different parts of the country and of the world, including those here from Central Florida, and how passionate they are about the careers they wish to enter," Dr. Contreras said. "That passion is what drives me to do my best and help them."
A double UCF alumna, Dr. Contreras completed a bachelor's in Business Administration -Hospitality Management as well as a master's in Nonprofit Management. After discovering her passions in conflict resolution and problem-solving, she completed a doctoral degree in Conflict Analysis and Resolution at Nova Southeastern University.
While still an undergraduate student at UCF, she began her advising career as a student assistant in 2001 before becoming a full-time advisor in 2007.
""It's been a fun journey to see the Burnett School grow and to meet so many different people throughout my time and witness all the big changes that have happened" she said. "It was awesome to see that first M.D. class get admitted and graduate."
Dr. Lauren Murray-Lemon, director of Academic Advising at the Burnett School describes Dr. Contreras as "a champion for students."
"She is the epitome of what an academic advisor should be and worked tirelessly to support every College of Medicine student with whom she interacts, Dr. Murray-Lemon said. "Based on her efforts, the Burnett School successfully retained 84% of our transfer student population, a number that is almost three percent higher than the university average. Dr. Contreras is the heart of the Burnett School of Biomedical Sciences advising team, and I cannot think of a more deserving Pegasus Award winner."
Post Tags