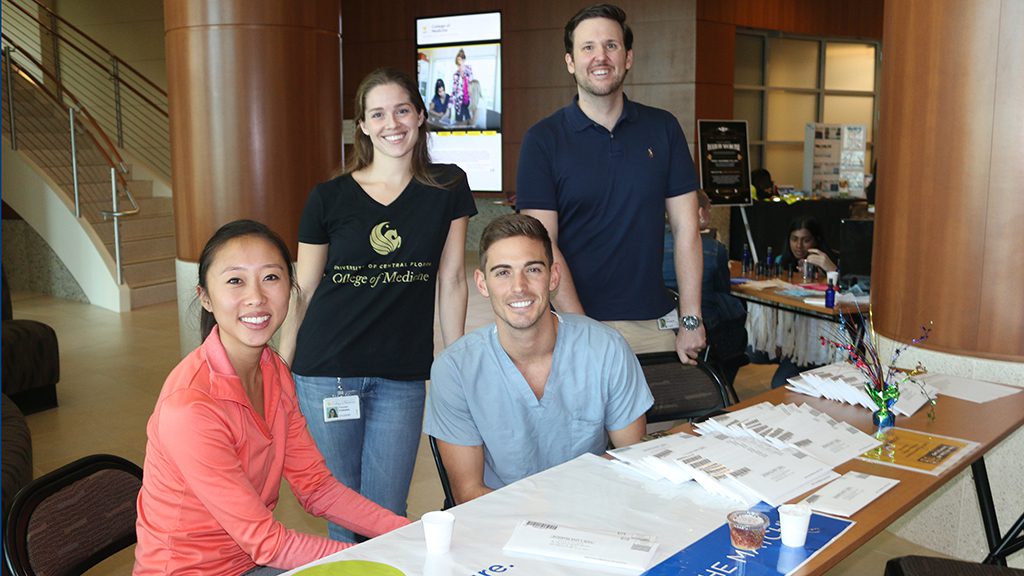 Every year about 17,500 Americans are diagnosed with life-threatening illnesses like leukemia and sickle-cell anemia, where their best treatment option is a bone marrow transplant. But only 30 percent of those patients have a relative who is able and willing to donate. The others depend on a national registry for assistance.
That's why Pressley Chakales, a second-year UCF medical student, organized a bone marrow donation drive as this year's Healthy Knights Expo. Chakales coordinated the drive with Be The Match, an initiative of the National Marrow Donor Program, an organization she learned about as an undergrad at the University of Georgia.
"I learned about their mission and signed up to be a donor that day," she said. "Bone marrow transplantation has been a successful therapy for numerous patients over the last 30 years and is the only cure for many. One of us might possess that cure for another person."
It's important for a diverse group of med students to participate, she said. Younger people are generally healthier than the rest of the population, and recipients of their marrow tend to have shorter recovery times and better long-term survival rates. Students from minority groups are especially needed because their chances of matching are lower.
"Caucasians have a 97 percent chance of having a match. African-Americans have a 63% chance of finding a match, and everybody else falls in between those two numbers," said Marc Silver, a senior community engagement representative for Be The Match.
When students sign up, they fill out a questionnaire and swab the inside of their cheek, collecting cell samples that can be tested to see if they are a match for someone on the registry. If they are a match, they typically undergo further tests and have blood stem cells – the same kind of cells found in marrow – drawn from their arm. It usually takes about a week for a full recovery.
"As a medical student and future physician, my ultimate goal is to help people, to find solutions to problems, and to make lives better, and that turns out to be a challenging thing to accomplish while working through school as a student," said Chakales. "I thought it would be a great opportunity for myself, and other students, to be able to contribute to patients in this way."
Kain Lentine, a second-year med student, thought so. He and his wife signed up for the registry at the Health Expo. Before moving to Orlando, they volunteered weekly at Johns Hopkins All Children's Hospital in St. Petersburg, working with children who underwent bone marrow transplants. He knows how much of an impact those transplants can make.
"Just to see the miracle it works in their lives, you know, that's something we want to be a part of," he said.
For more information or to sign up for the registry, visit http://bethematch.org.
Post Tags