Burnett School

College of Medicine

Communique

Research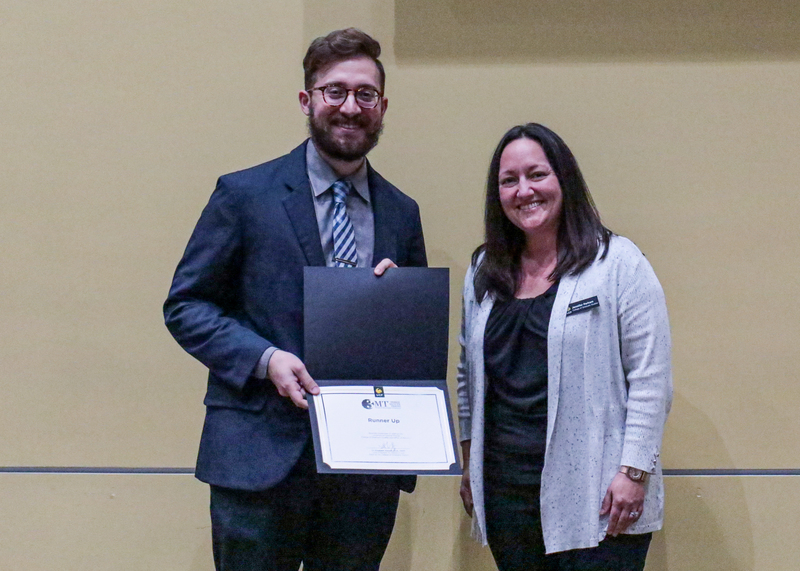 A biomedical sciences student is among three University of Central Florida graduate students who walked away with a total of $2,000 in prize money from the Three Minute Thesis (3MT) competition held Nov. 17. The winning speakers presented on the topics of corpus linguistics, nano-scale biosensors and emergency management.
Chuck Didier, a biomedical sciences doctoral student earned second place in the competition. Didier's presentation explained how a patient-centered approach to pain management drug screening could help end the opioid epidemic. His research utilizes nano-scale biosensors to monitor nerve responses. He received a $750 scholarship.
He was one of ten UCF doctoral students who presented in this year's event. The judges were UCF First Lady Melinda Cartwright; Vice President of Diversity, Equity, and Inclusion Andrea Guzmán; and Department of Writing and Rhetoric Chair Sherry Rankins-Robertson.
Boniesta Melani, a doctoral student in education (TESOL), won the competition. She delivered a presentation on her work in the field of corpus linguistics. Her research aims to determine the most frequently used English idioms in order to streamline the learning process for those approaching English as a second language. Melani, originally from Indonesia, is a mother and a Fulbright scholar.
She received a $1,000 scholarship and will proceed to the statewide competition to be held at UCF in March 2022.
Melani says she was "shocked and excited" to achieve first place among a lineup of mostly STEM students.
The people's choice award winner was Sara Belligoni, a doctoral student in security studies. Hailing from Italy, she is a catamaran helmswoman and first-generation college student. Belligoni spoke about the emergency management funding gaps faced by Puerto Rico and their basis in its status as a non-voting territory. She concluded with an explanation of how those limitations could be bridged by policy changes — specifically, emphasizing civilian-military cooperation during disaster situations. She received a $250 prize.
This year marked the return to an in-person event, with last year's competition being held remotely and using pre-recorded presentations because of the pandemic.
The competition, in which students give a three-minute summary of their research for a layperson audience, was first held by the University of Queensland in 2008. It has since spread to more than 900 universities in over 85 countries.
"It's all about communication," says Elizabeth Klonoff, vice president for Research and dean of the College of Undergraduate Studies, when she welcomed the audience. "If you know how to communicate your work effectively and efficiently, we can get rid of some of the rejection of science and have a better dialogue about what is true and untrue, what is good and bad, what can and cannot be proven."
Post Tags