Burnett School

College of Medicine

Communique

Diversity

Population Health

Research

Student Affairs

Students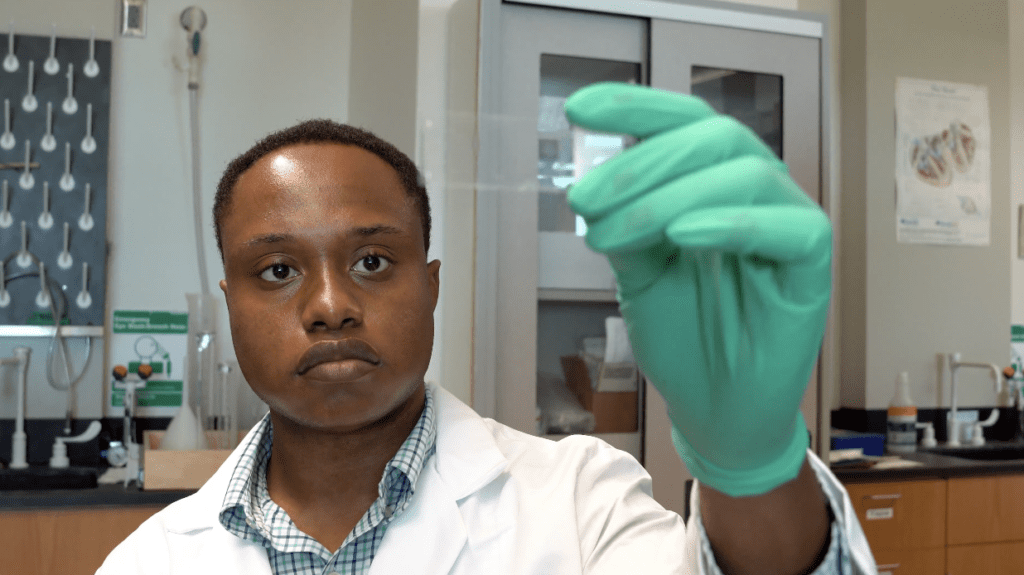 Justin Barthel loves science and medicine – the meticulous details of how the body's systems, chemicals, and cells create health and fight disease. After he graduates with university honors from UCF on May 6, he will join Mayo Clinic to conduct cancer research – the next step toward his dream of becoming a physician and addressing the healthcare disparities that harm minority communities.
Barthel is a recipient of UCF's Order of Pegasus Award – the highest honor the university bestows on students. He is a distinguished LEAD Scholar graduate, a member of the President's Leadership Council, an Eagle Scout, a Knight of Distinction, a Burnett Honors Scholar, and a community volunteer at Orlando Regional Medical Center. He says his parents – his father, an occupational therapist, and his mother, a pharmacist – instilled in him a passion for medicine and learning. Weeks after he graduates with a B.S. in Biomedical Sciences from UCF's College of Medicine, Barthel's sister will graduate from high school on her way to UCF – to study biomedical sciences.
"UCF offers you four amazing years to become immersed into science and research projects," he says. "You just need to seize those opportunities. I could not have done it without my mentors. I had numerous mentors who gave me more opportunities to network with medical officials. I learned the fundamentals of leadership strategies and, of course, practical research methods."
As an undergraduate, Barthel participated in three research projects, including an honors undergraduate thesis which investigated COVID-19 vaccine hesitancy in the UCF student population. Through this research, he also explored students' common COVID-19 misperceptions. Inspired by his fascination with neurology – the study of the brain – he created a computer design of gene therapy for Charcot Marie Tooth Disease Type 1A. This debilitating disease causes nerve damage, especially to the arms and legs. He also researched the expression of the gene Phenylethanolamine N-methyltransferase (PNMT) under Dr. Steven Ebert to study its impact on the brain, potentially leading to neurological disorders such as anxiety and post-traumatic stress disorder.
As a Black male, he hopes his research experience will inspire other minorities to pursue careers in science and medicine. "So many times, people say, 'What if it doesn't work out?' My advice to them is to change their thinking to, what if it does work out?" he said. "Don't let self-doubt keep you from your dreams."
He came to UCF in part because of its LEAD Scholars Academy – a selective academic leadership development program committed to developing students' leadership skills through community service. He served as executive director of the group's Leadership Excellence Board, where he organized a mentorship workshop for students at Union Park Middle School.
"I was able to meet a diverse group of inspirational leaders that motivated me to look toward the ample medical opportunities that are in store for my future," he says. "During my time at UCF, I was able to utilize my leadership, academic, and service experiences to collaborate with various campus organizations and conduct original research projects. The university's impactful teachings provided me with numerous opportunities to strive for excellence."
He also volunteered at Shepherd's Hope, which provides medical care to the community's underserved residents. He served as a patient transporter at Memorial Hospital in his hometown of Jacksonville, FL, where he was recognized for his kind, engaging approach that helped comfort patients in their times of distress and pain. He helped fellow UCF biomedical science students as a peer mentor and was an officer of the Pre-Professional Medical Society.
Justin "has the academic strengths, research experience, and a friendly personality that will serve him well in his future medical career," said Assistant Professor Alicia Hawthorne, who chaired Barthel's Honors Undergraduate thesis project on students' hesitancy toward COVID-19 vaccinations. The results of that study will be shared with UCF Student Health Services. Dr. Hawthorne and Barthel hope to publish their results.
At Mayo Clinic, he will participate in the Research Training Opportunities for Outstanding Leaders (ReTOOL) Program, a cancer research training program for underrepresented minority college graduates at the hospital's location in Jacksonville. Barthel says he is eager to understand – and find solutions to — the health disparities that cause people of color to disproportionately be diagnosed with and die from cancer. He will also continue studying for his upcoming Medical College Admission Test.
"It feels great to actually be able to conduct research in a hospital," he says of the next steps in his medical journey. "Going from college to Mayo – one of the top hospitals in America – is amazing."
Post Tags
2022 commencement

burnett school of biomedical sciences

Justin Barthel