Doctors seeking to improve global health have to look beyond medicine and respond to a "narrative" of issues that victimize the developing world, from a lack of education to the proliferation of cheap, easily accessible assault weapons, an internationally renowned humanitarian-physician said at the UCF College of Medicine November 12.
Dr. Samantha Nutt, founder of the humanitarian organization War Child North America, and author of the best-selling book, "Damned Nations: Greed, Guns, Armies & Aid." spoke as part of UCF's International Education Week. The event was sponsored by the UCF Colleges of Medicine and Health and Public Affairs and Diebel Legacy Fund at Central Florida Foundation.
Dr. Nutt began her humanitarian career 20 years ago, when just out of medical school, she traveled to war-torn Somalia to offer humanitarian aid. "I arrived in Somalia believing, like most young physicians would, that I could save lives," she recalled. "It didn't take me very long to realize just how deeply flawed those assumptions actually were."
Agreeing to work for UNICEF for only one dollar, Dr. Nutt said she quickly saw that patients' needs were  not limited to food and medical care. "Global health is not a medical conundrum that must be solved, it is a narrative," she said. "It is only by wrestling with this narrative that a more thoughtful and considered view of humanitarian action begins to emerge."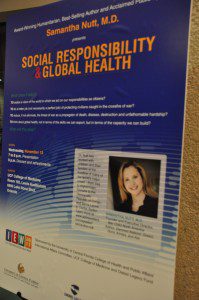 Dr. Nutt asked audience members to guess the single most important factor in preventing infant mortality in developing countries. The answer is not food, water, medicine, shelter or treatment for diseases such as AIDS.  Surprising to many, a mother's access to education is key to her child's survival, as studies show that for every year of education young girls in developing countries receive, infant mortality drops by 10 percent.
Dr. Nutt provided dramatic stories of how violence impacts global health. Adolescent boys in developing countries have easy access to automatic weapons, militia involvement and a culture of violence, leading to armed sexual assaults on women and children. Caring for rape victims taught Dr. Nutt that access to cheap guns has become a far bigger healthcare problem than clean water or medicine. "It's time that we look at arms control not as separate from global health and good public health policy, but absolutely integral to it," she said.
What can attendees do to help? Become more informed on international affairs, she said. Make a commitment to read one credible media report on international issues a day. Get involved with grass roots organizations that provide sustainable assistance rather than participating in short, "voluntourism" efforts.  Volunteer with groups to understand the issues before you ever get on a plane to serve the world.  "There are no quick fixes and no easy answers," she said. "All of us must endeavor to become more policy literate to understand the many threads that bind us to violence and instability."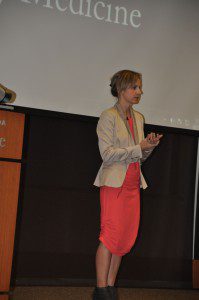 The spirit of service that Dr. Nutt encouraged is reflected in the work of Diebel Legacy Fund Fund at Central Florida Foundation that sponsors many humanitarian programs at the College of Medicine.  Dr. Don Diebel spoke of establishing the fund in honor of his late son, Dr. Don Diebel Jr., who was killed while assisting a traveler in an overturned vehicle on the Florida Turnpike. The father and son had practiced together and served on medical missions in Central America and the Caribbean, and Diebel Legacy Fund Fund at Central Florida Foundation continues promoting the son's humanitarian spirit. "It was our goal to participate in developing new physicians who are cut from the same cloth," Dr. Diebel Sr. said. "Here at the college, there is an outstanding group of highly-motivated students who are willing to give of themselves and volunteer internationally."
Some of those students are members of the college's MedPACT (Medical Students Providing Across Continents) group, who have participated in global health efforts with their adviser, Dr. Judy Simms-Cendan.  Dr. Simms-Cendan said she hoped Dr. Nutt's presentation provided students with a first-hand look at the challenges and rewards of international service.
"Over the years, war has killed far too many people close to me, and on a couple of occasions, war has almost killed me," Dr. Nutt explained. "But I get up and do what I do every single day because I believe with the right amount of leadership and initiative; we can actually foster globally compassionate societies."
Post Tags