College of Medicine

Faculty News

Students
Students – and for the first time resident instructors and faculty — were honored for their compassion and dedication to excellence in clinical care during the second-annual Chapman Chapter Gold Humanism Honor Society induction ceremony at the medical school in October.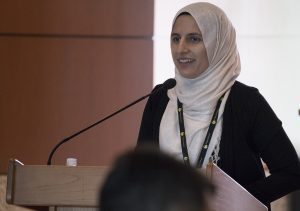 "Patients will always remember a physician who really listens to them, which is a big deal as most clinical practices today make them feel very rushed and 'just another number,'" said Dr. Shazia Bég, a rheumatologist, assistant professor of medicine and co-founder of UCF's honor society chapter. "Humanism, empathy and respect are what every individual deserves, especially when they are sick and looking for answers."
Dr. Bég, a Gold Humanism Honor Society 2006 inductee, founded the UCF chapter with Dr. Caridad Hernandez last year. She and Hernandez serve as faculty advisors.
After last year's inaugural selection of students, they expanded the honorees this year, noting that UCF College of Medicine faculty and resident instructors were important role models for empathetic treatment of patients.
In welcoming honorees, Dr. Deborah German, vice president for medical affairs and dean, said the inclusion of faculty and residents in the honor society "is proof that The Good Doctor is alive and well here at the UCF College of Medicine. Our outstanding students, faculty and residents demonstrate a strong commitment to compassionate patient care."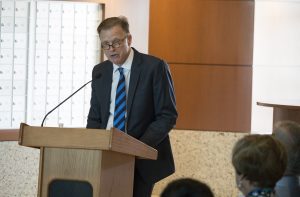 Dr. James Sanders, assistant professor of neurosurgery and one of the faculty inductees, was also the ceremony speaker. He emphasized that a "respectful and compassionate relationship" between health care professionals and between doctors and patients is the cornerstone of effective medical practice and becoming "The Good Doctor."
"I am honored and humbled to be recognized by the faculty and medical students," he said. "This is the type of physician I have always strived to be."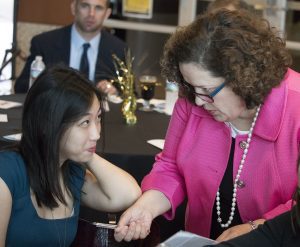 One of the students recognized at the ceremony was fourth-year Faith Villanueva. After graduation, she hopes to do her residency in internal medicine and then pursue a gastroenterology fellowship.
"Achieving this honor has been a call to action for me," she said. "During the induction, I was surrounded by so many people I have looked up to and considered my role models during the course of my medical education: accomplished peers, resident leaders and faculty mentors. They have all shown me what kind of physician I hope to be in the future, and have taught me how I can better serve my patients."
Dr. Joshua Corsa studied medicine at The Brody School of Medicine at East Carolina University, and is now in residency at Orlando Health, where he teaches UCF medical students. In June, he was working in the Level I trauma center, his shoes covered in blood as he cared for wounded from the Pulse nightclub shooting.
"As a surgery resident, the phone calls, consults and list of things to be done can seem never-ending," said Dr. Corsa. "It's hard sometimes to remember that behind all of the work to be done is a human being. Some of the most meaningful moments I've had with my patients are ones I would have missed if I had let myself forget the reason I'm here – to take care of people."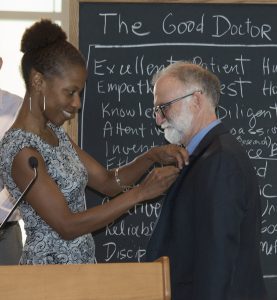 This year's inductees are:
Students
Jacqueline Babb
Ashley Brown
Margaret Capobianco
Michael Chambers
Angela DelPrete
Gabriel Glaun
Sarah Hart
Esther Kim
Eli Kinberg
Megan Mizera
Jennifer Nergard
Katherine Peacock
Eva Reina
Nomi Sherwin
Kesha Thomas
Faith Villanueva
Residents
Joshua Corsa, M.D.
Lauren Stipp, M.D.
Jonah White, M.D.
Faculty
Brandon Carr, M.D.
Jeffrey Greenwald, M.D.
James Sanders, M.D.
Judith Simms-Cendan, M.D.
Post Tags