Burnett School

College of Medicine

Communique

Diversity

Faculty News

Population Health

Residents

Student Affairs

Students

UCF Health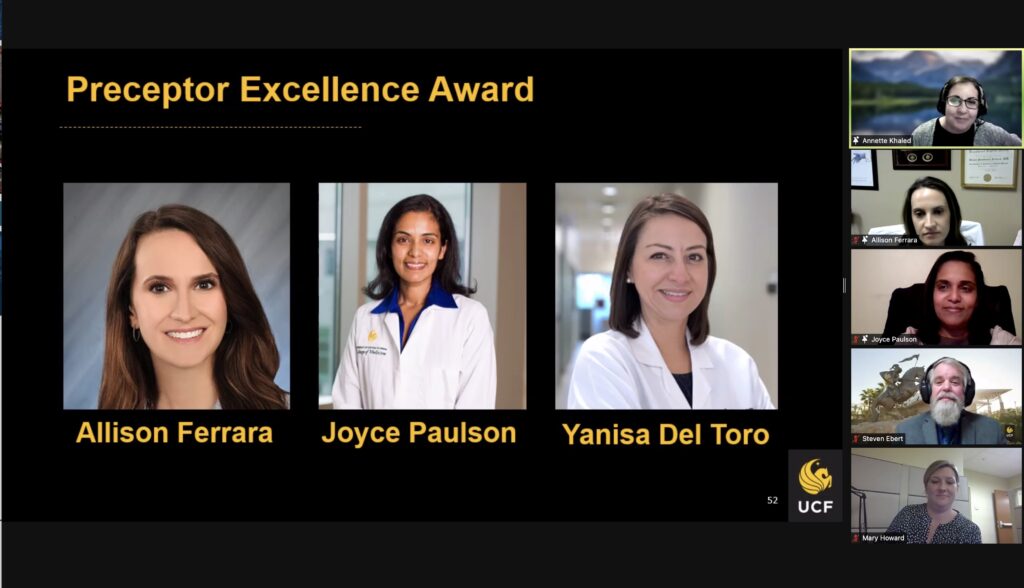 The College of Medicine recognized faculty, staff, students and community members for their achievements and contributions during the annual Awards Ceremony Nov. 16.
The virtual event featured the college's inaugural awards recognizing individual's commitments to diversity, equity and inclusion.
"You are the heart and soul of this medical school, this university and this community," said Dr. Deborah German, vice president for health affairs and dean of the medical school as she welcomed attendees. "Thank you for everything you do every day to teach our students, care for our patients and discover tomorrow's medical treatments and cures. And for doing it with an incredible energy and persistence this year in the midst of a global pandemic."
The Dean's Award, given to the person who exemplifies outstanding support of the College of Medicine, went to Wendy Brandon, leader of UCF Lake Nona Medical Center, the new partnership hospital created by UCF and HCA Healthcare. Dr. German said Brandon had "worked tirelessly to create a new hospital that is already a leader in quality care," noting that UCF Lake Nona Medical Center was recently ranked #1 for Care Excellence in HCA's entire North Florida Division, and #11 in all of HCA Healthcare — out of 188 hospitals nationwide. This summer, its Emergency Department was rated #1 for Patient Experience in the entire HCA Healthcare enterprise. "Thanks to her partnership spirit, we are joining forces for research and discovery – especially in the area of cancer — and UCF medical students and nursing students have already begun training at their very own hospital," Dr. German said.
Dr. Tracy McIntosh, associate dean for diversity, equity and inclusion, presented awards to three staff members, a student and a faculty member for their efforts to create a more inclusive medical school culture committed to "recruiting and training a more diverse and inclusive generation of scientists and physicians to solve our healthcare challenges and deliver equitable healthcare to all people." Honorees were staff members Laura Patterson, Katherine Newsom and Cynthia Contreras, M.D. student Melodie Noel and faculty member Olga Karasik.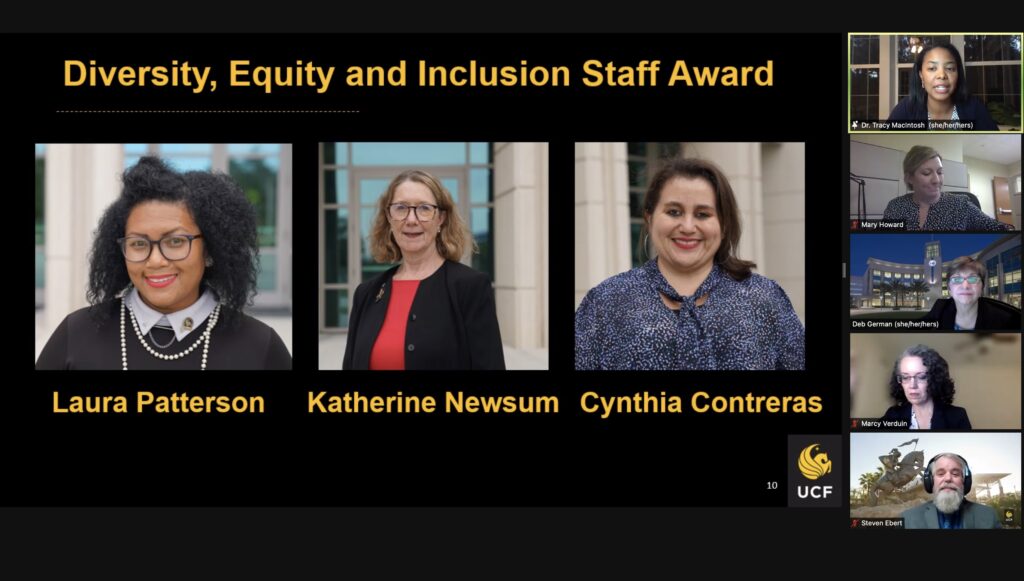 M.D. students created an inaugural award of their own. The Richard D. Peppler Student Advocacy Award is named in honor of Dr. Peppler, who retired this year after 14 years as associate dean of academic and faculty affairs and gave so much of himself to students through advising, teaching and advocacy. The first award was given to Dr. Peppler.
Here are the rest of the awards:
Faculty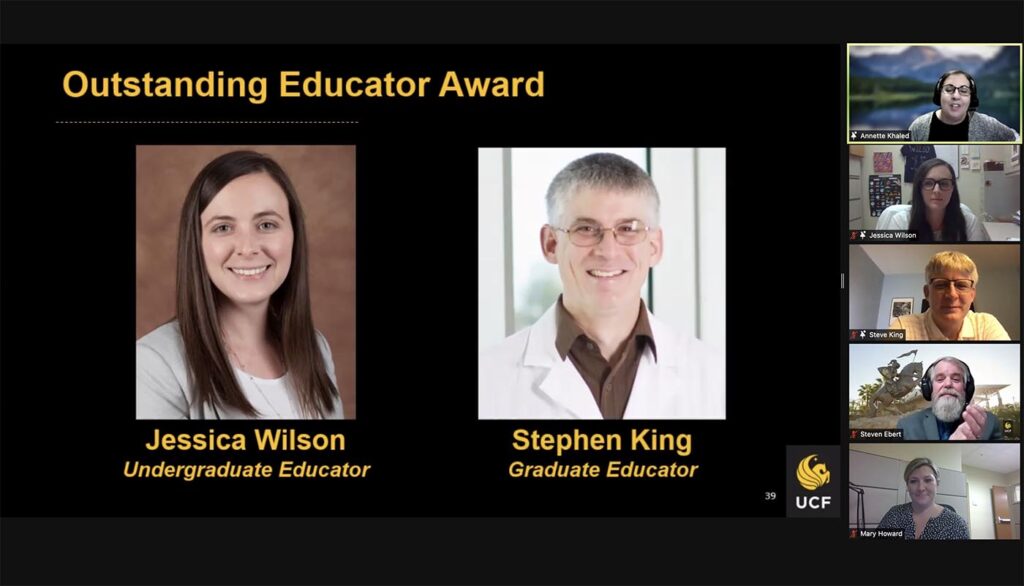 Innovative Teaching: Jorge Restrepo, Colleen Moran-Bano, Julia Soulakova, Kyle Riding
Early Career Educator: Melissa Worley, Joshua Shultz
Educational Leadership: Michelle Ozcan, Nyla Dil
Community Service: Anuja Mehta
Outstanding Faculty Member: Georgine Lamvu
Excellence in Librarianship: Terri Gotschall
GME Clinical Teaching & Mentorship: Johanna Kielbasa
Clinical Achievement: Jessica Feranec
Early Career Investigator for Achievement in Research: Lindsay Taliaferro
M1 Golden Apple: Jeffrey LaRochelle
M2 Golden Apple: Heidi Hoopingarner
M3 Resident Golden Apple: Hannah Lewis
M3 Educator Golden Apple: Alan Thurman
Clerkship Director Golden Apple: Donna Boucher
Practice of Medicine Golden Apple: Mariana Dangiolo
Undergraduate Educator: Jessica Wilson
Graduate Educator: Stephen King
Contributions to the FIRE Module: Raj Sawh-Martinez, James Solomon
Contributions to Clinical Skills: Patrick Hunter, Shiva Kalidindi
Contributions to Admissions: Gobi Balaji, Richard Gammon
Contributions to Medical Laboratory Sciences Program: Janet Kaufman
Contributions to the Anatomy Lab: The late John Langdon
Excellence in Teaching, Surgery Clerkship: Educator: Alan Thurman, Resident: Robert Ringersen
Excellence in Teaching Psychiatry Clerkship: Educator: Reeyaz Esack,
Residents: Monica Arias Garcia, Marisa Taddeo, Katrina Kesterson
Excellence in Teaching, Internal Medicine Clerkship: Educator: Matthew Calestino, Resident: Zekarias Asnake
Excellence in Teaching, Family Medicine Clerkship: Educator: Scott Lang, Cindy Gleit,Resident: Jordan Phelps
Excellence in Teaching, Pediatric Clerkship: Educator: Nicole Armstrong, Resident: Brandon Trandai
Excellence in Teaching, Neurology Clerkship: Educator: Umesh Sharma, Resident: Amna Imran
Excellence in Teaching, Obstetrics and Gynecology Clerkship: Educator: Deborah Spiers, Resident: Hannah Lewis
Preceptor Excellence: Allison Ferrara, Joyce Paulson, Yanisa Del Toro
Richard B. Hornick Award: Peter Edelstein
Staff
USPS Medical Education and Overall USPS Employee of the Year: Heather Hargreave
A and P Employee of the Year: Lacy Stallings
Team Award: Harriet F. Ginsburg Health Sciences Library team
Student
Academic Excellence: Jeremy Adamson, Shaye Busse, John Driggers, Carla Gonzalez, Caridad Infante, Katelyn Lewis, John Mathias, Max Mccall, Rachel Nyenhuis, Helena Quach, Allison Richey, Neel Shah, Daniel Stirt, April Taniguchi, Lindsey Webb, Nathan Whitley, John Wilhelm
Excellence in Clinical Skills: Carla Gonzalez, Vashti Shiwmangal
Faculty Choice: Lake Lindo
Distinguished Service: Krisandra Hardy
International Medical Service: Gustavo Marino
Service and Humanity in Medicine: Brenden Maag
U.S. Public Health Service Excellence in Public Health: Lily Chen, David Gittess.
Focused Inquiry and Research Experience (FIRE)
Faculty Choice for Oral Presentation:

First place – Andrew Collins

Second place – Daniel Stirt

Third place –Elliott Cheung

Peer Choice for Oral Presentation:

First place – Katelyn Lewis

Second place – Kharina Guruvadoo

Third place – Daniel Stirt

Faculty Choice for Poster Presentation:

Second place – Ramapaada Medam

Peer Choice for Poster Presentation:
Post Tags