Burnett School

Cancer Division

College of Medicine

Faculty News
If you attend December 17's AutoNation Cure Bowl, you're doing more than supporting UCF football — proceeds of the game support breast cancer research at the College of Medicine.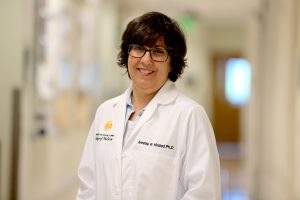 The college's Dr. Annette Khaled has received $650,000 in research grants from the Cure Bowl and the Breast Cancer Research Foundation (BCRF), which receives proceeds from the game. Dr. Khaled's lab at the Burnett School of Biomedical Sciences has discovered a way to kill spreading breast cancer cells and the new technology has generated a licensing agreement that could have the therapy in clinical trials by 2018.
Metastatic cancer cells spread from the original tumor to the brain, lungs and bones and are the leading cause of death for most cancer patients. In 2012, Dr. Khaled discovered the peptide CT20, which kills fleeing cells by disrupting the folding mechanism inside cancer cells mediated by a chaperonin. If the inner workings of the cell can't fold into 3D units, the cell dies. As part of her research, Dr. J. Manuel Perez, a former UCF researcher who specializes in chemistry and nanotechnology, developed nanoparticles to transport the peptide specifically to metastatic cancer cells. SEVA Therapeutics Inc., a Massachusetts-based pre-clinical biotechnology company, recently licensed the nanoparticle-peptide technology.
Dr. Khaled, chair of the medical school's Cancer Research Division, is one of just five researchers in Florida to receive funding from the BCRF, the largest private founder of breast cancer research worldwide. The foundation is the only breast cancer organization to receive an A+ rating from Charity Watch and spends 91 cents of every $1 it receives on breast cancer research.
While most NCAA bowl games make contributions to charity, few include the name of their cause in their title and give all proceeds to one effort.
This year's game features the UCF Knights against Arkansas State University. The game, at Camping World Stadium in Orlando has kickoff set for 5:30 p.m. and will be shown on CBS Sports Network. To purchase tickets or get more information on the game, please visit http://curebowl.com/
Post Tags