College of Medicine

Communique

Diversity

Student Affairs

Students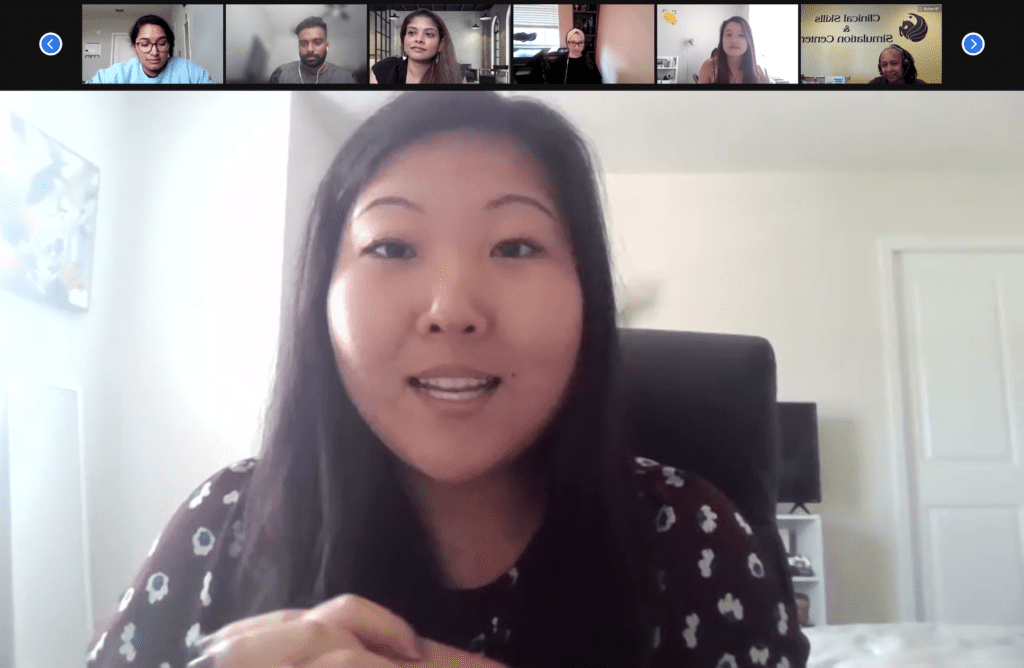 When Diane Tran began medical school last year, she quickly noticed that Central Florida lacked the Asian population of her Southern California hometown. And as the country grappled with a pandemic, social injustice and political divisiveness, she also noticed a shift in attitude toward Asian Americans, with increasing suspicion and scapegoating of people of Asian descent.
So together with members of the College of Medicine's Asian Pacific American Medical Student Association (APAMSA), Tran organized a virtual panel of Asian doctors, healthcare workers and a community activist to bring to light the prejudices and systemic racism against Asians and Pacific Islanders, particularly as it affects those in medicine. "Our objectives for the session were to raise awareness about anti-Asian sentiment, discuss how the recent violence against Asian Americans is related to the pandemic, and provide strategies for change to help our Asian peers," said Tran.
Even with increasing new coverage of violence against Asians, Tran said she was surprised by how many of her classmates did not understand how an atmosphere of hate was impacting the daily lives of Asian healthcare professionals and medical students.
"It's about the subtle and seemingly innocuous ways that racism seeps into our day to day lives. I think it is important to talk about the lack of space and respect afforded to bodies of color. How marginalized people feel this constant pressure to conform and navigate things exactly right in situations that are hedging towards 'hostile-but-not-quite'," she said, "that hostility can manifest as something other than a punch to the face."
Panelist Dr. Josh Tsau, who trained at UCF's emergency medicine residency program and is currently an EMS Fellow at the University of Texas, said he has experienced hostility first-hand on and off the job.
"Drunk patients in the ER have refused to have me as their doctor and others have made comments about getting COVID-19 from Chinese food," said Dr. Tsau. He also noticed signs of microaggression — subtle signs of discrimination — against him when in stores when people stare or treat him with disdain. Similarly, panelist Dr. Jules Seale, a physician at Naval Hospital Jacksonville, shared that she has experienced suspicious looks and wariness from patients since COVID-19.  
Panelists said they were able to break down many barriers by engaging with their patients, including talking about their background and heritage.
"It's easy to get angry and ignore it, but I've learned that this is the best time to talk about it for cultural awareness," said Dr. Seales. "Use it as springboard to have that conversation against microaggression and explain to people who have not experienced it."
Although one-one-one conversations can help address individual prejudices, the healthcare professionals acknowledged their heightened vigilance against discrimination when they are in public. Linda Guan, a first-year medical student and APAMSA organizer agreed. "I'm hyper aware," she said. "It's always in the back of my mind and it can be stressful."
Panelist Erin Tsurumoto Grassi, a community activist at Alliance San Diego, wants Asians to speak up more about prejudice and break down the stereotype of Asians and Pacific Islanders being the model minority. "I'm starting to realize, no one is coming to save us. Atlanta happened and it was all over the news," said Tsurumoto Grassi, referring to six Asian spa workers who were killed in March. "But a week later when a woman was attacked in New York, no one did anything. We were just a hashtag. It's not a comforting thought, but it made me realize that no one is coming to save us, we have to save ourselves."
Tran added that people have a responsibility to call out racism when they are confronted with it. She believes silence would only perpetuate racism and that it would be a mistake to tell victims how to react in to their own oppression.
The pandemic, she said, has made it more difficult to connect with her peers since they usually only meet online, adding that racial differences have added to a sense of isolation for minority students.
"Students of color, including Asians, probably feel this isolation more acutely. Navigating interpersonal relationships can become a minefield for us, especially when we also have to bear the burden of educating others," she said. She hopes the APAMSA can help bridge that gap and encourage greater interest in advocacy.
Post Tags