College of Medicine

Communique

Faculty News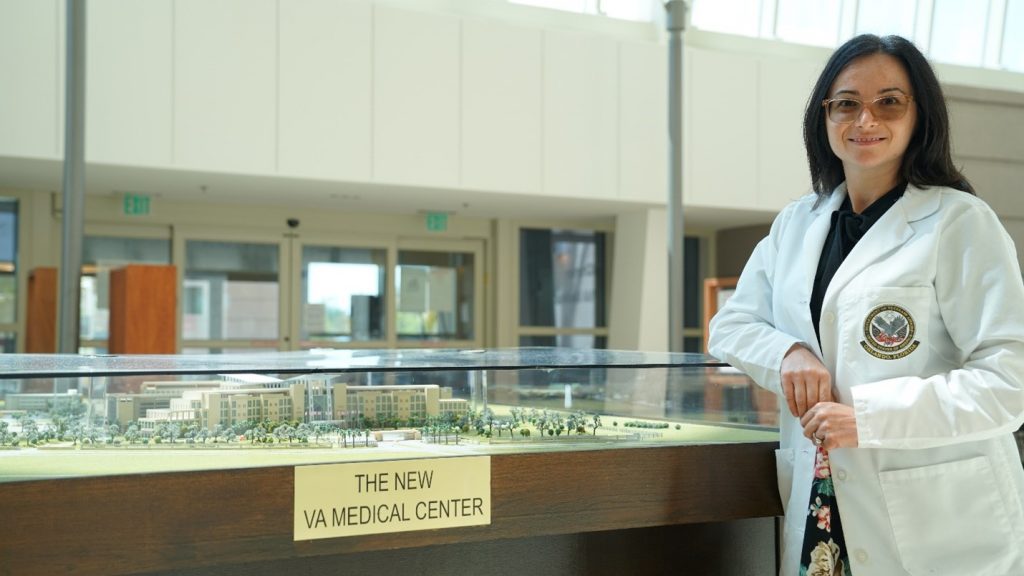 Dr. Elona Rrapo Kaso prepared her patient for his cardiac CT scan with calm, reassuring words, explaining the computerized X-rays that would diagnose what was wrong with his heart.
"The patient is part of the medical team," she explained later, "so we always want to discuss with them what to expect throughout a procedure, what the images are showing and why we prescribe the treatment we do. It helps ease their worries and build trust."
Dr. Rrapo Kaso learned her first patient-care lessons at UCF, when she was a member of the Class of 2013, the medical school's charter class. More than a decade later, she still remembers Dean Deborah German's message about becoming one of "The Good Doctors: A UCF Tradition."
After her residency and fellowship, Dr. Rrapo Kaso returned to Medical City in 2021 to build the Orlando VA Medical Center's burgeoning advanced cardiac imaging program. Today, she cares for patients just steps from her alma mater and also trains UCF medical students and residents.
As the College of Medicine prepares to graduate its 1,000th student on May 19, Dr. Rrapo Kaso and other alumni reflected on what it meant to be educated at a pioneering medical school established to create economic development and anchor an emerging Medical City at Lake Nona.
Dr. Rrapo Kaso was born in Albania, and was inspired to become a doctor after witnessing U.S. physicians in her country caring for refugees from Kosovo. At a young age, her dream was to pursue higher education in the U.S. For years, she and her family tried unsuccessfully to gain permission to immigrate to the United States for her education. She had decided to do her medical training in Italy when her family finally received its green card.
She wasn't sure if she wanted to be one of the first students at UCF's new medical school. "Honestly, I was hesitant to be a member of the charter class at UCF over one of the more historic schools," she said with a laugh. "But once I heard Dr. German talk about her vision for the school and what it means to be 'The Good Doctor' I was inspired. Talking with the founding faculty that would be guiding us only made me more confident that UCF was the home for me to achieve my goals and my dream for the best medical education."
Other College of Medicine alumni interviewed has similar reflections. They are caring for patients across the state and nation. Some are faculty members at medical schools. Some have risen to lead departments. Two are hospitalists at UCF Lake Nona Hospital next door to the medical school.
Dr. Pouya Alexander Ameli graduated in 2014, the medical school's second class, and has returned to Florida as a neurologist at the University of Florida. He considers himself a proud Physician Knight.
"Thanks to the educational and leadership opportunities I had at the UCF College of Medicine, I was able to pursue prestigious residency and fellowship programs at Vanderbilt and Emory, working alongside many of the most well-trained physicians in the country," he said. "This has led to my current position as a successful faculty member in the UF College of Medicine, where I am constantly reminded of how lucky I was to begin my journey at UCF."
Dr. Christin Giordano is a private practice nephrologist who has become Vice Chair of Medicine at St. Thomas Rutherford Hospital in Murfreesboro, TN. She was a member of the College of Medicine's fourth graduating class, where she won awards for academic achievement and service.
"I chose to attend UCF because the culture has always encouraged innovation, leadership and the achievement of one's dreams," she said.
On the first day of medical school at UCF, as students receive their white coats, Dr. German conducts their first class, called "The Good Doctor: A UCF Tradition." She asks new students to imagine the person they love most is seriously ill and asks them to describe the traits they want to see in their loved one's physician. As students call out traits, Dr. German writes the words on a chalkboard that is displayed the entire school year in the College of Medicine rotunda. The "Good Doctor" traits – words like dependable, honest, compassionate, courageous and knowledgeable – become the students' contract with their dean, faculty, community and each other. Med school alumni talked about how they practice "The Good Doctor" traits in their practices years after graduating from UCF.
As Dr. Rrapo Kaso explained about her care of military veterans:
"As a small team in an emerging program, we all have to be committed to providing the best quality care to our patients. When we have a patient that can only make it here at a specific time and we have to fit them in, even if that means we might have to stay late or make concessions, we can feel confident that we are all committed to putting our patient first."
The College of Medicine will graduate its 1,000th physician and commencement ceremonies beginning at 10 a.m. on May 19. You can watch the ceremony live streamed on the med school's YouTube and Facebook pages.
Post Tags
graduation

Orlando VA Medical Center

UCF Alumni