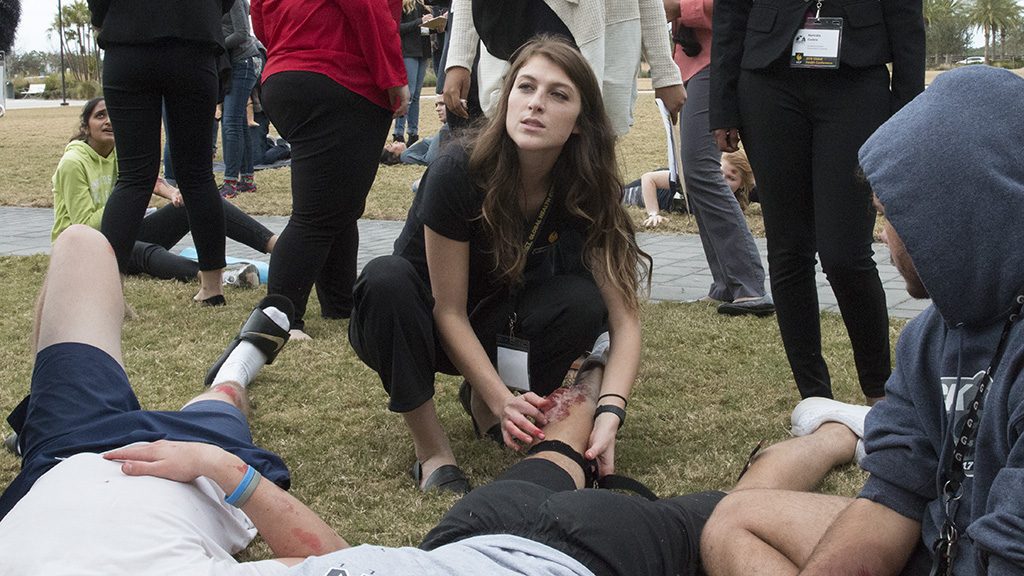 "People were dying left and right. I had never seen human misery on such a huge scale."
It was the height of the 1985 Ethiopian famine and Masahiro Morikawa, a young medical student, felt helpless, trying in vain to care for starving families. Sick children that a few healthcare providers treated by day were often dead by night in a famine that ultimately killed 1 million people.
Today, Dr. Morikawa is a professor of family medicine and community health at Case Western Reserve University's medical school, where he works with governments and non-profits to bring medical care to war-torn nations. On January 20 he told participants at UCF's seventh-annual Global Health Conference that disparities in access to healthcare persist across much of the world, and urged them to help stop the suffering.
"If you are born in rural Africa or Asia, as a farmer, you are extremely lucky to get to see a real doctor – M.D. – like you, or nurses, even once in your lifetime," he said. "That's the reality: the people don't have any access to doctors or qualified medical personnel. So we really need you. They really need you."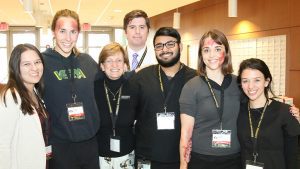 The conference, the College of Medicine's seventh, drew 187 medical, nursing, social work and pharmacy students and faculty – a 30 percent increase from last year. Providers of healthcare programs in areas including the Dominican Republic and Jordan also attended. The conference included hands-on workshops, including a disaster triage drill in a war zone and panel discussions centered on the theme of healthcare as a human right. Discussions included dialogues on the ethical considerations of caring for refugees, prisoners and even terrorists, and how healthcare students can be stronger advocates for providing care to all.
"The premise that healthcare is a human right goes to the core of what so many of us are passionate about," said Dr. Judy Simms-Cendan, the College of Medicine's director of international experiences, who also leads service learning efforts in the Central Florida community and worldwide. "This year's theme is particularly well-timed as we grapple with immigration in our country, healthcare policy and reform, and who is entitled to receive care."
One of the biggest challenges worldwide is a lack of healthcare workers in areas that need them most. For example, while Africa bears 24 percent of the global burden of disease, it only has 3 percent of the healthcare labor force available, according to Amref, an NGO dedicated to responding to African health challenges.
Providing care in global environments means improvising, and the workshops offered opportunities for healthcare students to get a taste of such experiences. They learned how to use mini ultrasound units to provide diagnosis in isolated areas and how to set up triage in a simulated mass casualty emergency – an airstrike in Syria.
UCF College of Medicine organizers, like first-year student Kylee Crate, set up the Tavistock Green for the disaster. Volunteers – covered with horrific wounds created by makeup – lay sprawled on the ground screaming for help. Students learned how to apply tourniquets and splints. They also learned how to perform SALT triage – a method developed for handling mass casualty incidents where health professionals identify the wounded, assess their condition, perform life-saving interventions and determine next steps for further treatment.
Crate said global healthcare has always been her passion. "I want to provide healthcare to areas like Syria, where they're in these crises and they don't have access to healthcare," she said. "I want to be one of those people who can help."
Gunika Datt, a UCF junior studying biomedical sciences, hopes to become a pediatrician and was thrilled to see how life-saving medications can be injected into bone marrow and how to use whatever is on hand to stop bleeding.
"I really loved how you focused on real-life situations and how to actually take part and do something and make a difference in the lives of people," she said.
The conference was student-run with leadership from MedPACt, Medical Students Providing Across Continents, and the KNIGHTS Clinic, a student-run free clinic that cares for Orlando's uninsured. Both programs bring together a variety of UCF healthcare students and University of Florida pharmacy students to learn to communicate and work in teams for the good of their patients.
The $1,000 raised at the conference went to three organizations: Cindy Nelly's StandWithMe initiative, which provides OB-GYN care for Syrian refugees in the Middle East,the KNIGHTS Clinic and a MedPACt clinic that provides free care to Apopka farmworkers.
Lorraine Hoyos, a student volunteer at UF's Mobile Outreach Clinic, which delivers basic healthcare to the medically underserved, was thrilled to make new connections at the conference. She and co-presenter Victoria Bouillon researched food disparities among the homeless population in Alachua County, sharing their findings at the conference.
"It's so inspiring to be around so many like-minded people," she said. "Working with these populations and seeing the amount of disparity and suffering there is, it's hard not to lose heart. But seeing all of these capable, passionate people going out to try to change the world – it's really incredible."
Post Tags
global health

Global Health Conference

KNIGHTS Clinic

MedPACt

Simms-Cendan