College of Medicine

Faculty News
Four out of five heroin addicts started with pain medications prescribed by their doctors. And the College of Medicine's leadership in educating future physicians about the risks of prescribing opioids for pain was recognized recently when the Association of American Medical Colleges (AAMC) invited UCF faculty to present an opioid education webinar.
Dr. Martin Klapheke, assistant dean of medical education and professor of psychiatry, who is leading UCF's opioid education efforts, and Dr. Magdalena Pasarica, associate professor of medicine, showed how UCF includes opioid education in all four years of the curriculum.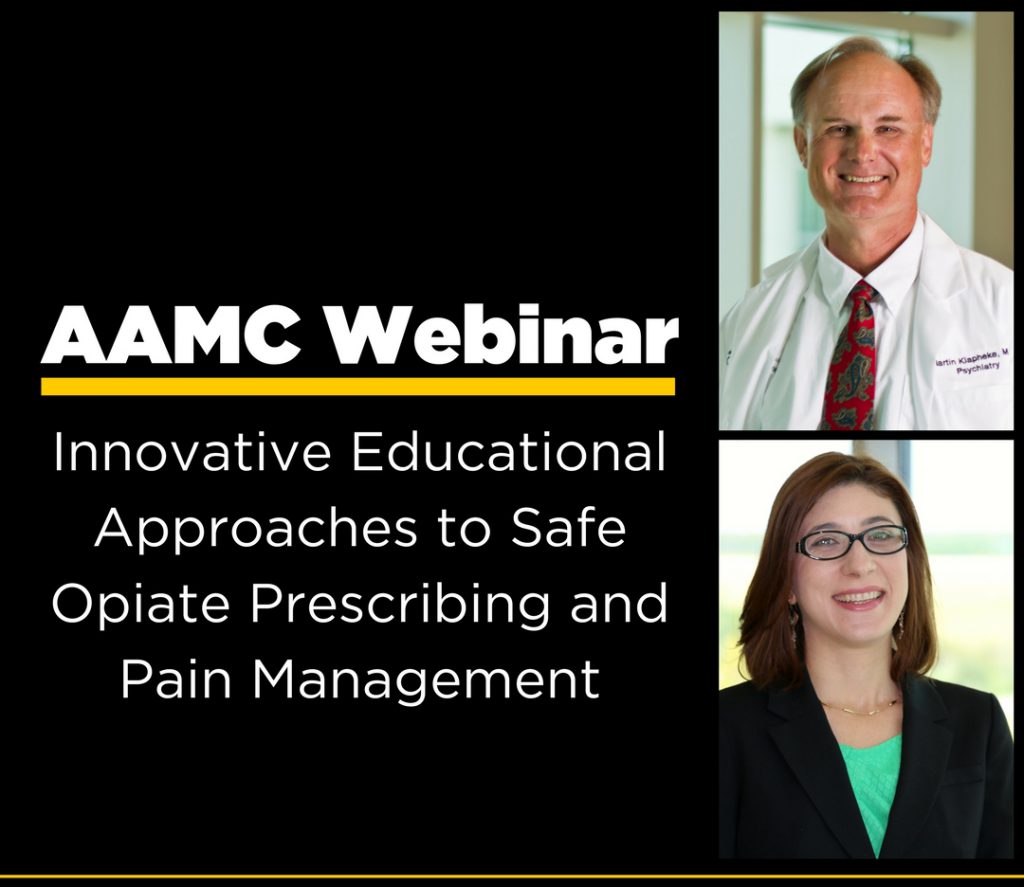 The two participated in the "Innovative Educational Approaches to Safe Opiate Prescribing and Pain Management," webinar April 5-9. The webinar was streamed online via the AAMC website and was viewed by 48 medical educators across the country.
"The webinar provided a great platform to share our faculty's response to the opioid public health crisis," Dr. Klapheke said, "and our increased commitment to educate students and physicians on ways to effectively manage pain while preventing opioid addiction and overdose."
Dr. Klapheke shared how the medical school begins opioid education in the first year, when students get an introduction to substance abuse disorders and pain management. In the second year, students are introduced to the pharmacology of opioid and non-opioid analgesics as well as non-pharmacologic treatment for back and other pain.
Opioid education continues in the third and fourth years, where medical students do their clerkship training at a variety of healthcare facilities. In the surgery clerkship, for example, they focus on post-operative pain management. The OB-GYN clerkship addresses pain management during labor and delivery as well as treating neonatal abstinence syndrome, where babies are born dependent on opioids due to the mother's use during pregnancy. Students also work with social services agencies to address opioid dependency among pregnant women and provide resources for treatment.
"This is not a problem that is owned by one discipline of medicine nor is it owned by medicine itself," Dr. Klapheke said. "As a community, a state and a nation, we all have to work together. Florida has really suffered from this crisis, evident in increased cases of neonatal abstinence syndrome and adult death from accidental overdose. So we are a taking a multisystem approach, collaborating across different disciplines, with different medical schools, with our community leaders and community members."
Drs. Klapheke and Pasarica have also designed a new module focusing entirely on opioid education which is being piloted with third-year students in the psychiatry clerkship. The module, "Opioid Risk Mitigation Strategies and Overdose Resuscitation," uses standardized patients (actors) who play the role of a patient who gets hooked on opioids after injuring his back at work and family members concerned about his increasing need for pain medication. The module is designed to help medical students devise a treatment plan for someone in pain, develop risk-mitigation strategies for pain medication use, identify signs of addiction and how to respond to a possible overdose. As part of the module, Dr. Pasarica, a family medicine specialist, shows students the role of the primary care physician in preventing opioid addiction. Dr. Klapheke demonstrates the role of a psychiatrist in helping the patient and his or her family deal with possible addiction.
"The module is interactive where they will go through and learn different aspects of the opioid crisis and various risk mitigation strategies," explained Dr. Klapheke. "We also look at how to train addicted persons and their family members in the prevention and treatment of opioid overdose."
The module is currently under peer review before submission to MedEdPORTAL, which will make it available online for use by medical schools nationwide.
Dr. Pasarica said the webinar provided a great opportunity to discuss the medical school's collaborative efforts to fight the opioid epidemic.
"We hope that other educators will be encouraged to collaborate with their colleagues, to develop and share resources, so that together we can graduate a generation of doctors to stop the devastating effects of the opioid epidemic," she said.
Jared Dashoff, AAMC public affairs specialist, said participants were pleased and thankful for the College of Medicine's information. A recording of the webinar is available here.
Post Tags