College of Medicine

Communique

Diversity

Student Affairs

Students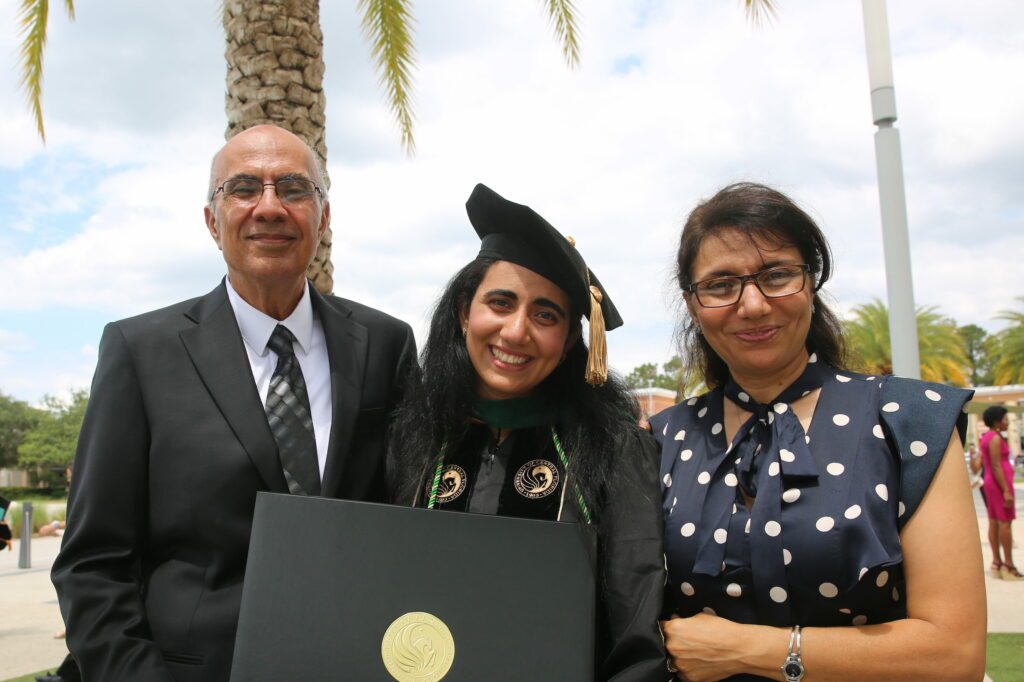 Tryphina Mikhail burst into tears of joy when she looked up into the stands of UCF's Addition Financial Arena and saw an unexpected but familiar face: Her father, Dr. Adel Mikhail, had secretly flown 7,000 miles from Egypt to surprise his daughter for her graduation from the College of Medicine.
"My mom told me he wasn't going to be able to make it," said Mikhail, who was one of 121 medical students who collected degrees on May 21. "She hid him in her house in Melbourne for about two weeks and it was only about 30 minutes before the ceremony began that he showed himself."
Mikhail's parents moved from their Egyptian homeland to the Florida coast in 1998 when she was 3 in search of a better life and education for their children.
While both were trained physicians, it was difficult for her parents to get into U.S. residency programs to get licensed to practice in the states. So they took odd jobs – her father was a gas station attendant at one point. He eventually found work as a dialysis technician but injured his back while transporting patients and was forced to stopped working. While recovering, he realized how much he missed caring for patients, and at his daughter's urging he began flying home, spending six to nine months of the year practicing as a urologist as two Christian hospitals. Her mother Souzan Habashy is an anatomy and physiology professor at Kaiser University.
Before graduation, Mikhail had not seen her father since February and he was not expected to visit again until January 2022. On the morning of her graduation, Mikhail wore a special bracelet he had given her so she could feel his presence, only to find out later he was actually at her in-person celebration.
"I immediately burst into tears and I couldn't even hug him properly because he was behind the ropes," she said. "But it means everything to me that he is here. It wasn't going to be the same without him."
"Today is the culmination of everything me and my family have been working toward for years, I couldn't have done it without their support," said Mikhail, an award-winning student who will begin her pediatrics residency at Nemours Children's Hospital this summer. "I am just amazed and grateful at the sacrifice and the price my parents paid for me to get to this point."
After commencement, the proud father hugged his daughter as they celebrated with other family members including Tryphina's mother, husband, grandparents and brother, also a UCF medical student.
"It means a lot for me to be here," her father said, "because it is a very big moment for my daughter and I wanted to celebrate this achievement with her, because she deserved this. She works very hard and she is very honest, and I believe with the help of God she can change lives."
Post Tags