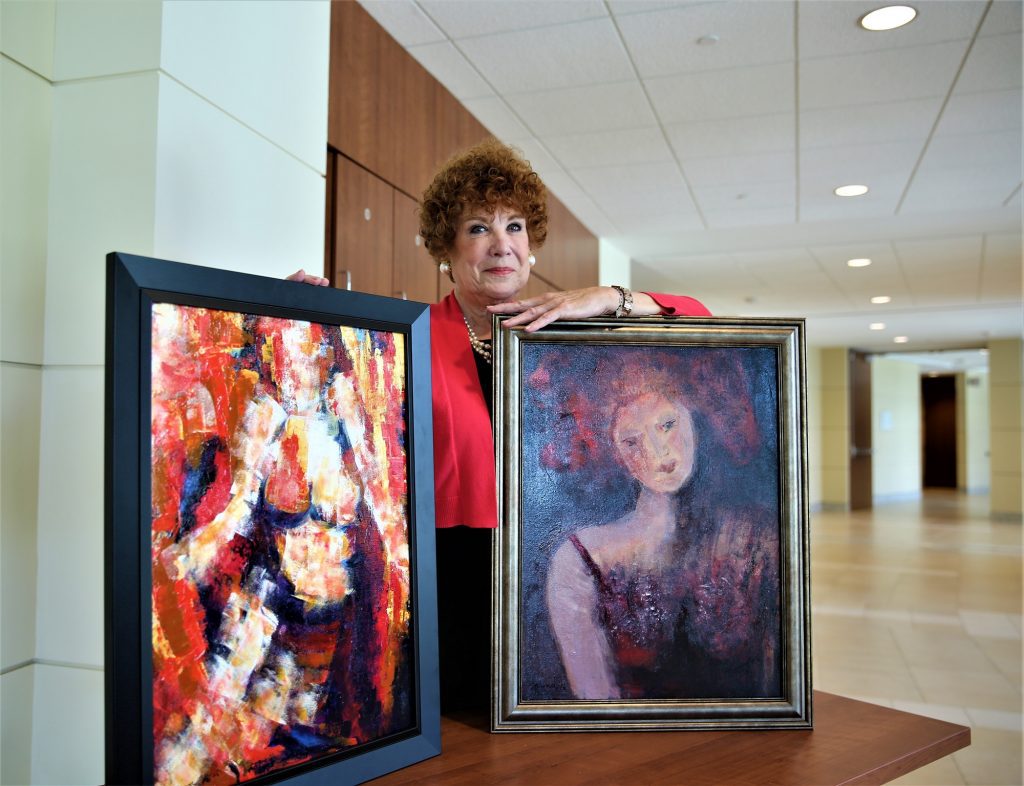 Sometimes we get second chances at fulfilling our dreams.
For Zoe Brown-Weissmann, director of student academic support services at the College of Medicine, having two of her pieces displayed at the Orlando Museum of Arts marks a second chance at fulfilling her dream of becoming a painter.
Recently, two of her pieces were displayed at the Orlando Museum of Arts as part of its "First Thursdays" series of exhibits, where local artists showcase their work to the Orlando community at a cocktail party-style event.  Each month, artists submit pieces that reflect a designated theme and the museum choses the best entries for display.
This was welcome news for Brown-Weissmann, who after not painting for 30 years, decided to pick up her brush and canvas again.
"I just decided that I was going to paint again. I missed it. And so I picked up my brush again and now I paint every single day," she said. "It expresses my thoughts and feelings. All my paintings have a story, they're not just out of the blue. I was very excited when I found out they chose my work."
For the April exhibit, artists were asked to submit pieces that completed the statement, "Before I die, I want to…" Brown-Weissmann did two paintings called, "I Want To Dance" and "To Fall In Love Again."
"I love to dance and I have gone out dancing most of my life until the death of my husband 12 years ago.  Not only was it great fun—but healthy to dance until the wee hours of the morning—then find an open coffee shop and have an early breakfast!" she said. "That is why I painted it. It is how I felt when dancing all night."
The other was her reflection on being in love.
"There is nothing like it. It is a sickness—a wonderful sickness— and I would love to fall in love again. The quiet pensiveness of the painting—is me now reflecting on what being in love is like."
As a child, Brown-Weissmann said she always dreamed of being a artist, but her mother did not consider it a promising career. As a compromise, she got a BFA in theatre design and went on to become a costume designer in New York, designing for Broadway, operas and ballets. There, she designed headpieces for the original Broadway production of The Wiz, created three dimensional costumes for children's book author Maurice Sendak (Where the Wild Things Are) for his New York City Opera's production of The Cunning Little Vixen. She also designed costumes for the Madame Nijinska-produced Sleeping Beauty ballet and numerous other productions.
"Costume design for me was a great way of combining theater with art, as I still got to sketch my pieces. But in the back of my head I still longed to be a painter," she said.
And so she took some painting classes at the Arts Students League in New York with the famous abstract expressionist, Morris Cantor.
After some 20 years, Brown-Weissmann walked away from theater, to take on what she describes as her most important job to date, being a full-time mother to her son, Jordan.
When her son got older, Brown-Weissmann rejoined the workforce, this time switching careers to education. Two master's degrees later, she got her first medical education position as a learning specialist at the Albert Einstein College of Medicine in New York.
In 2011, she joined the College of Medicine, leading the Student Academic Support Services Center where she provides academic counseling to medical students to help them perform at their best.
"The idea of a brand new medical school was too good to pass up," she said.
Two of her paintings are on display in the Harriet F. Ginsburg Health Sciences Library. One piece, "Pulse, was inspired by last year's mass terrorist shooting in Orlando, and represents the dancing and celebration that the Pulse nightclub meant for the community.
"That painting was my reaction to Pulse," she said. "Having worked in theater, the LGBTQ community has always been my community. And I was so impressed by the love and support from the Orlando community, so I just painted my heart out about it."
Today, Brown-Weissmann believes her career in art has complemented her role at the College of Medicine.
"When you design costumes or props for a character, you have to understand people, you have to represent them and so it makes you very observant," she said.  "In theater, you study characters. These are all studies of human behavior.  And that's what I do in medical education, I study how people learn, how people think and how they push themselves forward, so that I can help them succeed."
Post Tags