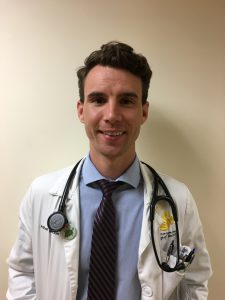 Third-year med student Anthony Brenner couldn't help but notice an atmosphere of gloom in the first days of his anesthesiology clerkship at a local hospital. He would later learn that a senior anesthesiologist in that department had committed suicide only a few days earlier.
This prompted Brenner to look further into physician suicides and after finding alarming statistics – on average one doctor commits suicide every day in the U.S. — Brenner felt compelled to create more awareness of the problem. His research on the topic with Dr. Jeffery Huang, an Orlando Health anesthesiologist and professor at the medical school, was recently published in the Anesthesia Patient Safety Foundation newsletter that is distributed nationally to practitioners in the field.
Brenner said studies have shown 200 to 400 physicians end their own lives each year. As he explained, "To put that in more relatable terms, that's almost two of our graduating classes of medical students a year. The figures were really alarming to me and it hasn't really been getting national attention, so I wanted to play a part in creating awareness."
His article, "Our Own Safety" summarizes data on physician suicide, including risk factors such as untreated depression and alcohol and drug abuse.  Research suggests anesthesiologists were twice as likely to die of suicide compared to other physicians because of their access to and knowledge of potentially lethal drugs.
In the article, Brenner references a study of the National Occupational Mortality Surveillance database from 1984 to 1995 that showed male physicians were slightly more likely to take their lives compared with non-physicians. However, female physicians were well above their non-physician counterparts in terms of suicide deaths.
Physician burnout is one of the major risk factors for suicide, Brenner found, noting that 42 percent of physicians reported burnout in one study. He also recommended educating physicians on the warning signs of depression and providing more resources for doctors in distress.
Brenner hopes his article will cause a shift in medicine's culture to place greater emphasis on physician well-being. He hopes that anesthesia professionals, in particular, will consider their safety just as passionately as they defend the safety of their patients.
"There's a saying, you can't take care of other people, if you don't take care of yourself first," he said. "Medicine can be grueling, and most doctors really sacrifice their own wellbeing just so they can take care of their patients.  A lot of doctors put their own safety second to patient safety, and so I just want to encourage doctors that their own safety is just as important."
Read Brenner's article here.
Post Tags