College of Medicine

Students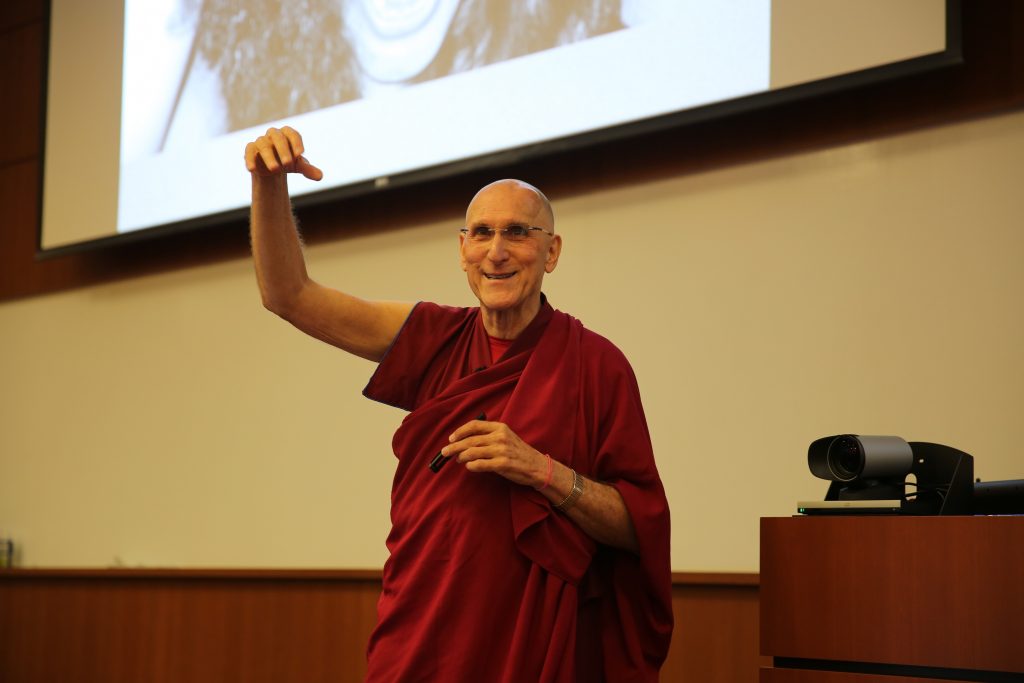 Dressed in a bright red robe, Dr. Barry Kerzin, Buddhist monk and personal physician to His Holiness the Dalai Lama, asked UCF medical students to clear their thoughts and focus on their breathing as he led them into a five-minute round of meditation.
The impromptu session came during a guest lecture at the College of Medicine April 10 where Dr. Kerzin spoke to students about the value of compassion and altruism.
Founder of the Altruism in Medicine Institute, Dr. Kerzin who received his M.D. from the University of Southern California and has been living in Dharamsala, India for more than 20 years providing free medical care to many, including the Dalai Lama.
He gives lectures on compassion, meditation, death and dying, and secular ethics in medical schools and universities internationally. This was his second talk at the College of Medicine, having visited in 2013. This time, he was invited by the Preventative Medicine Interest Group, a student organization centered on promoting health and preventing disease.
In his 40-minute presentation, Dr. Kerzin told medical students that embracing altruism and compassion would not only make them better people but better physicians.
"Compassion is really crucial in this day and age because patients are looking for that more and more," he said. "And if you don't have it, they are going to go elsewhere. It helps prevent burnout for us healthcare professionals, enhances the relationship with the patient and builds trust, which is so crucial in the healing process and so it's a win-win situation. The doctors feel better and the patients feel better."
Dr. Kerzin also gave med students practical approaches to getting rid of anger that included using their imaginations.
"Imagine that your early anger is a cloud and that it's way over there, drifting naturally across the sky and that it gradually dissipates a 100 percent and goes away with your anger. These are tried and true methods," he said. "It might not work the first time but keep doing it."
He also spoke on the value of meditation, which he said trains the mind to be healthy and cultivates stability and clarity. He noted that research shows compassion, meditation, mindfulness strengthen the immune system.
"This is important because immune system does a lot in terms of surveillance for potential cancer and reducing many kinds of chronic diseases that are related to stress," Dr. Kerzin said.
He also urged students to be open-minded in all their interactions.
"It's very important for us to stay open, to try as much as we can to be non-judgmental, to be willing to work with people no matter their approaches, to be as loving as we can, to be understanding and to realize that we're all in this together."
Sohum Patel, a first-year medical student who is president of the preventative medicine group said students invited Dr. Kerzin because he could teach them how to integrate spiritual and mental health into medicine.
"We as medical students often get caught up in the science of medicine, and it is hard not to with the things are emphasized in our curriculum and board exams," Patel said.
"Dr. Kerzin's talk was exceptional and refreshing," he added. "It reminded me about my desire to provide compassionate care that motivated me pursue a career in healthcare in the first place. He also inspired me to continue on my own personal spiritual journey, through meditation and mindfulness, which will hopefully be a habit that sticks with me for life."
Post Tags