College of Medicine

Students
Dozens of runners, from amateurs to advanced levels, showed up early on a chilly February 16 for the first annual Global Health 5K race to raise money for medical supplies for students' annual medical mission trip to the Dominican Republic.
The "Race Around the World" at  Lake Nona's Medical City was marked with some familiar international landmarks including Big Ben and the Eiffel Tower, fashioned out of cardboard boxes, paint and plenty of medical student creativity.  "We were brainstorming landmarks that countries were known for, and then I just started collecting boxes," second-year student Chelsey McKinnon said. "They really helped bring the global theme together, and provided a little entertainment along the way."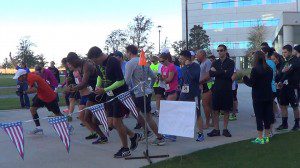 Racers who weren't speeding through the course could take some time to stop and read fun facts about the landmarks and a Scottish bagpipe musician even serenaded the runners. Global health is a recurring focus for members of MedPACt (Medical Students Providing Across Continents,) a group committed to serving communities in need, both locally and abroad. Every summer, about 20 medical students go to  the Dominican Republic with student nurses and medical and nursing faculty to care for hundreds of people in remote, desolate areas with little or no access to physicians.
"We try to treat as many illnesses as we can, and educate also," said second-year student Wendy Carcamo, who went on the trip last July, and plans to go again this year. "Education is a big part of improving the community. We teach about things like hand washing, healthy eating and dental care." Much of the trip is funded through grants at the College of Medicine, but the students must raise funds for medicines and supplies. Through sponsors and participants, their first  5K race raised more than  $1,000 toward that effort.
"It's a global mission, a very valuable component of our education, and I think it's a great cause" said Dr. Mujtaba Husain, a College of Medicine pathology professor and passionate runner who was the first place winner in the "Race Around the World" in his age group. He commended students on having an event that encourages people to exercise. "It promotes health in the community, and also brings the community together," Dr. Husain said. "Being physically active keeps you in good shape, and in a good state of mind."
Of nearly 50 race participants, many were first-timers 5K runners. and the event served as a challenge to get them more physically active. J7 Sports, a professional race-timing company, donated a timer so each runner could see their finishing time, down to the millisecond. The race winner was elite professional runner Alan Wells, who finished the 5K in 16:25 and said he participated in the College of Medicine events because it supports such a good cause. "I try to support community events wherever I live," he said
After a successful inaugural run, MedPACt students are already setting their sights on future races.  "I think people in the running community will talk about it," McKinnon said. "All the quirky, unique things we did will make this even bigger and better, so we can do more in the future."
Post Tags