Burnett School

College of Medicine
Rida Rasool was 8 when her father was partially paralyzed in a car accident while visiting his home in Pakistan.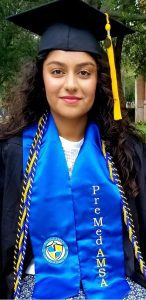 "It was – financially and emotionally – one of the lowest points of our lives," she reflected. "I experienced how dramatically one's life changes due to a disability."
The incident forced the family to stay in the country for two years while he recovered. But watching the care her father received sparked Rasool's interest in learning how to treat others like him. "It allowed me to appreciate the opportunities I have and seek my calling to help others reach their best quality of life possible, regardless of their background or access to care," she said.
While at UCF, she majored in biomedical sciences and conducted research in neurosciences. After graduating on Thursday, May 3, she's planning to attend the Lake Erie College of Osteopathic Medicine in Bradenton. Rasool is one of 248 students graduating from the Burnett School of Biomedical Sciences this week – 227 will be graduating with bachelor's degrees, including 45 with university honors. In addition, 18 Burnett School students will graduate with master's degrees and three with doctorates. A total of 8,118 UCF students will receive diplomas in six different commencement ceremonies.
"I'm always amazed by what our students are able to accomplish, including very high-caliber performance in the classroom and in research labs," said Dr. Griffith Parks, interim associate dean for research and director of the Burnett School. "They show a passion for advancing our understanding of human disease. I wish them all the best as they continue on their journeys."
The Burnett students walk across the stage at 2:30 p.m. with College of Graduate Studies, College of Undergraduate Studies and Rosen College of Hospitality Management graduates. The speaker for the ceremony is former Florida Governor Jeb Bush, who was instrumental in working with the Florida Legislature in approving the UCF College of Medicine in 2006.
This week's university-wide commencements are the last for UCF President John C. Hitt, who's retiring June 30 after 26 years at the university. During his tenure, President Hitt awarded more than 262,000 degrees — more than 82 percent of all degrees awarded at the university. His last graduation ceremony will be May 18 at the College of Medicine.
Post Tags
burnett school of biomedical sciences

Commencement

Rida Rasool