Burnett School

College of Medicine
Staff members whose work furthers the College of Medicine's missions – education, research and patient care through partnership — were honored October 21 at the 2016 Staff Awards Ceremony.
Dr. Deborah German, vice president for health affairs and dean, presented six awards explaining, "Staff members are the foundation of our medical school, the glue that holds together all aspects of our mission. Staff, you often work behind the scenes, out of the spotlight. But I want you to know how much I and all of us – faculty and students – appreciate and need your dedication, persistence and hard work."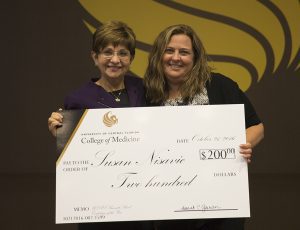 The USPS Employee of the Year for the Burnett School of Biomedical Sciences is accountant Susan Nisavic. She was recognized for her outstanding work in process improvements, including establishing a process for preparing journal transfers and a new process for creating financial reports for foundation and research foundation projects.  In addition, Nisavic created a new spreadsheet to track internal and college research awards and a multi-year fellowship tracking spreadsheet to manage all graduate students fellowships. Nisavic's "teamwork, worth ethic and sense of humor are valued by colleagues as is her experience in most areas of Burnett School administration," Dr. German said.
Nisavic was also named the College of Medicine's USPS Employee of the Year.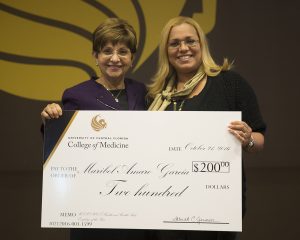 The USPS UCF Health/Health Arch Employee of the Year is senior accountant Maribel Amaro-Garcia. UCF Health, the College of Medicine physician practice, is expanding dramatically – in reach, patient visits, physician specialties and operations – and that Amaro-Garcia had been key in helping manage that growth. She navigates billing and insurance, trains employees on proper purchasing procedures and payroll, and serves on UCF and UCF Health committees that improve the work environment for all USPS employees. "If that wasn't enough, she also participates as an artist in the Annual Faculty and Staff Art Exhibition each year at the Orlando Museum of Art," Dr. German said.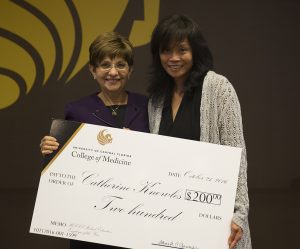 The USPS Medical Education Employee of the Year is administrative assistant Kate Knowles, a problem solver with a keen eye for detail and process who lives the medical school's values of service to others. Knowles is a trusted, knowledgeable resource when a university or college procedural issue arises and knows how to resolve the problem, the expert to contact and how to facilitate a solution. She often finds solutions to problems before they're even raised. Credited with bringing a sense of community to a busy high-expectation department, Knowles is "known for a positive personality that inspires others," Dr. German said. "She brings "a positive vibe to all interactions."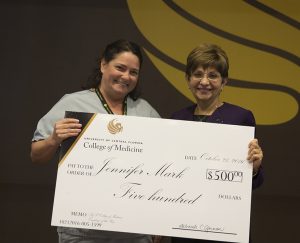 The A&P Employee of the Year is Jennifer Mark, director of anatomical facilities. Mark plays a key role in the Anatomy Lab, one of the college's most important learning environments that is known across the country for its innovation and importance in educating students and physicians. As a leader of the College of Medicine's willed-body program, Mark "works with members of our community and their families at the end of life – offering a consoling presence to people in their last days," Dr. German said. "In the Anatomy Lab she has helped create a world-class facility that beautifully reflects the important donations that our students' first patients have given."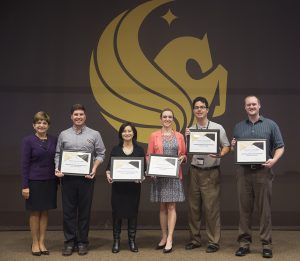 The Team of the Year Award went to the Communications and Marketing team for handling internal and external communications and helping to share the medical school with the world. Team members Suhtling Wong, Matt Vaccaro, Megan Pabian, Stephen Schrauger, Jonathan Gabriel and Christin Senior "are the face of multimedia, producing websites, videos, photos, written work, social media," Dr. German said. "This team creates every advertisement for the COM and UCF Health, every brochure, every TV and radio ad, every story, everything on our websites," said Dr. German. She noted that the team award "exemplifies excellence in working together for the greater good."
Post Tags