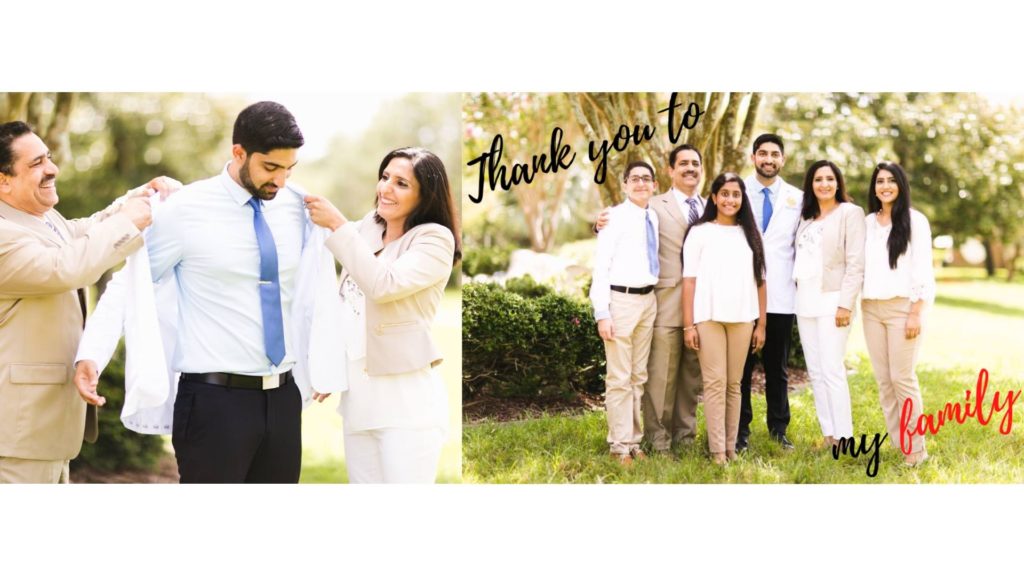 "COVID-19 did not stop your match. It will not stop your graduation, and when you take your positions across the nation in July, YOU will help stop COVID 19."  – Dr. Deborah German, vice president for health affairs, founding dean, UCF College of Medicine
With those words from their dean, 117 UCF medical students became Physician Knights Friday in a virtual graduation personalized with their thanks to family, friends, faculty and even their patients.
COVID-19 canceled in-person commencements across the nation and world, and the timing of the ceremony in the middle of a pandemic was not lost on anyone. As UCF President Alexander N. Cartwright told medical school graduates, "you are needed now more than ever."
"If this time has shown us anything, it is the extreme importance of well-trained and compassionate physicians and healthcare providers," he said. "Our healthcare workers at UCF and throughout the world have been so courageous throughout this entire pandemic. They have saved numerous lives and have also paid the ultimate price for their dedication to all of humanity."
With Friday's commencement, UCF's young medical school has trained 726 physicians in the past eight years.
To make the virtual ceremony more personal, the medical school asked students to send a video or photo to share as their names were read. The ceremony also included their formal portraits and quotes, where students thanked those – including real and computerized patients — for making them outstanding physicians.
Haider Ali sent two photos – a family group photo and another of his parents presenting him with his white coat. He said the photos honored his family who "dedicated all their energy for my dreams to come true."
Ali's mother was a Pakistani immigrant when she and her six sisters fled their homeland after their mother died of breast cancer, leaving them orphaned. She did not pursue a college education and put all of her energy into raising Ali and his siblings, always keeping in mind that her mother's dream was to have one of her offspring become a doctor. "Today, I am proud to say that I am the first to fulfill that wish," said Ali, who will do a residency in anesthesiology at Ochsner Clinic Foundation in New Orleans. "Thank you Mom, and thank you to my family. I love you all,"
Marvi Qureshi is a two-time UCF alum – undergraduate and M.D. – and she said she is excited to become a "Triple Knight" as she remains at UCF for her residency training. She is going to Osceola Regional Medical Center for emergency medicine as part of a residency partnership between the College of Medicine and HCA Healthcare. Her husband, who earned his M.D. at the University of Kansas, will be an internal medicine resident at Orlando Health. As such, both will be on the front lines of fighting COVID-19.
"This pandemic is a big reminder to all of us," she said. "This is why we went into medicine — to be at the frontlines, to try and help people, to try and make a difference, to save a life."
Saskia Groenewald said the virtual ceremony allowed her grandparents and other family members in South Africa to join in real-time commencement festivities. Her mother went on Pinterest and created a medical-themed table decorated with tongue depressors, CAT scans, flowers and books. After an internationally viewed YouTube ceremony, Groenewald goes on to train in pediatrics at Johns Hopkins University.
"Going out as a doctor in the pandemic wasn't something we expected going into medical school," she said. "But I was fortunate to work with a lot of great mentors and physicians and learn and grow a lot over the last four years. And now I'm ready to go out and face what's happening."
Has the UCF College of Medicine Positively Impacted You?
The UCF College of Medicine is a research-based medical school with a culture based on partnerships and collaboration. As a founding member of Orlando's Medical City we are proud to be your community medical college.
Find out how to give back to your medical school, today!