Health Sciences Campus
Comprehensive and innovative, the UCF Health Sciences Campus at Lake Nona is a 50-acre state-of-the-art complex for medical education, health sciences education, and biomedical research located about 25 miles south of UCF Orlando campus.
The campus is home to the UCF College of Medicine Medical Education Program and Burnett School of Biomedical Sciences, and will house the UCF College of Nursing in the near future. Within walking distance are the Sanford-Burnham Medical Research Institute, a University of Florida research facility, a Veterans Affairs Medical Center, a Nemours Children's Hospital, M.D. Anderson Cancer Research Institute, and more.
---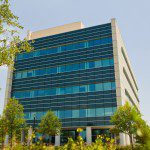 Opened in fall 2009, the 198,000 square-foot Burnett Biomedical Sciences building is five stories of state-of-the-art equipment and space for biomedical researchers. Also housing a major transgenic animal facility and three Biosafety Level 3 laboratories, the facility is an ideal environment for students interested in advancing biomedical research.
Read more about the Biomedical Sciences building...
---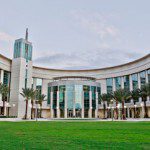 Opened in summer 2010, the four-story Medical Education building is 168,000 square feet of innovation and cutting-edge technology. Home to the Health Sciences Library and Clinical Skills and Simulation Center, the complex provides an ideal environment for medical students.
See all of the facilities inside the Medical Education building.