MedPACt
MedPACt (Medical Students Providing Across Continents) is an organization dedicated to providing education and mentoring for students to become actively engaged within communities of need both locally and abroad, and to promote awareness and participation in improving the health-related needs of people throughout the world.
The goals of MedPACt are to:
Increase awareness of the needs of medically underserved local and global human populations.
Serve communities and populations by addressing health-related needs and promoting personal well-being through health education in a sustainable, cooperative way.
Provide mentoring and education to the student community relating to global and local medical needs.
Develop, improve and promote sustainable relationships, goals, and ideas that seek to actively serve health-related needs.
Provide an open, collegial, and supportive environment in which students can become culturally enriched.
If you have any questions related to MedPACt, please reach out to our Board Executive Director for MedPACt, Sara Hay at sarahhay@Knights.ucf.edu.
2021 Global Health Conference X
Patient Zero, Global Pandemics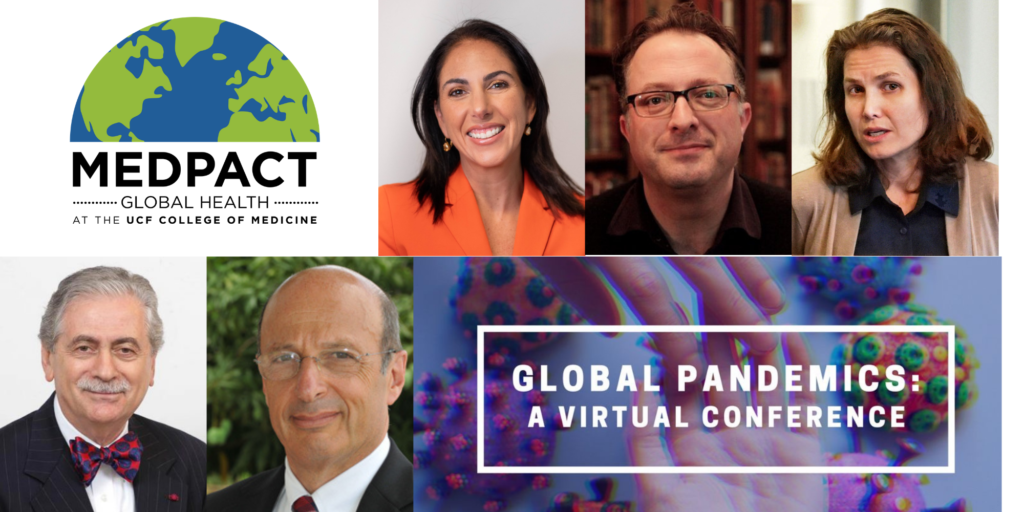 Proceeds from the 2021 conference will be used to fund MedPACt's global health outreach efforts through the Apopka Clinic and the The Fundación Yantaló, Peru Clinic.
For more information and to register for the conference, please visit http://www.ucfglobalhealth.org.
Join us virtually to improve your Spanish with speaker seminars, practice with your fellow classmates, clinical skill encounters and even a mentor/mentee program with UCF Undergrads. All levels are welcome!
Thomas Knapp is the contact person for the Spanish Lunch Hour.  Feel free to email him at thomasknapp@Knights.ucf.edu for dates and locations for the next SLH.
MedPACt's Global Health Conference is an annual medical student run conference geared towards health professionals like medical students, nursing students, pharmacy students, and anyone who is interested in the topic of global health. Topics of previous years have included tropical diseases, maternal and child health, refugee health, and disaster relief.
Since July 2016 MedPACt and the Farmworker Association of Florida have collaborated to provide health clinics to a vulnerable farmworker population. Our pop-up clinics provide services from a range of specialties including internal medicine, pediatric, ophthalmology, nephrology, obstetrics/gynecology, dermatology, and physical therapy. Our volunteers include faculty and students from various disciplines, including nursing, pharmacy, physical therapy, occupational health, social work, nutrition, and chaplaincy. We will resume clinics at the Farmworkers Association of Florida in Apopka in January 2021.
The Yantalo Clinic facilitates medical services, research, and education for the rural community of Yantalo, Peru. Since its completion in 2014, it has hosted interdisciplinary teams from numerous sites in the US. Our interdisciplinary team was the first to introduce broad primary care, physical therapy, and adult surgery services and it has expanded to a team of students and professionals from the disciplines of Obstetrics and Gynecology, General Surgery, Internal Medicine, Pediatrics, Urology, Physical Therapy, Social Work, Nursing, and Pharmacy.
Learn more about the Yantalo Peru Foundation here. 
Development and Research
Help promote sustainable and ethical global health initiatives through implementation of additional MedPACt projects such as:
Electronic Health Record
AMSA/IFMSA Research Exchange